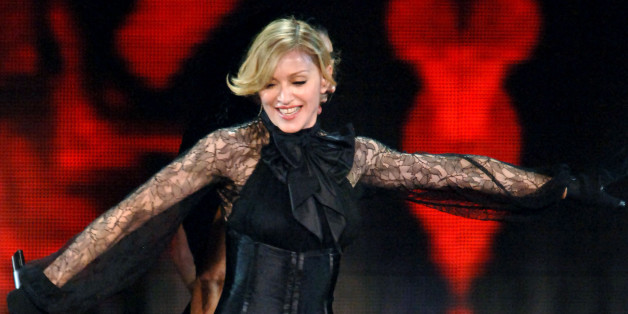 Madonna took to Reddit on Monday night, answering fan questions during an "Ask Me Anything" session. Over 12,000 comments were quickly amassed, and the legendary singer spent a significant amount of time providing answers to the ones she found interesting.
The biggest nuggets that were revealed included who she'd like to collaborate with and whether or not new music is on the way. "I would love to work with Daft Punk," she said. "Just waiting for them to return my call."
As for a new album in 2014, the singer had this to say: "There might be...my creative juices are flowing…"
She would not, however, consider doing a full-on rock album. "Full-on no."
Madge also wrote that "one of [her] favorite songs out right now is 'Oceans' by Jay Z and Frank Ocean," that she's "studying the Quran" and that she misses "free time and more sleep." The singer wants to direct a film and is most proud of her forthcoming "secretprojectrevolution," which has been teased for some time.
Take a look below for some selected revelations, and head over to Reddit for the full conversation.
The craziest thing that has happened during one of her concerts is when "all the power went out in the middle of the show for an hour in a stadium in Cardoba. That was fun."
Her last concert? "The Labeque Sisters and Kalakan in Menton."
She keeps her awards in her "award closet."
"That's next on my to-do list - direct a film."
Her next project is "secretprojectrevolution artforfreedom. coming soon."
The singer has yet to and would like to travel to Egypt and and Lamu, an African island.
"When i went out on stage and said hello to the wrong city," she wrote when asked to identify the most embarrassing moment of her life. "Sleep deprivation."
She recently had a dream about Brad Pitt, then laughed about it: "Brad Pitt and I were living together and there was a small blonde child in the bed. Sorry Angelina, it was only a dream."
Madonna received a "bong in the shape of a penis" for her birthday.
She would tell her 20-year-old self, "Don't take any of this personally."
She says she'd love to turn Frank Ocean straight (Ocean is bisexual, for what it's worth) and that she is "a gay man."
Her favorite desserts are lemon tarts and "the rose lycee macaroon cake from La Duree."
She has made out with her grills on.
Madonna's other monday night plans: "test the projection of secretprojectrevolution on a wall."
When a fan asked how to cope with a rough breakup, Madonna suggested a "gang bang," then clarified that she meant the fan should listen to "Gang Bang," off her last album.
She loves the soundtrack to "The Skin I Live In."
She thinks "Erotica" is a "great record."
She likes dirty martinis.
Madonna's favorite music video was "Justify My Love," which she shot in Paris.
When she first takes the stage, her first thoughts are: "What city am i in again? And then....breathe…."
The singer finds "the censoring of artists, around the world" to be her current activist obsession. "Censorship," she added. "For instance, Pussy Riot."
Her favorite way of procrastinating? "Plucking my eyebrows."
Madonna's still not a fan of hydrangeas. When a fan asked where she should put some, Madonna quipped, "Up your ass."
If she could have any super power, she'd love to "clone myself" so she can "get more done that way sleep more work more."
Madonna said she thinks "American Life" didn't get good reviews "because I dealt with a lot of controversial issues in it." "I criticized American politics, the entertainment business in Hollywood," she added. "I was in an angry mood when i was making it. Maybe that came across. but I was in an angry mood when I made my last album too."
She currently feels "pulled in a million directions."
She's "absolutely horrified" that some "MDNA World Tour" DVDs & Blu-Rays have had sound issues. "My label is looking into it," Madonna wrote. "Trying to get to the bottom of it. It might be a case of old technology not working with new technology. Please be patient. I spent 6 months editing and doing the sound mix for the DVD, last thing I want to hear is that fans aren't getting the fruits of my labor.
On Frieda Kahlo: "She was the subject of her art -- all of her work is a self portrait and yet she shared universal stories and feelings by sharing her personal story. Also, she was a freedom fighter and she lived a controversial life and was a survivor so I admire her life story and art . The way she lived her life as well as her art."
If Madonna had time, she'd go back to school. "School is fun you just get to learn."
It was Jean-Paul Gaultier's idea "to re-create the black patent leather cage" for her recent tour.
On Marlene Dietrich: "She is the archetype of an iconic strong female equal pats masculine and feminine."
She's a "hot mess" when she's angry.
The photo that covers the MDNA Tour DVD was taken by Madonna herself.
BEFORE YOU GO
PHOTO GALLERY
Celebrity News & Photos