The Washington Navy Yard building where 12 people were killed by alleged gunman Aaron Alexis on Monday was still cordoned off with crime scene tape a day later.
But the trapeze school just a little down the block was back open for business, said William Reiff, who, after a moment of thinking, described himself as the assistant office coordinator at the Trapeze School of New York.
The big facility, with indoor and outdoor mats, bars and other gymnastic apparatus, was one of many public and private organizations in the neighborhood that closed on Monday.
On Tuesday, "everything's back to normal," said Reiff. "I wouldn't say it's too weird. I know there's a lot more press around. Other than that, I'd say it's pretty normal."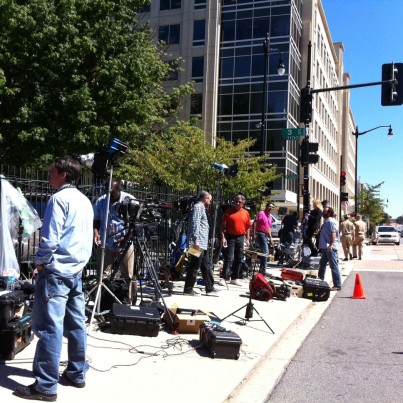 Camera crews by the Navy Yard on Tuesday.
"Not really normal," said Carlos Maraquin, who was installing electrical pipe nearby.
Maraquin was at work on Monday morning when the shooting began. He saw people running, he said, and when he found out what was going on, "I run with them."
"I found out what happened when I got home," said Kendrick Seabrook, who serves as a security officer not far from where the shootings took place. Seabrook left work Monday about 45 minutes before the killings began.
"To be honest, I don't feel real comfortable being out here," he said on Tuesday. "But I've got to pay my bills."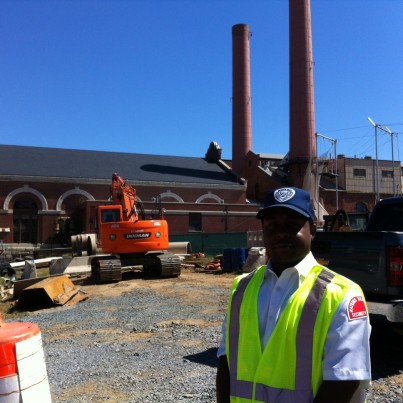 Kendrick Seabrook at work on Tuesday.
Chamar Barnes, manager of the GNC store in the Boilermaker Shops, a retail complex a few blocks from that Navy Yard building, told HuffPost that he was "fine" but that "it wasn't normal coming in this morning."
On Monday, Barnes said, he'd arrived at the vitamins and supplements store, which has been open for about three weeks, but "chose to go back home" when he was told he could either leave or stay on lockdown. "I've come to accept this type of thing is part of life," he said.
But life still seemed different on Tuesday. Not many people were in Starbucks that morning. And Barnes' own sales were light.
"I had more traffic on my first day of opening than today," he said. "That's to be expected."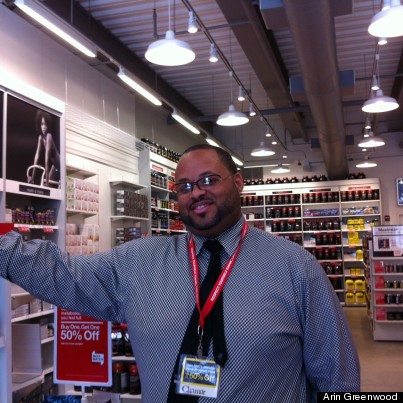 Chamar Barnes at the GNC on Tuesday.
Across the street at the Potbelly sandwich shop, three Department of Transportation employees, who asked to remain anonymous -- and preferred their photos not be taken due to "bad hair" -- said that a lot of their colleagues were either working from home or taking Tuesday off altogether. In part, they suggested, that was because of lingering nervousness about Monday's shootings and in part because a Washington Nationals game against the Atlanta Braves had been rescheduled for Tuesday, which would make traffic and parking more trying.
"It's a double-header," said one of the women.

Tuesday afternoon, at nearby Nats Park -- where Navy Yard employees had been evacuated when it was unclear how many shooters were attacking people -- the first of the day's two games was underway. But even there, things were quieter than usual.
"Not good today," said a scalper who declined, vehemently, to provide his name. "Normally, Atlanta games are real good."
BEFORE YOU GO
09/17/2013 6:14 PM EDT
There Have Been More Mass Shootings Since Newtown Than You've Heard About (INFOGRAPHIC)
When 13 people died in a shooting rampage at the Washington Navy Yard on Monday, the story made front page news. But many of the mass shootings that have happened since the December massacre of elementary school students and teachers in Newtown, Conn., didn't.
Click here to read more.
09/17/2013 5:09 PM EDT
Aaron Alexis Was At Gun Range The Day Before Navy Yard Shooting
The Associated Press reports:
Michael Slocum, an attorney for a Virginia gun store, said in an email that Aaron Alexis visited Sharpshooters Small Arms Range on Sunday. He says Alexis rented a rifle, bought bullets and used the range. He then bought a shotgun and 24 shells.
Click here to read more.
09/17/2013 3:12 PM EDT
Alexis Was 'Determined To Kill As Many People As Possible'
WASHINGTON -- Alleged Navy Yard shooter Aaron Alexis acted alone and was "determined to kill as many people as possible," law enforcement officials said Tuesday.
Officials would not comment on Alexis' alleged motive during a press conference held Tuesday afternoon outside the FBI's Washington Field Office, but said they had determined he arrived in the area around Aug. 25 and had been staying at the Residence Inn in Southwest Washington, D.C. since Sept. 7.
The FBI is investigating "hundreds" of tips they have received Monday's shooting. "No piece of information is too small," said FBI Assistant Director in Charge Valerie Parlave, asking for additional assistance from the public.
Metropolitan Police Officer Scott Williams is doing well and is expected to make a full recovery, according to MPD Chief Cathy Lanier. "We have a very good prognosis from the doctors, he does have serious injuries to his legs. Again, I know the officer and I know his personality, and I'm real confident he will not only walk again but probably will outrun most of us again," Lanier said.
09/17/2013 2:24 PM EDT
FBI: Alexis Only Had A Shotgun
Aaron Alexis entered Building 197 with only a shotgun in his possession, not an assault rifle like some media outlets reported. "We have no information that [Alexis] had an AR-15 assault rifle in his possession," the FBI's Valerie Parlave said in a press conference. "He may have gained access to a handgun ... and after he began shooting."
09/17/2013 2:22 PM EDT
FBI: Shotgun Used In Shooting Was Purchased Legally
FBI: Shotgun used in #NavyYardShooting was purchased lawfully in Virginia http://t.co/Onv2QgbBBP

— NewsBreaker (@NewsBreaker) 1 year ago
09/17/2013 11:52 AM EDT
Aaron Alexis Got Honorable Discharge Despite Disorderly Conduct, Insubordination
Alexis was honorably discharged from the Navy in 2011 after bouts of insubordination, disorderly conduct and being absent from work without authorization.
The AP reports:
Officials said the bad conduct was enough to make it clear Alexis would not be a good sailor, but not enough to warrant a general or less-than-honorable discharge. They also did not involve criminal offenses, so did not trigger any court-martial proceedings.
Click here to read more.
09/17/2013 11:51 AM EDT
Victims' Names Released
Here's a complete list of the victims of yesterday's shooting:
Michael Arnold, 59


Martin Bodrog, 54


Arthur Daniels, 51


Sylvia Frasier, 53


Kathleen Gaarde, 62


John Roger Johnson, 73


Mary Francis Knight, 51


Frank Kohler, 50


Vishnu Pandit, 61


Kenneth Bernard Proctor, 46


Gerald L. Read, 58

Richard Michael Ridgell, 52
Suspected gunman Aaron Alexis, 34, died as well.
09/17/2013 11:21 AM EDT
Recovering Victims Worried About Their Co-Workers
Dr. Janis Orlowski, chief medical officer at MedStar Washington Hospital Center, told the Associated Press that three victims in yesterday's shooting -- including a police officer who was shot in the legs -- are recovering and in fair or good condition. She said two women who saw others shot are "very worried about their co-workers," but are unaware of the extent of the shooting.
Click here for more.
09/17/2013 11:20 AM EDT
Schools Have Reopened
Schools near Navy Yard that were on lockdown after Monday's shooting have reopened on Tuesday, WJLA reports.
09/17/2013 9:25 AM EDT
District Of Columbia Holds Candlelight Vigil For Victims
"A dozen or so" people gathered for a candlelight vigil at D.C.'s Freedom Plaza last night, reports the Washington City Paper:
"How immune are we becoming to these senseless mass shootings?" Eddie Weingart, the vigil's organizer and the founder of Project End Gun Violence, asked the ceremony's participants, who were flanked by twice as many media members. "Mass shootings are becoming as American as apple pie and baseball."
PHOTO GALLERY
Navy Yard Shooting