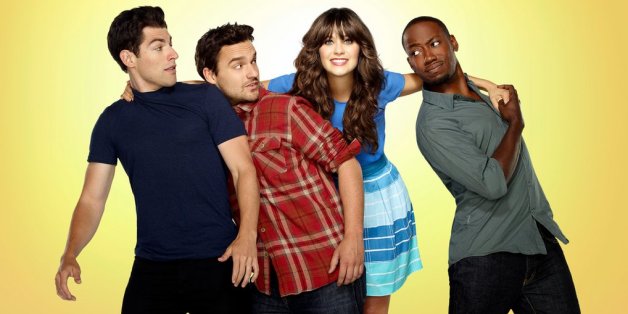 "New Girl" returns from summer hiatus tonight at 9 PM, and we can hardly contain our excitement. In the many months since we last saw Jessica Day and friends, we've taken every bit of intel and attempting to figure out WHAT WILL HAPPEN NEXT.
We're equally obsessed with the nail art Zooey Deschanel (Jess IRL) shares on her Instagram account, so naturally, we've interpreted her quirky, decorated digits as an allegory for the series. At last, "New Girl" fans, you can wear your heart on your, uh, hands. Below is our ultimate "New Girl" nail art guide, so you can match your manicure to your favorite moment of the show.
For when you need to subtly assert your femininity in a loft full of dudes.
For when you're trying to teach adults how to write.
For when you want to sit around all day and watch "Dirty Dancing" while sobbing.
For when you greet potential suitors with, "Hey, sailor."
For when you're headed to three Christmas parties in one night.
For when you re-watch "The Parent Trap" in hopes of reuniting your divorced parents.
For when you're trying to impress your wealthy new suitor at a formal event.
For when you're stuck with your roommate in someone's bedroom and can't get out without kissing him.
For when you need to stay strong and to-the-point in order to get your stuff from your ex-boyfriend's apartment.
For when you have to work as a shot girl for the night and want to look on point.
For when you want to keep it simple and let your wedding sari do (most of) the talking.
For when you're accused of being a "cooler."
Jessica Day IRL:
PHOTO GALLERY
Zooey Deschanel's Style Evolution
Want more? Be sure to check out HuffPost Style on Twitter, Facebook, Tumblr, Pinterest and Instagram at @HuffPostStyle.