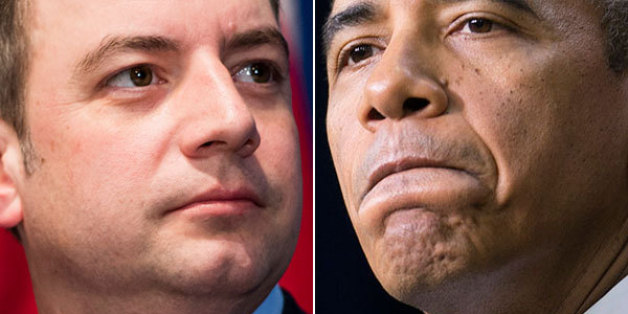 Republican National Committee Chairman Reince Priebus appears convinced that President Barack Obama is aiming for a government shutdown.
In a Monday interview with radio host Hugh Hewitt, Priebus agreed with Hewitt's suggestion that Obama is orchestrating "domestic paralysis." The duo discussed two key fiscal deadlines that are looming -- the Oct. 1 deadline for a stopgap funding measure and the need to raise the debt ceiling to meet subsequent expenses.
"I think he wants this thing to happen, a shutdown of the government," Priebus told Hewitt. "I'm totally cynical on the thing. I think that's exactly what he wants."
Priebus tied that argument to the Oct. 1 launch of the Obamacare marketplace, adding that he believes some Democrats to be among the wary. Beginning that day, state exchanges allowing Americans to purchase health insurance will be available.
"I, in fact, think he's got a bunch of Democrats that are sick and tired of it as well, because they're sitting in red states, and they're nervous as anything that they're going to get stuck with Obamacare, and then they're going to have to go out there and defend it," Priebus said.
Priebus has been direct in his criticisms of Obama over recent weeks. After the president's address on Syria last Tuesday, the RNC Chairman called his remarks a global embarrassment.
"The administration's handling of the U.S. response to Syria has been so haphazard it's disappointed even the president's most ardent supporters," Priebus said in a statement. "This rudderless diplomacy has embarrassed America on the world stage. For a president who campaigned on building American credibility abroad, the lack of leadership coming from the Oval Office is astounding."

BEFORE YOU GO
PHOTO GALLERY
Lies And Distortions Of The Health Care Debate