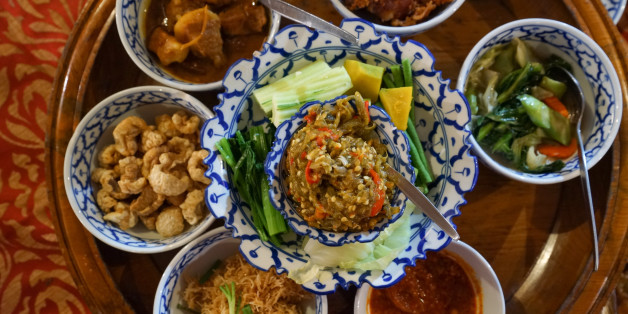 The best place to go for Thai food? Thailand, of course. But the second-best place is Los Angeles, Calif.
The city boasts the most diverse Thai cuisine in the U.S., thanks to its large population of Thai immigrants and official "Thai Town" designation (the first in America's history), and it's all being showcased at the inaugural Thai Food Fest at Paramount Picture Studios on Sunday, Sept. 29.
Local chef Jet Tila will play host and culinary ambassador for the event, which means it fell on him to recruit his favorite Thai restaurants and chefs for the festival. LA restaurants Jitlada, Ruen Pair and Sapp will be among what Tila called the "authentic" Thai restaurants -- his term for the small businesses opened during the first wave of immigration in the 1960s-80s.
He's also invited his friends from what he calls the "foodie hipster world," and those include Thai food vanguards Kris Yenbamroong of Night + Market and Andy Ricker of Pok Pok in Seattle, as well as locally celebrated chefs Sang Yoon, Susan Feniger and David LeFevre. Also on hand to round out the event media-wise: Curtis Stone, host of Bravo's Top Chef Masters (and Thai food fiend) and Evan Kleiman, host of Good Food at KCRW (89.9 FM).
"Having my favorite Thai restaurants, along with my buddies Sang Yoon and Susan Feniger come out -- I'm extremely excited to merge both of these worlds," said Tila in an interview with the Huffington Post. "Kris, Andy and I live in this foodie hipster world, and cooking right next door to my favorite Khao Soi restaurant is what's exciting to me."
"It's a one stop shop," continued Tila. "Hipster Thai and authentic Thai and all of these fun Thai traditions: music, kickboxing and fruit carving." Tickets for the three-hour event start at $50 and are all-inclusive. The food fest is a collaboration between the Thai Trade Center Los Angeles and the Royal Thai Consulate of LA.
WHO: Foodies who want to go deeper into one of Southeast Asian's most complex cuisines.
WHAT: Thai Food Fest
WHEN: Sunday, Sept. 29 (3-6 p.m.)
WHERE: Paramount Pictures Studios, 5555 Melrose Ave. Los Angeles, CA 90038
COST: General admission costs $50 and grants access at 3:30 p.m. VIP costs $75, includes preferred parking and grants access at 3 p.m. http://thaifoodfest.eventbrite.com/
BEFORE YOU GO
PHOTO GALLERY
Zagat Crowns LA's Best Food Trucks