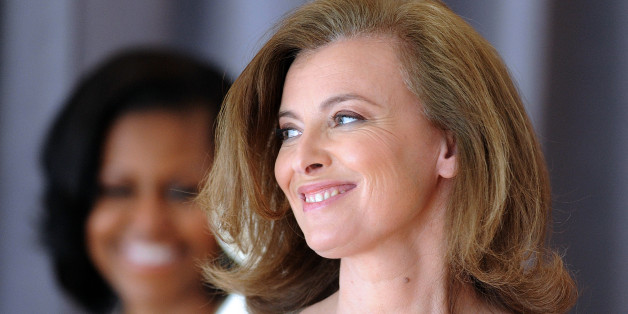 "The Rottweiler," "First Bitch" and the less-than endearing "Tweetweiler" are just a few of the nicknames Valerie Trierweiler has earned during her tenure as France's first lady. But she's not alone -- many women in her position have had their stumbles and can offer much-needed guidance.
In a new interview with The Sunday Times, Trierweiler says that she's met nearly 40 global first ladies, but it's our very own Michelle Obama who's been a particular source of comfort. "Michelle Obama told me it took her a year to settle into the role; she also made some faux pas at the start," Trierweiler says. "That's pretty much the case for all of them, and they all suffered attacks."
Criticism of FLOTUS has run the gamut from scrutinizing her outfit choices (bare arms, anyone?) to critiquing her informal demeanor. Trierweiler, on the other hand, has received an onslaught of negative media attention over her unmarried status, her alleged political love triangle and the unfortunate tweet that led papers to tout her as France's least popular first lady ever.
But don't think that the political journalist is ready to offer up apologies in response to all of the criticism. She insists that "marriage is a right and not a duty," claiming that she's happy to be in the small group of unwedded first ladies. "To be honest, there aren't many [first ladies] who aren't married," she says. "But we're due to welcome the German president [Joachim Gauck] this week and his partner [Daniela Schadt], and it's an incredible parallel because this lady isn't the mother of his children, and she used to be a political journalist, so you see…"
Et voilà! Looks like Val has herself a nice group of comrades ready to offer her guidance. But the learning curve has been small in the style department: Trierweiler has quickly joined Michelle Obama in the elite class of well-dressed first ladies. That's certainly step one in softening her image, non?
Does she have "first lady" style?
PHOTO GALLERY
Valerie Trierweiler's Style
Want more? Be sure to check out HuffPost Style on Twitter, Facebook, Tumblr, Pinterest and Instagram at @HuffPostStyle.