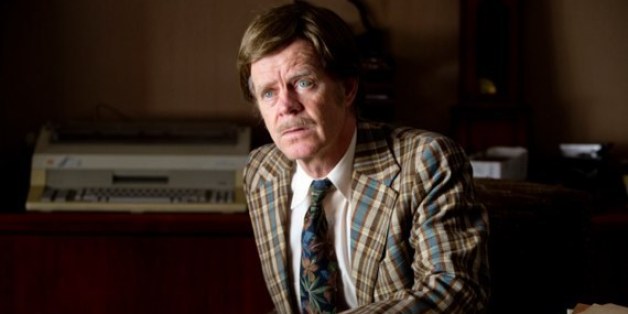 William H. Macy has appeared in classic films like "Fargo," "Boogie Nights" and "Magnolia," but it's "Jurassic Park III" that was among the movies cited by the 63-year-old star when asked to name his favorite. Nothing against "Jurassic Park III," but that is a surprising answer coming from a guy who's known as an actor and not an action star. Then again, that's probably why it stands out for him (and when you read his explanation, well, yes, it does make sense).
There are no dinosaurs in Macy's latest film, the morose "A Single Shot" (opening this weekend in limited theaters and available on VOD right now). Sam Rockwell stars as a hunter, who -- after accidentally shooting and killing a bystander; then purposefully stealing the large amount of money she had -- is always looking over his shoulder for the criminals whose money he now possesses.
Macy has worked with some of the best directors in Hollywood -- the Coen Brothers and Paul Thomas Anderson among them -- but he's never directed his own film until now: "Rudderless," a new movie that stars Macy as a father who forms a band to play his now deceased son's music. Macy called after finishing some post-production sound work on "Rudderless" and was happy to reveal the challenges (or, as Macy puts it, "It's not making art, it's more like getting hit by a train and dragged for 25 days") that go along with being a first time director who has been in over 70 (!) films at this point in his career.
Thanks for taking the time, I know you're busy directing "Rudderless" right now.
Well, it's kind of all finished. You know, it's never finished, but it's all finished. I went up to Skywalker Sound and did the mix last week.
It's interesting to hear Skywalker Sound being used on a smaller movie, as opposed to "Armageddon," or something.
Tell me about it. They are the coolest people in the world. I worship George Lucas. I mean, he took all his bounty and put it into that place. And, in fact, they do a lot of independent films. And I can only think, with our budget -- I mean, I had a micro-budget -- at best, they broke even. But he does it because loves film and he's a generous guy and he invests in the future. He scored with me.
It's nice to hear that about him, as opposed to "I didn't like the 'Star Wars' prequels." He does do a lot for filmmakers.
Oh my God, yes. Yes he does. I am his devoted fan for the rest of my life.
With "A Single Shot," I wish you were in it more. I'd have more questions for you about it.
Well, I score then, didn't I? It's better than, "I wish you were in the movie a little less."
I did love your hair. But then it turned out to be a wig.
[Laughs] Did you buy it? You thought it was my hair? You numbskull.
That will be my headline, "William H. Macy calls me a numbskull."
Here was the idea: Let's face facts, it's all about Sam Rockwell's paranoia. And, in fact, my character is not nefarious ... he means no harm. As a plot point -- and, to an extent, a device -- he thinks that Pitt is part of this grand conspiracy. He sees bad guys everywhere. A calling card of the character was that he's odd -- so I just took odd all the way.
With "Rudderless," it surprises me that you haven't directed before.
Well, you probably think that because I've been writing for about 15 or 20 years and I've got a lot of writing credits out there. And generally a writer ends up directing. For many, many years, I had no interest. I said it was because I get paid 10 times more than a director, I work one eighth of the amount of time as a director. Hm, which job do I want? But, it changed about five years ago. And as I'm entering my third act in this career, I desperately decided that I want to tell the whole story.
Obviously you've been on the other side if it so many times as an actor, were there not many surprises? Or did you still feel, "This isn't what I expected"?
That's a really good question. There were surprises -- I found out I know a lot. I found out there is a great deal I don't know. I underestimated the size of the burden that a director is carrying. I look at David Rosenthal in "A Single Shot" -- he did it in such grace and I actually wanted to make sure that I at least brought that amount of grace to it. It's not making art, it's more like getting hit by a train and dragged for 25 days.
You've worked with Paul Thomas Anderson and Joel and Ethan Coen. Did you ever find yourself emulating their styles?
Not consciously. But, yes, inevitably I did. The biggest influences in my life are, well, certainly "Shameless" -- because I'm there day in and day out and I see the directors working. And I love the way we work on "Shameless." In terms of a style, no ... I was making it up as I went along. And it's unclear how well I've done, no one has seen the film yet, really. We'll try to get it into Sundance.
I was looking at your filmography, and I always knew you were in a lot of great movies -- "Fargo," "Boogie Nights" -- but it's startling to see them all together. Do you have any that stand out to you?
It would be hard to say one, it's like naming your favorite child. But, standouts for me are "Happy, Texas," I love that movie. I love the whole ethos of it, the humor of it, too. Dave Mamet's film "State and Main" -- oh, Lord, we had a good time doing that movie. It's just a genius movie and it's so freaking funny. "Jurassic Park III," it was mind boggling to see. You know, I live in Hollywood. This is where the best and the brightest live in the filmmaking world. And that was the best and the brightest doing the best work they've ever done.
That looks like a hard movie to make.
Those movies are hard to make. But, they throw the resources at it and, well, it was stunning. An example: We needed this lagoon. And they built it at Universal and it took four months to build this thing. It was five stories high and it had five waterfalls. It cost an ungodly amount of money. And we shot on it for six days, then they tore it down. And there was a part of me at first -- you know, the Lutheran part of me; the Scotsman -- who said, "That's a waste of money." But that was quickly replaced by, "This is a glorious use of money. This is a glorious use of money!" To bring all these people together to build this beautiful, jaw-dropping thing for art, in order to tell a story. I can't think of better ways to spend money.
Mike Ryan is senior writer for Huffington Post Entertainment. You can contact him directly on Twitter.
PHOTO GALLERY
Celebrity News & Photos