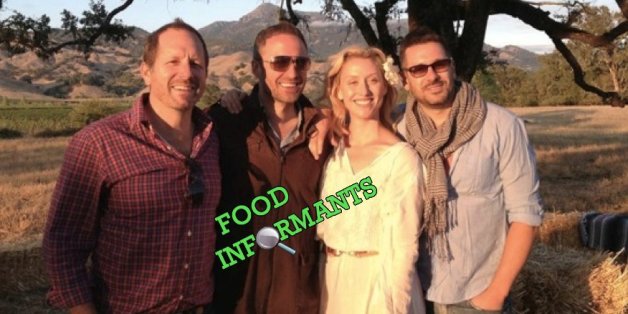 Food Informants is a week-in-the-life series profiling fascinating people in the food world. We hope it will give you a first-hand look at the many different corners of the food industry. Know someone who would make a great Food Informant? Tell us why.
New York-headquartered design-and concept firm AvroKO is equally adept at the varied disciplines of architecture, furniture, graphics and even fashion. AvroKO's four partners -- William Harris, Greg Bradshaw, Kristina O'Neal, and Adam Farmerie -- each contribute a unique vision to the firm's multifaceted design mission. The four principals first met at University and officially joined forces to design a client's company from top to bottom, bringing their distinct design backgrounds to bear on the process.
Since its creation, AvroKO has grown to a staff of over 46 in its NYC office, 20 in its Bangkok office, and 5 in its recently opened San Francisco office. Their active portfolio of architecture projects, including restaurants, bars, hotels, and retail, are taking place currently in 7 countries and 15 cities worldwide.
Read more about how these four partners juggle multiple projects.
Monday
10:55am: Land at SFO and head off to Santa Clara for our first meeting on the left coast.
12:30pm: What's a better way to start the week than hitting a meeting at the old SF Stadium? We have the meeting on the actual turf, of course! This meeting with chef Michael Mina and his very athletic ops team starts in the offices but ends on the field. Some great design is brewing in between the sprints and long passes, we are sure of it.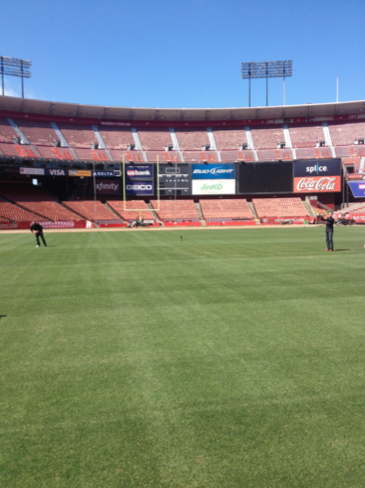 6pm: Field time fun and some serious get down to business meetings are over at the stadium site and we head on down to Mina's RN74 project for some top notch glasses of Cab and bites. Long day and a good workout to boot.
Tuesday
9am: After an early morning run around to locate a new AvroKO office ,we landed at SF Chefs. Chef Brad Farmerie (brother of Adam) and New Zealand chef Chef Al Brown are doing a joint demo and were in full prep mode. They are celebrating the products of New Zealand (Al's obviously Kiwi, Brad's just an adopted lover of all things NZ) by demo'ing 2 dishes each -- Al featuring mollusks; Brad Akaroa salmon, Al lamb; Brad venison -- while bantering back and forth like TV co-hosts. Very entertaining show with these two boys.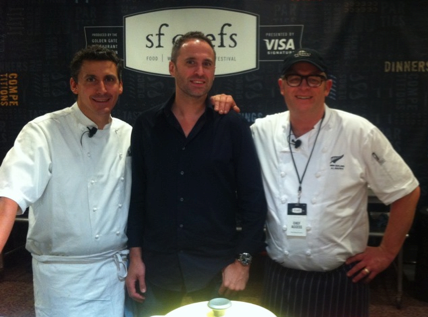 Chef Brad Farmerie and brother Adam with Chef Al Brown in front of big signs with big logos at SF chefs.
11am: We are already in the car and driving out to Napa where we will hold our AvroKO Partner Summit. Every quarter the four of us semi-sequester ourselves somewhere for a few days. We talk about long-term vision, big picture strategy, our collective and personal hopes and dreams, and of course more immediate company concerns that need some hard and fast creative solutions. These days are usually fueled by copious amounts of delicious food and great wine.
For this summit we convened in sunny Calistoga, CA at a house with its own mineral pool fed directly by the Calistoga hot springs; because sometimes the best ideas come to you while soaking in a 20,000 gallon steaming pool-sized hot tub with a chilled Riesling in your hand.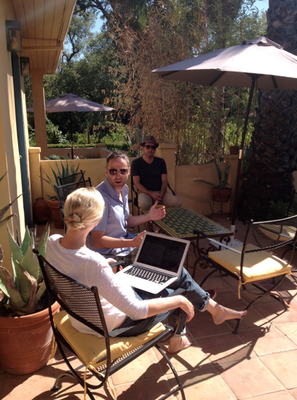 2pm: We decide to catch lunch at one of our favorite haunts near Healdsburg. The Jimtown Store is a country café nestled in the vineyards of the Alexander Valley in Sonoma County. It was originally founded in 1895 as a general store and post office, and now has a great backyard dining area covered in a canopy of grape vines. We hang out for a bit to devour some spicy vegetarian chili and smoked brisket sandwiches. More topics of the summit are covered and we think some good decisions made! Taking proper notes with hands covered in BBQ sauce proves to be a bit tricky however.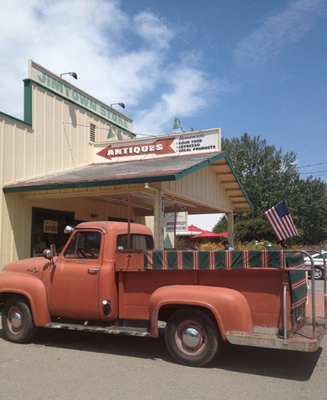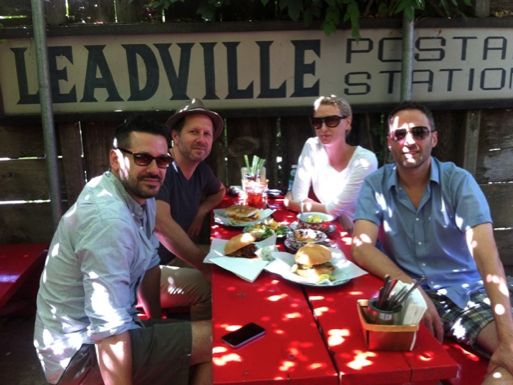 4pm: We have been invited to a dinner party by our dear friend John Kaplan, who is the owner of The Melt, the rapidly expanding brand of grilled cheese and soup restaurants in the Bay area. John has recently completed his new home in Healdsburg and needs to break in his monstrous kitchen. We are tasked with purchasing and grilling veggies for 10 people, and we happily oblige. Time to get on the road.
4:30pm: First stop is the Shed, a new industrial structure purpose-built to house a market concept. We pick up fresh veggies and have a look around. We're intrigued by the market concept approach and want to specifically hit this place as we've heard good things. We always try to weave in research into our daily exploits, merging work with fun and making them one. It's timely as our own project, Gotham West Market in hell's kitchen is opening this fall. Our concept is very different -- more of a 1970's Serpico New York block party kind of vibe. Maybe we'll see some cool programming inspirations though?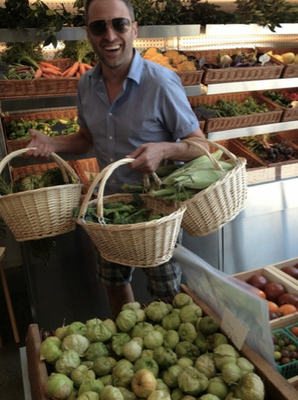 Adam loads up on veggies at Shed for the upcoming grilling extravaganza at John Kaplan's house.
5:30pm: Arrive at John's house. We have a few hours of grilling and chilling before the main event.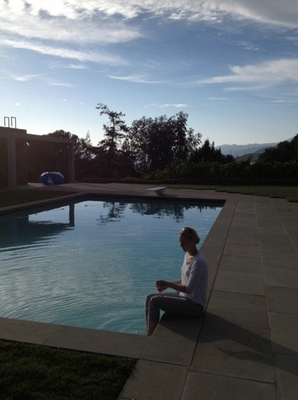 Kristina dips her toes in the pool for a moment during the quiet time. She has a healthy addiction to pools and swimming, as any original Cali-born girl might!
We grill up a bunch of shishito peppers, snake beans, carrots and corn. Adam does not realize how quickly and how hot this closed grill can get and promptly singes off all his arm hair after hastily opening the lid and diving in. So after that, rearranging the veggies with his hands didn't seem like that big of a deal.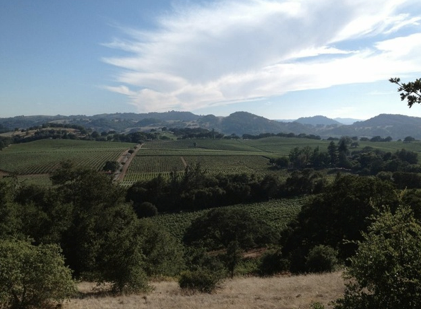 9pm: Knowing our penchant for Negronis, John has made a specially prepared home made Negroni sorbet for us. Adam squeals like a little girl. Kidding. Sort of... Best sorbet ever.
10pm: Return to the Calistoga house. Discover a poor, frozen bottle of Kistler Chardonnay that was left in the freezer to quickly cool, and then promptly forgotten. Rookie move, we have to admit. Miraculously the bottle didn't shatter but the cork was pushed though and we had a chardonnay ice-y on our hands. This reminded us of the popular beer slushies we've recently enjoyed in Thailand, and we started to wonder if we might just be onto something here.... Probably not though!
Wednesday
10am: Today is a big day for birthday girl Kristina. Later she'll have an intimate party on her land in Knights Valley and we are all gearing up in anticipation. Beforehand though we need to get some work in. We swing by our restaurant The Thomas in downtown Napa for a few meetings and space checks.
6pm: Giddy up. It's party time. We all don our country gear and hit the ranch. Kristina and her husband haven't built their house yet, but we take full advantage of all the different areas of the land and have distinct activities all along the way. The party is aptly named "A Moveable Feast!"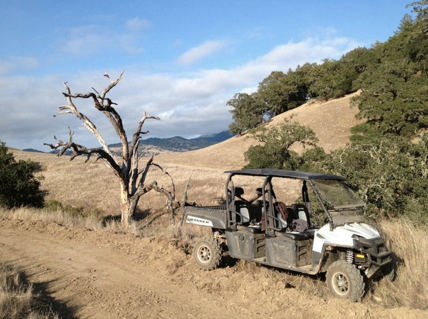 6:35pm: There are amazing blackberry bushes along some of the dirt roads. We make a point to stop and pick a bunch. Small mason jars are provided and everyone is instructed to hold on to the jars for the next stop. Cryptic and fun. Obviously everyone eats 2 berries for every one that makes it into the jar. Party bonus: no one is bit by a rattlesnake!
7pm: The story unfolds. Our cocktail master in Nnew York Masa Urushido has created a special cocktail recipe for the party called the "Horse and Carriage" and Linden Pride our ops director has whipped up a batch for everyone and carted it to the site. This along with fresh mint is added to the berry-filled mason jars for a perfectly local, rustic cocktail.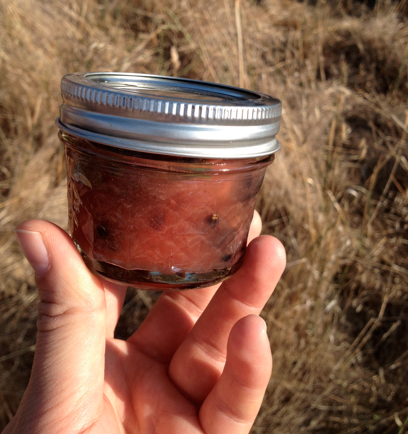 7:10pm: Our local buddy Dan has brought an antique 1880s buffalo rifle and plenty of ammo to help us get our cowboy on. A steel milk jug has been placed about 100 yards up the hill. Maybe it should have been closer, judging from all of the dust erupting around it?!?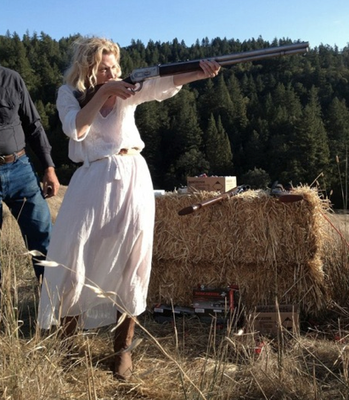 8:15pm: A big spread of local tacos and other assorted Mexican foods from La Luna (everyone's favorite bodega and taco stand) greet us at the next stop. Big galvanized tubs are filled with ice and wine from some of our local friends. The sun starts to get low in the sky and we all start to get a bit emotional. It's been a long journey, and when we do the math and realize we've known each other for 23 years.... it requires a moment of pause and reflection. Big hugs and love all around.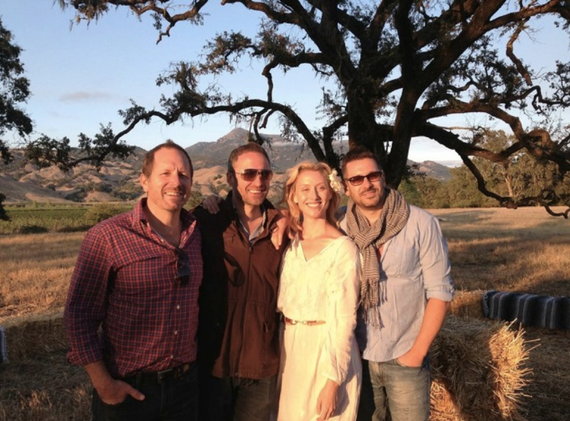 Greg, Adam, Kristina and William.
Thursday
9am: Yesterday was a blast, and thankfully we made it home relatively early. Start early end early! Now it's time for some serious catch up. Email, email email. Contracts, conference calls, yada yada yada. We love it and it's all good but not to bore you here with details, and so we move on...
Noon: Whenever we are in Napa Valley we always try to set up some special tastings. Today is one of those days. We have two arranged. First off is the delicious wines of Peter Michael. We hit the grounds at noon and cruise around just a wee bit to see the property. We don't have a ton of time though, so we basically dive straight into the tasting. We love the atmosphere at this tasting. As there is literally no wine available for sale on site (they don't produce massive quantities, and of what they do produce, 75% goes to their internal list straight out of the gate), hence, there's no sales pitch or push. Just a very relaxed and friendly atmosphere to enjoy and discuss the wine. Perfect.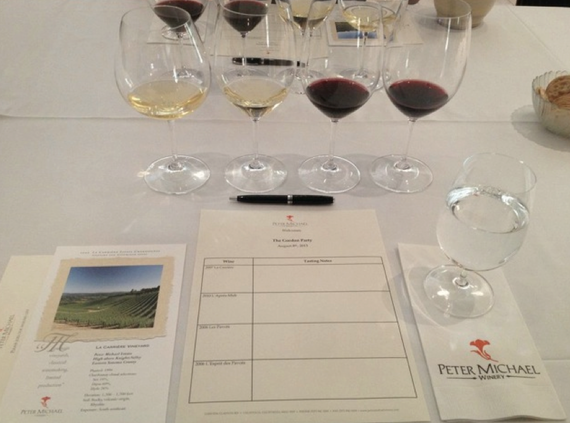 2pm: Next up, a very rare and special treat. Don Ross of Shibumi Knoll vineyards has invited us to taste a few of his gems on his front porch with he and his wife, Joann and their 2 labs, Cooper and Tucker. There is no tasting room here, and so we are thrilled to drive out to his house atop the knoll that is surrounded by all of his vines and have a very unique experience. It's a magical and perfect afternoon setting.
4pm: Time to head back to our respective enclaves. Drawings need to be marked up! Break out the red pens and make 'em bleed! :)
Friday
10am: We have assembled our crack team of chefs and our executive team for a pretty hefty tasting at The Thomas. The tasting is for our new project "ROADSIDE," set to open later this fall in Gotham West Market in NYC. We have 14 unique dishes to consume and discuss. The concept is quick and casual American roadside classics with an international spin. First rule of tastings of this size is one bite only!! We of course can never, ever stick to that. I suppose that's hats off to the chefs!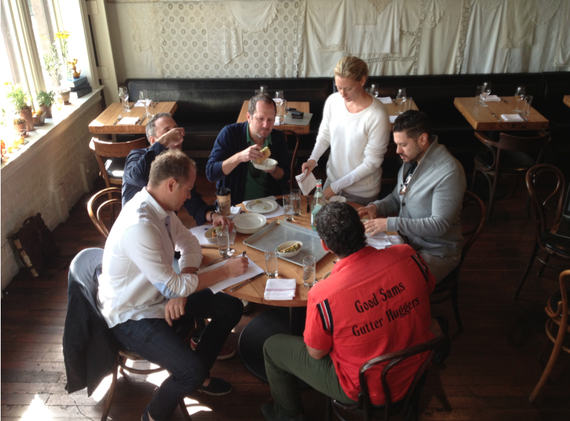 6pm: Kristina's husband, Adam Gordon organized a wonderful speaking engagement and dinner at the Thomas, which we all attend. Adam is on the board of Scripps Institution of Oceanography from UC San Diego and invited professor Amro Hamdoun to have a talk on our roof titled: "Safeguard the Grapes That Make Our Wine, Designing Safer Chemicals for a Healthy Future." Amro discussed solutions to design safer industrial chemicals and pesticides that do not accumulate in our bodies, food and oceans while continuing to protect our crops and develop modern products. He was very engaging and had animated anecdotes to bring his topic to life. We all felt fortunate to catch this insiders perspective on a very timely topic, and one very close to the hearts and minds of the local farmers and vineyard owners. Plus it was a gorgeous evening on The Thomas rooftop. Best view in Napa up there.
See more Food Informants below:
PHOTO GALLERY
Food Informants