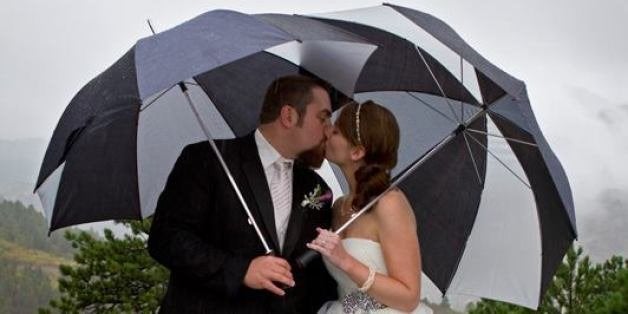 Bride-to-be Jyssica Lasco was set to marry her fiancᅢᄅ, Grant Hetherington, on Friday the 13th in Lyons, Colo. -- about an hour and half from their home in Englewood. But Mother Nature had other plans.
On Thursday morning, Lasco woke up to a stream of text messages asking if she and her fiancᅢᄅ were OK and telling her that they were keeping the couple in their thoughts.
"I thought people were just trying to calm our pre-wedding jitters," she told The Huffington Post in an email. "It wasn't until my boss texted me and told me that Lyons wasn't in good shape [with regards to the flooding] that I turned on the TV. That's when I heard the newscaster say the area was virtually a island. There was no way in or out."
Lasco and her family scrambled to find a new venue at the last minute. The couple was determined to have the wedding on Friday because the majority of their out-of-town guests had already arrived and their photographer, Rachel Sullivan, had flown in from Florida. They were also very set on their Friday the 13th wedding date.
"We are huge horror movie buffs, love Halloween and all that surrounds it," she said. "So Friday the 13th was very fitting for us and it was even more special because it was the first one of 2013. So no matter what it took we were going to be married Friday."
Despite all the obstacles (even the bride herself was stopped for four hours on her way to their new venue in Loveland), they were able to pull off the wedding with the help of family and friends.
"By far, my favorite memory was walking down the stairs and to the end of aisle, where I looked up and saw Grant standing there," Lasco said. "I knew then that this truly was going to happen and that despite the whirlwind that was our lives for those 36 hours, I was getting married!"
PHOTO GALLERY
Jyssica Lasco and Grant Hetherington's Wedding