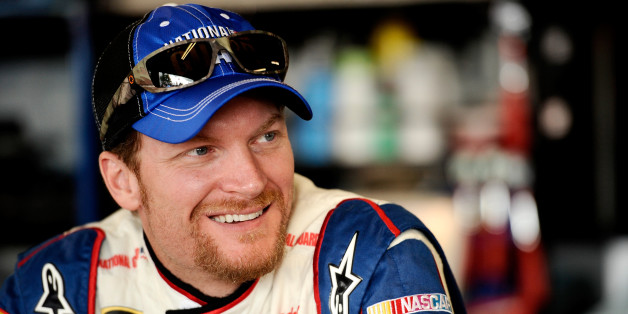 Dale Earnhardt Jr. said he feels "left out and unimportant" when he misses the Chase for the Sprint Cup. The 38-year-old driver knows that feeling too well: He has missed the Chase four times in nine years. But happily for Earnhardt, 2013 has been a very productive season, and he remains in the hunt in NASCAR's top racing series.
One of the most popular drivers of his generation, Earnhardt caught up with The Huffington Post before the Chase began and after that controversial finish at Richmond. On Sept. 7, Michael Waltrip Racing driver Clint Bowyer spun out late at Richmond in an apparent attempt to manipulate the Chase field and aid teammate Martin Truex Jr., leading to tremendous controversy within the sport, and penalties and fines for the team. Earnhardt talked about that, as well as his relationship with high-profile drivers Danica Patrick and Brad Keselowski.
Michael Waltrip Racing recently came under fire for manipulating the results of the Richmond International race. What was your reaction to that situation?
I was really fascinated, to be honest with you, just how it all went down. And then to wake up and hear about the suspensions and fines. Just really, really fascinated. As much as I hate to have to talk about it, it's driving a lot of traffic to the sport. But I think NASCAR did a good job. I was glad something was done because I'm sure guys will think twice about it.
Every NASCAR race is now televised, but what would be the next crucial step for the sport to take?
Well, there's still a lot to learn. I think the way the race car and the tire meet the road, and how they work together to give the driver feedback, and how the car needs to be driven. And obviously that changes how we race each other to create a more dynamic event. I think that's always a moving target, and we get close to really getting it right and then some things can change. That's the one thing we're always chasing.
Give us an idea of how much strategy and general conversation you have with your crew chief throughout a race.
Every lap. It's just an open mic all the time. That's really common.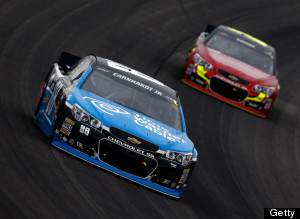 You mentioned the state of the actual race cars. Just how much has it improved?
Sometimes technology can be a hindrance -- where if you put 43 cars on the race track that all run the same lap time, who's gonna pass who? We aren't as technically advanced as some motorsports, but I think that's on purpose, to really keep the little guesswork in there and give responsibility to the crew chiefs and teams. There's not a magic answer that we're trying to find every week, but you try to make a safe tire and safe race car.
How exactly can it become a hindrance?
Technology also drives cost. You gotta keep understanding how expensive it is to perform well. It's not in NASCAR's best interest to drive up the cost of racing, so I think there's a responsibility and respect to maintain the level of technology on that front, to try and keep the cost of competing down the best you can.
Do you ever think about how you would do in another circuit, perhaps in Formula One?
Not really. There's no real appeal for me to drive an open-wheel car. Especially in the road course format, I never had any desire.
What do outspoken drivers like Brad Keselowski do for NASCAR and its fan base?
Oh, it's great. Good personalities like Brad's are real important. Our sport really thrives when the environment is full of guys like that. You don't always have to agree with everything everybody says, but we definitely need opinionated drivers. It drives the consumer and our fan base to want to know more. Not only are they watching races, but they're tuning in to see what we're dealing with.

How hard is it to maintain relationships with other guys because of the competitive nature and the potential dangers within the sport?
Well, not really. We all have a pretty good understanding of what the job is. We all stay in motorcoaches at the race track together. There's guys that you get along with and build a friendship with; there's guys that you just don't click with. When you get on the race track, everybody's trying to accomplish the same thing.
Do you have a relationship with Danica Patrick at all?
I think [we're] pretty good friends. We worked together for a while, and I think we got a pretty good respect for each other.
At this point in your career, are you setting goals?
Yeah, I think the one thing left is to win the championship.
Away from the track, have you found a balance in terms of the other elements life presents?
Yeah, I guess. I get real bored when I'm not at the race track. I sorta have a hard time finding stuff to do because it's not like you can have hobbies because you're gone for a period of time. It's real difficult to connect, reconnect when you're gone. It's hard to really invest in it emotionally and personally. Racing is what I wanna do anyway. If I'm at the race track working with my team, that's what I'd rather be doing.
This interview has been edited and condensed for clarity.
Email me at jordan.schultz@huffingtonpost.com or ask me questions about anything sports-related at @Schultz_Report. Also, be sure to catch my NBC Sports Radio show, "Kup and Schultz," which airs Sunday mornings from 9 to 12 ET, right here.
BEFORE YOU GO