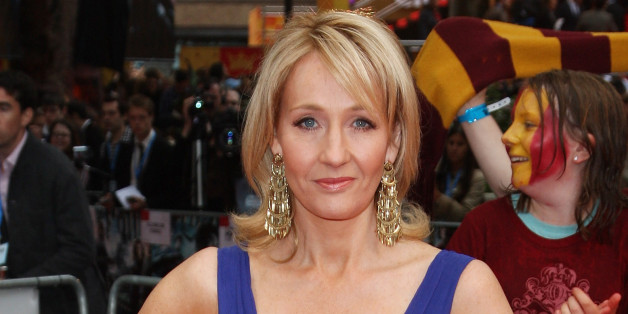 J.K. Rowling may be best known for writing one of the most successful children's book series of all time, but Harry Potter is not what she's most proud of.
In an essay for Gingerbread, an organization that supports single parents in the UK, Rowling -- who is the president of the organization -- says that being a single mom to daughter Jessica gives her the most pride.
"I would say to any single parent currently feeling the weight of stereotype or stigmatization that I am prouder of my years as a single mother than of any other part of my life," she wrote. "Yes, I got off benefits and wrote the first four Harry Potter books as a single mother, but nothing makes me prouder than what Jessica told me recently about the first five years of her life: 'I never knew we were poor. I just remember being happy.'"
Despite her fame and success, Rowling writes that the single parent stigma persisted.
"There was still no escaping the Single Parent tag; it followed me to financial stability and fame just as it had clung to me in poverty and obscurity," she wrote. "I became Single Parent Writes Award-Winning Children's Book/Earns Record American Advance/Gets Film Deal."
Rowling went on to say that she is working with Gingerbread to enact policy changes that will positively impact the lives of single parents and their children.
"It's investment in single parent employment that will allow single parents to work their own way out of poverty and secure real savings from the welfare bill," she wrote. "Nothing outlandish: affordable childcare, decent training, employers embracing flexible hours, and a long, hard look at low pay."
This isn't the first time Rowling, who is now remarried, has opened up about single parenthood. In 2011, Rowling appeared on the show "Who Do You Think You Are?" to learn more about her ancestry and discovered that several of her ancestors were single moms as well.
"What I'm very struck by is how many single mothers I'm descended from in this line of the family. There's a definite parallel here. Twenty years ago, I was teaching and writing in my spare time ... and then not long after that, I became a single mum, so I feel the connection," she said.
Click through the slideshow below to see even more of our favorite celebrity single moms.
PHOTO GALLERY
Our Favorite Celebrity Single Moms
Keep in touch! Check out HuffPost Divorce on Facebook and Twitter.