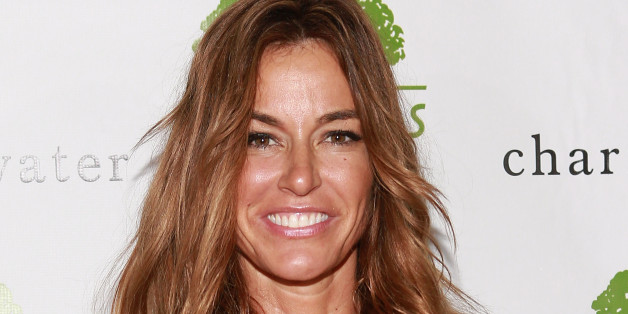 These days, our knowledge of celebrities too often originates with paparazzi images and snarky quotes by anonymous "insiders." After a while, it's easy to forget that stars are real people. That's why HuffPost Celebrity decided to launch its all-new #nofilter quick-fire question-and-answer series. Because how well do you know someone until they've shared their guiltiest pleasures?
Kelly Killoren Bensimon may no longer be a "Real Housewife of New York City," but the 45-year-old mom-of-two is still a busy bee. The former model is set to launch her new fragrance, "In The Spirit Of," and is making sure to avoid any more drama with her former co-stars, including Bethenny Frankel -- whom she stayed tight-lipped about at the Origins Smarty Plants™ launch event hosted by Emmy Rossum and benefiting charity: water at JIMMY at the James Hotel in New York City on Sept. 16.
Still, Bensimon was willing to talk about granny panties and much more when she agreed to take HuffPost Celebrity's #nofilter challenge.
What's your guilty pleasure?
I don't really have a guilty pleasure … my life is a guilty pleasure. It's fun and I'm just so grateful to be able to do what I love to do and I'm having a good time, so I don't really need to indulge in something else to make up for it. Look where I am tonight! This is so much fun!
Do you have any advice for the younger version of yourself?
Just keep going and never take no for an answer. And also try to be as mindful and considerate of other people as much as you can.
Is there something from your childhood wardrobe that you wish you could wear today?
I have a dress from when I was 16 that I still have; I kept it for my girls. And it's really short and I don't ever want to wear it. [laughs] I don't want to see myself in that dress, but I want to see my girls in it. But the one thing I loved were my purple Converse. And I still wear Converse, just not purple ones.
What do you wear to bed?
It depends. Sometimes I wear cotton men's pajamas, sometimes I wear a little nighty, but I always wear something to bed. I think it's a moment to kind of dress up.
And how do you feel about granny panties?
Sometimes I wear them, it depends. I like to wear granny panties if I'm wearing a miniskirt or a jean skirt and I'm going to be at the beach. I don't necessarily wear granny panties, I wear almost boy-shorts. Just because I'm a mom, I never want to have "that" moment. I also wear appropriate underwear because I don't want my kids to be walking in and be like, "Mom, what are you wearing?" So I try to keep my underwear very appropriate, but still beautiful!
Who would be your ideal drinking buddy living or dead?
Probably Peggy Guggenheim. I just think she's an amazing woman and if it wasn't for her, we wouldn't have modern art today. And I would just love to go in her brain and be a voyeur and hear all her crazy escapades with, like, every single artist. I just think she's a very interesting woman and she did a lot for modern art, so I think that's really cool.
BEFORE YOU GO
PHOTO GALLERY
They said WHAT? #nofilter