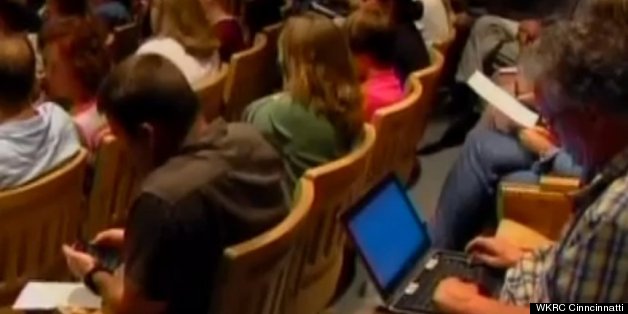 Springboro school board meetings in Ohio the past few months have frequently revolved around controversial topics such as creationism, the separation of church and state and race in America. Thursday's was no exception.
Larry Schweikart, a conservative historian and professor of history at the University of Dayton, spoke at the meeting per an invitation from the board. Schweikart, author of books that include 48 Liberal Lies About American History: (That You Probably Learned in School) has previously received attention for saying, "biblical virtues were necessary to a good education."
Schweikart's speech, titled "Importance of Getting American History Correct," focused on critiquing school history textbooks. He lamented that American textbooks unfairly criticize President Ronald Reagan and do not adequately portray the role of communism in the assassination of John F. Kennedy, Springboro resident Christopher Ritter told The Huffington Post. Schweikart declined requests to be interviewed.
Responding to questions following his speech, Schweikart said he did not recognize minority interpretations of history. After that remark, school board president Kelly Kohls ended the Q&A, and told the audience the board was moving to other issues, according to multiple people who were at the meeting.
"As a conservative, I reject teaching the concepts of race, class and gender," Schweikart said, according to The Dayton Daily News. "I just don't buy it."
Some Springboro residents said they saw Schweikart's speech as merely another attempt by the board to indoctrinate citizens with right wing political ideologies. In recent months, the board has floated the idea of teaching creationism in schools and nearly offered summer classes on the Constitution taught by religious groups.
"They never want to engage in a debate, they just want to push the agenda," Simanti Dasgupta, a professor of anthropology who has been attending school board meetings, told The Huffington Post. "I find that obviously very problematic, especially with the debate on creationism. ... The landscape of the U.S. is changing and it is hard to keep up with conservative ideals."
Dasgupta and Ritter both said it was frustrating that Kohls cut off the Q&A portion of Schweikart's speech. Kohls, president of the Warren County Tea Party, recently announced that she would not run for reelection. She did not respond to requests for comment.
"Really, to me the bigger issue is what type of say does the community have in the education of our children and I think the board has created … a contentious space," said Ritter, whose daughter attends Springboro High School.
In addition to controversies regarding creationism and summer Constitution classes, the Springboro school board received attention in July when local tea partier Sonny Thomas spoke at a meeting, reportedly saying that African-Americans "should consider themselves lucky, since they are treated better in the United States than they would be if they were in 'black countries' with 'genocide.'" He ended his speech by unfurling a Confederate flag.
BEFORE YOU GO
PHOTO GALLERY
Out-Of-Touch Politicians