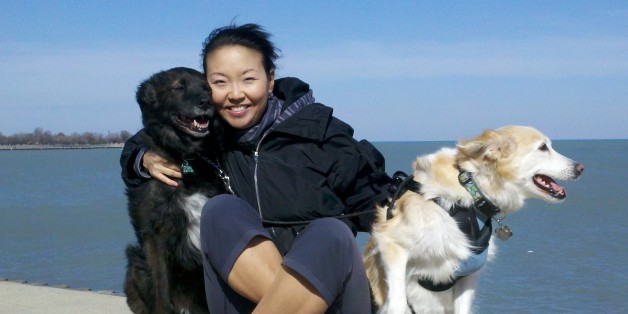 One of the reasons I started my website is that I wanted a place for women to come together and dream. We women need to know that we don't have to hang on to an old dream that has stopped nurturing us -- that there is always time to start a new dream. This week's story is about a woman whose love of pets led her to rescue two beautiful dogs from a shelter. In turn, they inspired her to start her own business, and now she's cleaning up! -- Marlo, MarloThomas.com
By Lori Weiss
Jennifer Blaese has two passions in life -- beside her husband Todd, of course -- her love for her pets and her dedication to great design. Living in Chicago, she took long walks through the city streets and parks with her Border Collie mixes, Winston and Mabel, leaving them at home just long enough to go to work, where she sold high-end home furnishings and accessories. Little did she know that one of those leisurely walks would guide her to design a life and a business devoted completely to them.
"I found Winston," Jennifer recalled, "at a shelter. A woman was walking out with a towel and I could see a white fluffy puppy all wrapped up. He was just four weeks old and still nursing. He'd been dumped in an alley in the city somewhere and this woman had found him. The shelter refused to take him. They thought he wouldn't make it and in the end would have to be euthanized."
"I walked right back in there with him and told them that I was taking him home and just asked if a vet could tell me what to do over the weekend, until I could get him to a clinic on Monday. They wouldn't help me. So I went to a pet store where they gave him a bath and blow dry and gave me replacement mother's milk. He slept in a little basket on the couch with me that night. The next day I took him to the vet and, other than a few little things, they said he was completely healthy."
Jennifer comes from a long line of rescuers. Her family would bring home stray dogs and cats, bunnies and hamsters, and each one would bunker down in the young girl's bedroom until they were strong enough to run and play. Jennifer understands the plight of the abandoned -- because as she puts it, she was a rescue too.
The now 40-year-old woman was left at an Inn just outside of Seoul, Korea, when she was four months old. The innkeeper kept her for several days, hoping her mother would return, but ultimately brought her to authorities to see if they could help. While her birth mother was never found, an international agency did find Jennifer a loving family in the United States that couldn't wait to bring her home.
"People ask why I adopt rescues," Jennifer explained. "They say you never know what you're getting. But my parents could have said the same thing about me."
Winston became her constant companion, along with Mabel, who Jennifer rescued six months later, so that Winston would have company while she was at work. The precious pooches were family, and since Jennifer loved design she was determined to make sure her pups had the same kind of cutting edge accessories she did. But we're not talking about cute little outfits or jeweled collars -- for Jennifer, necessity became the mother of invention.
Article continues below slideshow
PHOTO GALLERY
It Ain't Over: Jennifer Blaese
"Living with dogs in the city," Jennifer said, "is not like living in the suburbs with a big back yard. I walk my dogs three times a day and I'm picking up after them constantly. As prepared as I always thought I was, there would undoubtedly be a day that I'd have two bags in my pocket and then either Winston or Mabel would decide to poop again! I literally had to pick up the poop with my hands or find a discarded coffee cup or leaf. I couldn't just leave it there!"
"There was a day, though, that it was snowing. There was no way I was going to be caught unprepared in that weather! So I put ten bags in my pocket. But when I went to pull one out, they all landed in the slushy snow. And it's like over-dispensing toilet paper -- you can never put it back the way it was. That was the day that I decided I needed to come up with something better -- something that would dispense one bag at a time."
Jennifer went home and began to design a small dispenser that would loop around a dog's leash -- something that was esthetically pleasing and urban cool -- that held tightly to the leash, so not to wave around in the wind or disturb the dog in any way. She named it the Loop for Poop.
And then fate stepped in -- one of those moments when people tend to say, "There are no endings, just new beginnings." Just days before her wedding, Jennifer lost her job. That's when she decided that everything was going to the dogs. She was going to put everything she had into poop.
"The ongoing theme I'd had in all my jobs," Jennifer remembered, "was that I thought too outside the box for the people I worked for. I always had a broader vision of what was possible, but they weren't my companies. So this was my chance to see how far I could take the Loop for Poop."
Jennifer took her rough sketches to her father-in-law, who happened to be an electrical engineer, and in one afternoon, he put together a prototype. She found a local manufacturer that was willing to do a small run and then she took her invention to the streets -- the streets of Chicago, where summer means outdoor festivals and lots of pedestrians cleaning up after their pets.

"I shared a ten by ten booth at a street fair with two other people who sold products or services for pets, so we split the cost of $300 three ways. For $100, I had the perfect test market. And in six days, I completely sold out."
By the end of summer, Jennifer had the confidence to take her idea to a trade show. She signed up for the HH Backer Christmas Show, where retailers who sell products for pets stock up for the holiday season.
"I thought that maybe I'd get $300 - $400 in orders from the show," Jennifer said, "but the very first buyer to place an order, wanted $900 worth! By the end of the show, we had 25 retailers who wanted to carry the Loop for Poop! And before I woke up Monday morning, I had an email from a buyer at Bed Bath & Beyond! She was pitching me on why she thought my product would do well in her stores!"
With all that interest, Jennifer had to move into action quickly -- and given the fact that she'd just lost her job, there wasn't a lot of extra cash on hand.

"As a small business," she continued, "it's a struggle to get a bank to approve a loan. There were lots of angel investors interested, but they all said to call them when we heard from a large pet supply chain. I told them to take a number, because that's what everyone was waiting for! Todd took loans against his 401K and I cashed mine out. I put all my chips on the table. If I was going to ask other people to invest, I had to be all in myself. Bit by bit, with the help of family and friends, we pulled enough money together to fill the orders that were coming in."
With all the interest in the Loop For Poop, it occurred to Jennifer that she should be doing something about the bags her customers would be dispensing. Just between Winston and Mabel, the insightful entrepreneur estimated she was using 2,000 bags a year and they were all sitting in landfills. So she created a line of bags that with just a few additives, and no extra cost to consumers, became instantly landfill biodegradable. It was something that had never been done.
In seven short months, Jennifer has not only combined her two passions, she's selling her products in 115 stores. This fall, Bed Bath & Beyond will begin testing the Loop for Poop in 23 of their locations. And she's in discussions with a major pet retailer about developing a private label brand of her biodegradable bags.
"I know people are going to call me the poop bag girl!" Jennifer laughed. "They won't remember my name, but they'll remember what I sell. But the good news is there will always be poop!"
"Life is too short to not do something you're passionate about. People get caught up in the minutia of their lives and they stop thinking about what might make them happier. Winston passed away in December, but he and Mabel will always be a part of this company. They made me take time out every day and just be. Some people get that from yoga or exercise. But it was my dogs that helped me slow down and see the possibilities."