Stiff robots don't typically evoke gushy warm feelings, but these adorable guys will make your heart swell.
To recognize often-overlooked local heroes, and to encourage others to offer up random acts of kindness, artist and designer Matthew Del Degan started the "Lovebot" movement four years ago. Each of these concrete-composed sculptures –- who proudly wear red hearts on their chests – bear a unique code that tells a story of someone who helped to make the world a better place, Atlantic Cities reported.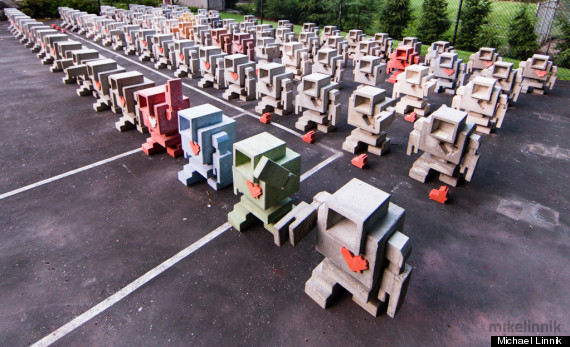 "Lovebot reiterates the fact that we have the privilege of being human, where we are not restricted to programming; many of us work like robots in this technologically driven concrete jungle," the Lovebot site explains. "However, humans are not robots and they have the capacity to share love and kindness with one another."
One story for example, tells of how Adam Conner volunteered to do laundry and other chores every week for a man with disabilities whom he met outside of a church, the Toronto Star reported. Another shares a particularly inspiring story about Blaede, 10-year-old who has been giving away toys for years.

Del Degan was first inspired to meld the concepts of technology and emotion when he struck up a conversation with a homeless man while riding to school, he told Post City. While the two engaged, Del Degan couldn't help but notice that the rest of the passengers sat in complete silence, completely immersed in their phones and other gadgets, almost like robots.
It was then that he decided to create a robot that symbolizes humans' innate inability to bring goodness to the world.
The towering structures have made their way to more than 100 countries, including France, South Korea, and Italy, according to Post City.
Now, 100 of these heartwarming robots are taking on Del Degan's hometown of Toronto.
"Lovebot wants to disrupt people's daily routines and remind them that there is magic in this city," he wrote on his site, "and love around every corner, aiming to illuminate the love that exists within Toronto and inspire more."
Check out photos of the Lovebots below:
BEFORE YOU GO
PHOTO GALLERY
Robot Army Spreads Random Acts Of Kindness