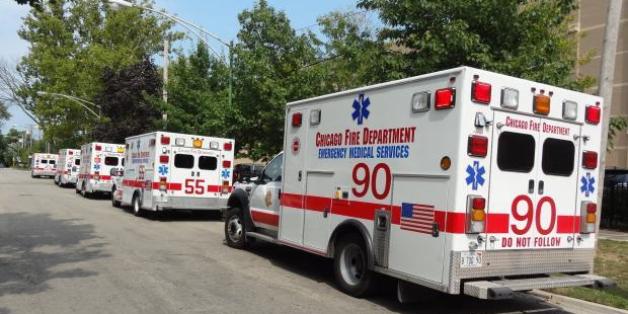 A South Side Chicago lunchroom was the site of a chaotic scene Wednesday where 26 people were hospitalized after a student reportedly fired pepper spray by accident.
The incident happened at John Marsh Elementary School in the South Deering neighborhood around 12:30 p.m. when a student triggered a canister of the spray.
DNAinfo Chicago reports police say a 14-year-old girl was wearing a canister of pepper spray around her neck while standing in the lunch line. The girl reportedly told others her inhaler medication was inside the bottle and a second 14-year-old student, apparently unaware of what was inside the canister, pressed the trigger on the bottle releasing the spray.
Fire officials said the students were first treated at the nurse's office after the spray "got into their breathing passages," the Tribune reports. After the two were treated, more students complained of feeling sick. Three of those treated were in fair-to-serious condition at an area hospital and 16 were in good condition. DNAinfo reports other students were treated on the scene.
A Fire Department spokesman told CBS Chicago some children were more seriously affected because of allergies and possibly asthma.
Police didn't say whether the student who depressed the canister was trying to intentionally spray anyone, though the Sun-Times reports at least one student is being detained in connection with the incident.