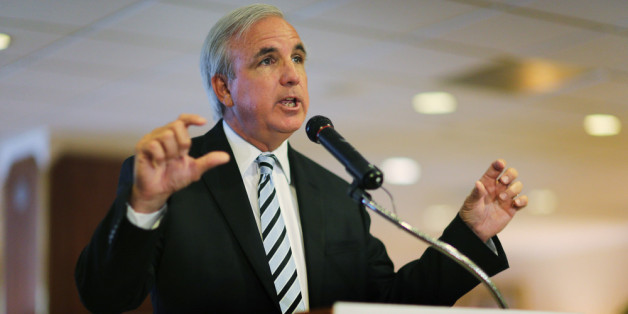 The federal government is spending $67 million to eliminate confusion as consumers shop for coverage on the new health insurance exchanges mandated by the Affordable Care Act.
Critics say Miami-Dade County is making it more difficult.
The Associated Press reports Florida's most populous county plans to eliminate its Healthcare Planning Department, the agency responsible for assisting residents "who may not know which health program or service best fits their needs", on October 1 -- the same day that the new state insurance exchange and open enrollment goes live.
A spokeswoman for Miami-Dade Mayor Carlos Gimenez (R) told the AP the department's elimination is not tied to the Affordable Care Act, also known as Obamacare, noting that the move will save $728,000 from the strapped county budget.
But the decision also follows a week after Florida's department of health banned federally-funded Obamacare counselors, or "navigators," from helping residents sign up for insurance on the grounds of county health departments.
Polls show the public remains both unsure and uninformed about Obamacare, making assistance from navigators and other agencies crucial to enrolling Americans coverage. Gimenez's budget cut has local democrats crying foul.
"This move by Gimenez on the heels of Governor [Rick] Scott's reprehensible navigator ban puts the people of Miami-Dade at a double disadvantage," said Annette Taddeo-Goldstein, Miami-Dade Democratic Party Chair, in a statement.
"This is an irresponsible, politically motivated action designed to undermine Obamacare at all costs. If you have ever wondered what tea party government looks like at the local level — look no further."
Despite having the nation's second-highest uninsured population, Florida's political leadership has long opposed Obamacare, leading a failed charge to suppress the law through the courts, refusing to expand Medicaid to an estimated 1.3 million poor residents with federal grants because the money was tied to the Affordable Care Act, declining to run or regulate the state's exchange, warning that personal data collected by the government would not be secure, and banning the navigators from operating at health departments.
At an event in Miami-Dade, where a third of residents lack health insurance, U.S. Health and Human Services Secretary Kathleen Sebelius slammed state republicans Tuesday for "keeping information from people."
"It isn't about my job being more difficult," she said, according to the Miami Herald. "It really is a conversation about Florida citizens who have a right to know what the law is and what benefits they may be entitled to receive. It's unfortunate that keeping information from people seems to be something of a pattern here in this state."
BEFORE YOU GO
PHOTO GALLERY
Lies And Distortions Of The Health Care Debate