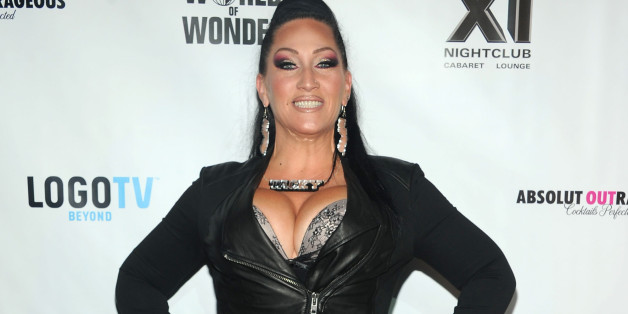 Chances are you know Michelle Visage as the wickedly silver-tongued, hard-ass judge from "RuPaul's Drag Race."
Or maybe you remember her as the hit maker who helped take songs like "Two To Make It Right" and "It's Gonna Be A Lovely Day" to the top of the charts in the early '90s.
But if -- God forbid -- you aren't familiar with Visage, you'll have the opportunity to right that grievous wrong on Saturday night when she hosts the Miss'd America pageant at the House of Blues at the Showboat casino and hotel in Atlantic City.
A drag pageant originally created as a fundraiser, Miss'd America is a spoof of the Miss America pageant and features queens competing in categories including swimsuit, talent, evening gown and the judges' interview. Visage will be joined by Michael Musto and "Finally" singer CeCe Peniston.
Earlier this week Visage, who is currently on the road with the "RuPaul's Drag Race" Battle of the Seasons tour, phoned The Huffington Post from Minneapolis to chat about being a "proud no-nonsense bitch," the biggest drag deal breaker for her and those rumors that she herself is actually a drag queen.
The Huffington Post: Did you watch the Miss America pageant on Sunday night?
Michelle Visage: [I was traveling with the Battle of the Seasons tour], so I didn't but I did see the timeline [of events] and I saw some highlights like [Miss Kansas'] tattooed torso, [Miss Florida's] studded knee brace, and all of the f**kery.
Are you into beauty pageants or are you the kind of person who thinks, "They're the horrible for women.. We shouldn't have them..."?
I love pageants. Though I am a feminist in some ways -- I believe in equality and all that stuff -- if women want to do [beauty pageants] -- it's just like pornography or posing nude. If that's what they want to do and that's what makes them feel good and that's the path they've chosen, then do it!
What do you think the biggest difference will be between the Miss America pageant and the Miss'd America pageant?
[Laughs] The Miss'd America pageant will be fabulous. The Miss America pageant is predictable.
"RuPaul's Drag Race" has had a huge impact on the world of drag. Do you think that impact will be noticeable on Saturday night?
I don't know. The thing about "Rupaul's Drag Race" versus pageantry is that pageantry has been going on for so many years. It goes way back and they have their way of doing things that doesn't conform to the typical drag show or bar queens -- however you want to say it. It's all a form of artistry and it all needs to be judged accordingly. I wouldn't judge a bearded queen in a bar doing a Beyonce song the same way I would somebody in a pageant who spent $3,000 on gowns and hair and rhinestones and this and that. It's going to be judged a little differently because there's different guidelines.
Do you think there's been any downside to the huge influence "Drag Race" has had on drag? Are there any negative things that have come out of the show and trickled into the scene?
I can't see it -- and I'm not saying that because it's my best friend's [RuPaul] show. I'm looking at it and all I can see is positivity because, let's be honest, without this show drag is still kind of this taboo thing that you only see one night a week at the local bar on their gay night because normally it's a straight bar. So I can't see a downside because there might be a queen or two who feel like they got the fuzzy end of the lollipop [when they were] on the show because of whatever happened [to them]. Even the ones that are voted off first are still a name, a household name, people know who they are. I can't see any negativity that this show has brought out. It's all positivity, it's all a light being shined on an incredible art form and taking it to the next level and challenging queens to be more. I think it's incredible and we're very lucky to have a show like this on television.
Are you surprised by the success that it's had?
No! Not at all! Because I know how talented these queens are -- I know what an incredible art form it is. I grew up around it. For me I always sit there and just watch the amazingness that is drag. I'm not surprised because every single person -- whether they are homophobic or part of the Westboro Baptist Church -- every single person has a gay in their life. Whether that gay is out, whether that person is trans or whatever the story is, whether they want to admit it or not, everyone knows someone who is gay. Whether it's their hairdresser, their niece or nephew, their child, whatever it is, they're affected.
RuPaul obviously rules "Drag Race" with an iron fist, but it seems like a lot of the queens are just as terrified of you -- if not more. Is Michelle Visage totally misunderstood or a proud no-nonsense bitch?
[Laughs] I am a proud no-nonsense bitch but I am not a bitch in the mean sense of the word. I am just forthcoming -- completely blunt and honest. Ru doesn't judge the queens the way I judge the queens. Ru is the mother, I am like the drunken Aunt at the barbecue [laughs]. It's my job, thats what I'm there for. I call them out on their bullshit because a lot of people like to think of ways to be cute and get around it and think they are not being seen doing what they're doing -- being lazy, not opening up to their vision, whatever it is. If you understand me, you understand what I do, you know that what I do comes completely from a place of love and admiration. It might seem harsh when its happening, but it's all for a reason. When people were coming for me on Twitter, when [they felt I was being too harsh Jinkx Monsoon], I said, "Listen, shut up and go for the ride, go for the journey." Because there's always a reason why I'm saying what I'm saying. Do I think I'm misunderstood? No. The people who don't get what I'm doing, they don't get it period and it's not worth explaining. I don't need to explain what it is I do. If you listen to what I'm saying, there's always a reason for it. Always. And it always comes from my heart, a place of love. There's no point in being a bitch for the sake of being a bitch. I don't need that like, "Look at me! I'm the bitch on TV!" -- that's not what I'm there to do. I'm there to push these kids out of their comfort zones and when they do it's like a butterfly coming out of its cocoon, isn't it?
Amen! What is a bigger deal breaker for you: A queen with horrible style but an incredible personality or a queen with impeccable style but who is a total snore?
The second one. I don't care how flawless you are, if you don't have a personality and a sense of humor to back it up, it's like life -- you can meet the hottest guy on the planet and then when you talk to him and he's a complete dud or a moron, and you can't get beyond a sentence, it's a total deal breaker. It's the same thing. I can see a flawless queen and if they have an ugly personality, it makes that person ugly. They transform in front of your eyes into ugly and you're like "How did that just happen? I fell in love with them when I saw them…" That's why [the producers of "Drag Race"] don't let us see [the contestants'] personalities. Santino [Rice, Visage's fellow judge on "Drag Race"] and I don't see anything except what we see on that main stage because if we did get to see them doing their stuff and getting to know their personalities, it would affect the way we see them do their drag.
When I told some people that I was talking to you today they all flipped out and then a few of them asked me, "Wait -- Is Michelle Visage a bio woman or a drag queen?"
[Laughs]
Do you get that a lot?
I get that all the time but not really because of the way I look -- there are a lot of women who look draggier than me. It's because everybody calls me a drag queen. Ru constantly calls me a "fierce queen" and it confuses people and I call myself a drag queen and I kid that I have the biggest dick in town and I kid that I have the best tuck around -- I kid that my tuck is better than Carmen Carrera's. It's always been a joke since I was 17 years old. I am a biological female, I have two children, I've been married for 16 years, I've never been a man. But I love that people think I am that fierce, so to me, it's a compliment.
CeCe Peniston is going to be at the Miss'd America pageant, too. You were both topping the charts around the same time in the early '90s -- did you know her? Are you friends with her?
Yes! I love CeCe. Absolutely. I haven't seen her in like six years -- the last time I saw her was at an event when I was doing radio in New York and she performed at our event. She's a doll.
So this will be a little reunion for you two.
It will be! It's funny because we're in Minneapolis and we're doing a show tonight and Manila [Luzon] does "Finally." She does the Cece song.
Would you ever consider a return to music?
I'm always considering a return to music. The problem for me has been the fact that the music that I've heard hasn't… I'm a person who has to really want to sing [a song]. I've always been that way. I was a theater major and I remember being in college and whenever my professor would assign me songs that I hated, I really had a hard time singing them. One time I even faked sick so I wouldn't have to sing a song. Some people can sing anything but i haven't heard a song that has made me go, "Oh my God, I have to sing this song!" and I don't want to be a person who puts out a song just for the sake of putting out a song.
I appreciate that.
What's the point! I had a pretty strong pop showing back in my day, so after 20 years I don't want it be a dud. If it happens it happens.
What else do you want to do while you're in Atlantic City? Are you a buffet girl? Do you gamble?
[Laughs] A Buffet girl! I love that! I don't gamble. I never did. I'm the girl who puts $20 in a slot and I see how far it takes me, which is usually not very far. But I'll sit down at the [slot machines where] you can win a Lexus. It's my birthday on Friday, so I come in on Friday, some girlfriends are gonna take me out to dinner and then Saturday my best friend's coming, so that's what I'll be doing. Atlantic City is special to me because my mom is not alive anymore and [her honeymoon with my father] was there, so I'm going walk around and check it out a bit. I know they've done a lot of upgrading.
And they're working on making it super gay, too.
I love that. It worked for Asbury Park. I absolutely love that! And it's my home state, too!
For more information about the Miss'd America pageant and how you can get tickets, click here. For more info on gay-friendly things to do in Atlantic City, click here.
For more from Michelle Visage, follow her on Twitter.
BEFORE YOU GO
PHOTO GALLERY
The Best Gay Kisses