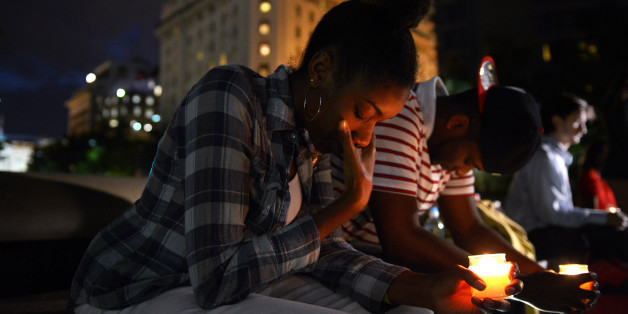 (Adds new Pandit details)
By Ellen Wulfhorst and Edith Honan
Sept 17 (Reuters) - A dozen people were killed in Monday's shooting rampage at the Washington Naval Yard. The three women and nine men ranged in age from 46 to 73 and included retirees, parents, a bird lover and a divorcee.
Here are some details of their lives.
KATHY GAARDE, 62
The mother of two loved animals and nature, and she liked to help count bluebirds for a local wildlife refuge in her spare time, her family said.
A financial analyst from Woodbridge, Virginia, Gaarde was an avid fan of the Washington Capitals hockey team and a season ticket holder for more than 25 years. The Chicago native had lived in the D.C. area for 38 years.
Her children are grown - ages 26 and 33, a family member in Minnesota told local media. The relative said Gaarde worked on military contracts at the Navy Yard and was nearing retirement.
In a statement, her family said: "Kathy was a caring daughter, fantastic mother, wife (of 38 years) and best friend for 43 years. She loved her animals and was a blue bird counter for the local refuge."
The family asked that donations be made in her memory to the Virginia Branch of the Humane Society.
GERALD L. READ, 58
Gerald Read was devoted to his job as a project manager in information assurance at the Navy Yard and also to animals, said his wife of 35 years, Cathy.
"We have four dogs - three Labs and an Irish Setter - and they are the life of the family," she said. "He always had a really good life-work balance."
Six years ago, the Alexandria, Virginia couple started a professional pet care company called Biscuit Break Pet Service, and their daughter now runs the business.
Read was a Civil War history buff and would watch battle re-enactments at Gettysburg, Pennsylvania, his wife said.
They met when he was in college and she was a senior in high school, she said.
On the day of the shooting, Cathy Read said when she had not heard from her husband by 5 p.m., she began to worry.
"Then there was a knock at the door, and I thought it was him," she said.
Instead, it was someone coming to tell her that her husband was dead.
SYLVIA FRASIER, 53
The Waldorf, Maryland, resident came from a large religious family that spent the hours after the shooting waiting for news, praying and reading the Bible. According to the Washington Post, the family gathered at the home of her parents, both in their 80s, in Prince George's County.
Frasier, who was unmarried, worked on automated information systems and security of the network and information systems at Naval Sea Systems Command.
She received a Master's and Bachelor's degree from Strayer University, an online school that also has bricks and mortar campuses.
JOHN ROGER JOHNSON, 73
The oldest victim, Johnson was about to celebrate his 74th birthday next month, his family said. His relatives were planning a big gathering, as they did every year, said daughter Megan Johnson, 42.
Johnson, who was known as "J.J.," had three other adult daughters and 10 grandchildren, with an 11th due in November. He had four stepchildren.
A resident of Derwood, Maryland, Johnson lived with his wife Judy, whom he married eight and half years ago.
Employed as a civilian contractor, he served as a logistics analyst at the Navy Yard.
"Known for his infectious smile, he never said a bad thing about anyone. He would want us to forgive the shooter, because that's how he was - a forgiving person," his daughter said in an email. "He loved to work and has always worked. He loved the interaction with the people and wanted to keep on working."
KENNETH BERNARD PROCTOR, 46
Newly divorced, Proctor had two sons - 15-year-old Kendull, who attends Thomas Stone High School in Waldorf, Maryland, and Kenneth Jr., 17, who graduated high school in May and joined the U.S. Army.
"I am always over-thinking and letting my thoughts evolve on events that have less impact on my goals than what's really necessary," Proctor wrote on Facebook recently. "I know now to eliminate all that really don't exist in reality and bring forth what will allow me to be me. GOD!"
His younger son wrote on Facebook in March:
"Sitiing (sic) around with my family. Even when mom and dad arnt (sic) together, we still have a great time," he wrote.
Proctor worked as a utilities operation foreman at the Naval Facilities Engineering Command. According to his Facebook page, Proctor was graduated from La Plata High School in Maryland in 1984.
He was the youngest victim.
MARTIN BODROG, 54
The retired U.S. Naval officer who lived in Annandale, Virginia, never seemed to slow down, his family said.
Even on cold winter days, Bodrog could be found outside "in shorts and his trademark Boston Bruins jersey, walking his dog and helping shovel all the driveways of his elderly neighbors," his family wrote in an obituary.
Bodrog and his wife of 25 years, Melanie, had three daughters - Isabel, 23; Sophie, 17; and Rita, 16.
He spent more than two decades in the military, specializing in amphibious operations as a Surface Warfare Officer and later helped the service design and purchase naval ships as a military contractor, the obituary said.
A Sunday school teacher, he also helped in a youth outreach program at the Immanuel Bible Church in Springfield, Virginia.
"Marty was a source of great inspiration to his family and friends - those of us that were lucky enough to know Marty are better people for it," his family said.
ARTHUR DANIELS, 51
The grandfather of nine, who lived in Southeast Washington, moved and installed office furniture in federal government buildings. On Monday he was working at the Naval Yard.
A witness told the Washington Post that Daniels was shot in the back as he and a colleague were frantically pushing an elevator button to escape the gunman.
"All he did was go to work," his son, Arthur Jr., told the Post. "That was his only crime."
VISHNU PANDIT, 61
Pandit grew up in Mumbai, India, attended a Calcutta university and moved to the United States in the mid-1970s.
He earned a second undergraduate degree in marine engineering, at the University of Michigan, and then a master's degree, friends said.
"He was part of the American dream," said Satish Misra, a friend and neighbor of 22 years. "He was a very kind and gentle man."
Pandit often gave money to panhandlers, his friend said. "He would always reach into his pocket. He wanted to share what he had, what God had given him."
He had two sons and a granddaughter.
"They are devastated," Misra said.
Pandit was a familiar sight as he walked his golden retriever, Bailey, near his home in the leafy suburb of North Potomac, Maryland.
MICHAEL ARNOLD, 59
Arnold, who lived in Lorton, Virginia, was a Navy veteran. He graduated from the U.S. Naval Academy and served for 29 years before retiring as a captain last year. He recently joined a government consulting firm.
MARY FRANCIS KNIGHT, 51
Knight had just started a new position this month at Naval Sea Systems Command, where she had worked since 2009, a family spokesman said.
She also was an adjunct professor at Northern Virginia Community College. This semester she was teaching two classes - one in software design and one in spreadsheet software.
Originally from Fayetteville, North Carolina, Knight moved to the area about five years ago and lived in Reston, Virginia. She had two daughters and enjoyed spending time with her family and friends, the family spokesman said.
FRANK KOHLER, 50
Married and with two college-age children, Kohler lived in a waterfront house in Tall Timbers, Maryland, on a cove along the Potomac River.
In a promotional video by the local Rotary Club, Kohler can be seen clad in a robe and crown to direct the club's annual Oyster Fest.
He worked as an independent contractor.
RICHARD MICHAEL RIDGELL, 52
Mike Ridgell, of Westminster, Maryland, was a veteran of the Maryland state police, according to his page on Facebook, where his daughters and other family members posted tributes and photographs.
"Can't believe you were one of the 12 taken from us yesterday, kind of feels like a dream that we are all waiting to wake up from," wrote Kelly Robins, who identified herself as his cousin, on her Facebook page.
"But we all know you are in a better place and watching over each of your family members. Your laugh, smile & all the memories will help us get through this terrible time," she wrote. (Additional reporting by Chris Francescani, Edith Honan and Gabriel Debenedetti; Writing by Ellen Wulfhorst in New York; Editing by Ken Wills and Eric Walsh)
BEFORE YOU GO
09/17/2013 6:14 PM EDT
There Have Been More Mass Shootings Since Newtown Than You've Heard About (INFOGRAPHIC)
When 13 people died in a shooting rampage at the Washington Navy Yard on Monday, the story made front page news. But many of the mass shootings that have happened since the December massacre of elementary school students and teachers in Newtown, Conn., didn't.
Click here to read more.
09/17/2013 5:09 PM EDT
Aaron Alexis Was At Gun Range The Day Before Navy Yard Shooting
The Associated Press reports:
Michael Slocum, an attorney for a Virginia gun store, said in an email that Aaron Alexis visited Sharpshooters Small Arms Range on Sunday. He says Alexis rented a rifle, bought bullets and used the range. He then bought a shotgun and 24 shells.
Click here to read more.
09/17/2013 3:12 PM EDT
Alexis Was 'Determined To Kill As Many People As Possible'
WASHINGTON -- Alleged Navy Yard shooter Aaron Alexis acted alone and was "determined to kill as many people as possible," law enforcement officials said Tuesday.
Officials would not comment on Alexis' alleged motive during a press conference held Tuesday afternoon outside the FBI's Washington Field Office, but said they had determined he arrived in the area around Aug. 25 and had been staying at the Residence Inn in Southwest Washington, D.C. since Sept. 7.
The FBI is investigating "hundreds" of tips they have received Monday's shooting. "No piece of information is too small," said FBI Assistant Director in Charge Valerie Parlave, asking for additional assistance from the public.
Metropolitan Police Officer Scott Williams is doing well and is expected to make a full recovery, according to MPD Chief Cathy Lanier. "We have a very good prognosis from the doctors, he does have serious injuries to his legs. Again, I know the officer and I know his personality, and I'm real confident he will not only walk again but probably will outrun most of us again," Lanier said.
09/17/2013 2:24 PM EDT
FBI: Alexis Only Had A Shotgun
Aaron Alexis entered Building 197 with only a shotgun in his possession, not an assault rifle like some media outlets reported. "We have no information that [Alexis] had an AR-15 assault rifle in his possession," the FBI's Valerie Parlave said in a press conference. "He may have gained access to a handgun ... and after he began shooting."
09/17/2013 2:22 PM EDT
FBI: Shotgun Used In Shooting Was Purchased Legally
FBI: Shotgun used in #NavyYardShooting was purchased lawfully in Virginia http://t.co/Onv2QgbBBP

— NewsBreaker (@NewsBreaker) 1 year ago
09/17/2013 11:52 AM EDT
Aaron Alexis Got Honorable Discharge Despite Disorderly Conduct, Insubordination
Alexis was honorably discharged from the Navy in 2011 after bouts of insubordination, disorderly conduct and being absent from work without authorization.
The AP reports:
Officials said the bad conduct was enough to make it clear Alexis would not be a good sailor, but not enough to warrant a general or less-than-honorable discharge. They also did not involve criminal offenses, so did not trigger any court-martial proceedings.
Click here to read more.
09/17/2013 11:51 AM EDT
Victims' Names Released
Here's a complete list of the victims of yesterday's shooting:
Michael Arnold, 59


Martin Bodrog, 54


Arthur Daniels, 51


Sylvia Frasier, 53


Kathleen Gaarde, 62


John Roger Johnson, 73


Mary Francis Knight, 51


Frank Kohler, 50


Vishnu Pandit, 61


Kenneth Bernard Proctor, 46


Gerald L. Read, 58

Richard Michael Ridgell, 52
Suspected gunman Aaron Alexis, 34, died as well.
09/17/2013 11:21 AM EDT
Recovering Victims Worried About Their Co-Workers
Dr. Janis Orlowski, chief medical officer at MedStar Washington Hospital Center, told the Associated Press that three victims in yesterday's shooting -- including a police officer who was shot in the legs -- are recovering and in fair or good condition. She said two women who saw others shot are "very worried about their co-workers," but are unaware of the extent of the shooting.
Click here for more.
09/17/2013 11:20 AM EDT
Schools Have Reopened
Schools near Navy Yard that were on lockdown after Monday's shooting have reopened on Tuesday, WJLA reports.
09/17/2013 9:25 AM EDT
District Of Columbia Holds Candlelight Vigil For Victims
"A dozen or so" people gathered for a candlelight vigil at D.C.'s Freedom Plaza last night, reports the Washington City Paper:
"How immune are we becoming to these senseless mass shootings?" Eddie Weingart, the vigil's organizer and the founder of Project End Gun Violence, asked the ceremony's participants, who were flanked by twice as many media members. "Mass shootings are becoming as American as apple pie and baseball."