 The Cubs are intent on ending their half -century-old beermance with Old Style, but the iconic ale isn't willing to let go quite so quickly.
Less than a week after the North Side team announced Anheuser-Busch will be the exclusive beer sponsor of the Cubs next season, the Pabst Brewing company launched an online petitionwith one goal in mind: Keep Old Style in Wrigley.
As of Wednesday evening, the petition had tallied more than 3,700 online signatures and more than a few Instagram shots on the ivy-covered page of Old Style fans holding signs in support of preserving the 63-year-old relationship between the Cubs and Old Style.
In a statement posted to the petition's site, the company said:
"Judging by the reaction to this news, on social channels and through the numerous inquiries received, fans want to make their voices heard. They've made clear, that while deep pockets may win "official" deal, Old Style has something more priceless: The hearts of legions of Chicago fans."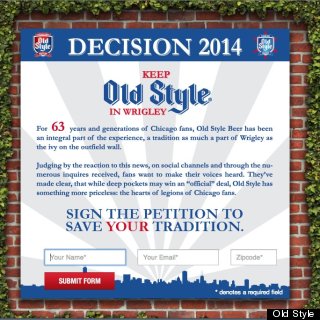 Credit: Old Style
The partnership between Old Style and the Cubs, which dates back to 1950, was previously described as as one of the longest in professional sports.
As the RedEye notes, no matter how many signatures the petition grabs, the decision of whether Old Style might still be available at the Friendly Confines beyond this season ultimately rests with Levy Restaurants, the Cubs' concessions partner.
BEFORE YOU GO
PHOTO GALLERY
10 States Where People Drink The Most Beer