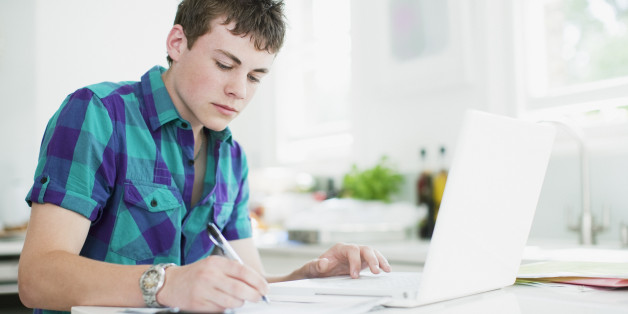 This article was written by teen reporters from The Mash, a weekly publication distributed to Chicagoland high schools.
By Jing Gao, Hinsdale Central and Jamie Hiskes, Chicago Christian
The new school year is underway and the temperatures are slowly dropping, which can only mean one thing: High school seniors everywhere are frantically perfecting their college applications. As deadlines come and go, the stakes are raised.
For seniors who have been preparing for this moment for years, there's been a slight change of plans. Well, at least when it comes to the Common Application (commonapp.org), the undergraduate college admission application that can be submitted to more than 500 colleges and universities. The Common App has been tweaked here and there in the past, but this year the essay section has seen the most change.
Here's a rundown of what's different:
>> You get more space. In the past, the major essay could be around 500 words. Now, the limit is 650 words. The application blocks out any words after that.
>> Extracurriculars get more space too. The section where you write about your extracurricular activities has been extended. The supplemental essay used for elaborating on a particular activity has been made optional by many colleges.
>> There are new prompts. The prompts now ask questions that better apply to all applicants, yet allow them to express themselves as individuals. Instead of asking about current issues and role models, the new questions ask students to talk about an experience gained from failure or the transition from childhood to adulthood.
>> There are fewer prompts. Because these new topics can be so universal, the Common App has also reduced the number of prompts from six to five. "Topic of your choice" is no longer an option.
Students who are looking at the Common App for the first time probably won't notice these changes. But other students have been very surprised by the changes.
Hinsdale Central senior Naveen Balaji said he prefers the new prompts section, especially now that there isn't a "topic of your choice" option.
"It's always been difficult for me to make up a prompt or a question, so removing this requirement really made the application quicker and easier for me," Balaji said.
Lincoln Park senior Fatih Zecic disagrees. "(It) eliminates the chance for kids to be themselves," he said. "They end up being restrained to pick something that is picked for them."
Reactions to the change in word limit have been less controversial. Lucy Wang, a freshman at Yale, used the Common Application when she was a senior at Hinsdale Central. After looking at this year's changes, she said it shouldn't make a big difference to new applicants.
"I don't think there's a difference between this and last year because the 500-word cutoff was more of a suggestion, so I just aimed for under 700 words anyway," she said.
No matter how you feel about the changes, you're probably wondering if they'll have any effect on how colleges view your application.
Gretchen Snape, a counselor at Chicago Christian and former assistant director of admissions at Bradley University, said that while some of the changes are impressive, it's difficult to guarantee a thorough and complete review process.
"There's a lot of work that goes into this application and there's no guarantee that it will all be looked at," Snape said. "Giant schools … could look at thousands of applications a day. In the interest of saving time, they aren't paying much attention to things like recommendation letters and essays. And that is a little frustrating, from a high school counselor's perspective, because we understand the time and effort that goes into those things."
Don't worry, Common App users, there's still hope.
"I think the Common App is fantastic for smaller colleges, where a holistic review process is more guaranteed," she said. "Then we know that every part of that application is getting looked at and used properly."
Ultimately, using the Common App is a personal decision. It has its pros and cons, just like most choices you can make in your college application process. For some, it's easier to fill out one form and send it off to different schools. For others, it might make more sense to fill out individual forms.
If you do decide to fill out the Common App, be aware of the changes and how they can positively and negatively affect your application. Changes or no changes, you should give yourself plenty of time to fill out any college application.
BEFORE YOU GO
PHOTO GALLERY
Disney Channel Stars Share Their Favorite Summer Memories