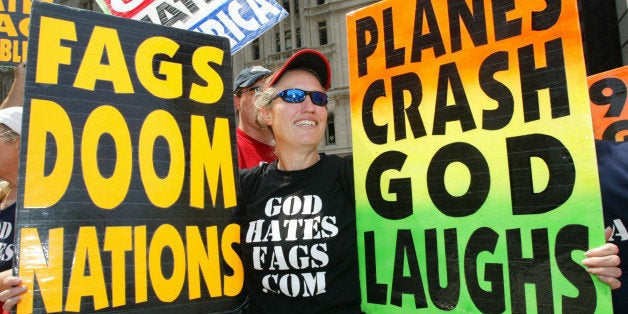 The city council of Topeka, Kan., home to the Westboro Baptist Church, on Tuesday night passed a measure to promote ways to end LGBT discrimination in the city.
The Topeka City Council voted 6-2 to pass an ordinance to include sexual orientation and gender identity on a list of issues about which the city's Human Rights Commission educates the public in order to prevent discrimination. The vote came after Councilman John Campos II (D) publicly announced that he was bisexual, a fact known to his friends and family but not previously a matter of public record. The ordinance was sponsored by City Councilman Chad Manspeaker (D), whose district includes Westboro.
The City Council's decision comes two years after it voted against creating a domestic partnership registry.
Manspeaker said it was important for the city to send the message that Topeka was "an inclusive community and a community that cares." He stressed that while he did not propose the ordinance based solely on Westboro Baptist Church's presence in Topeka, he did want to send a message to the world that the church does not define the city.
The WBC is notorious for its anti-LGBT protests of military funerals and other public events. And while it's known for its protests around the country, church members also regularly picket outside of stores, pharmacies and other public spots in their hometown.
"It is important that we send the message that we are not defined by that group," Campos told The Huffington Post. "There are good Christian folks here. It's not just [Westboro's] home, it is all of our homes."
Campos told HuffPost that he believes it was important to share who he is as part of the debate on the ordinance. With other council members sharing their own stories of discrimination, he said he wanted to make his known. While he has been out in his personal life, he said that he has never made his bisexuality a part of his public life, stressing that it does not have any impact on his work in local government. The Topeka Capitol-Journal reported that Campos identified himself as "an open, Christian, Catholic bisexual" during the meeting.
During the council meeting, opponents of the measure argued that it could potentially cause discrimination against heterosexuals and cause a rise in sexually transmitted diseases, according to the Capitol-Journal. Manspeaker told HuffPost that the commission will now work to prevent discrimination against an expanded class of people, which will not lead to any discrimination against the heterosexual community. Campos also noted that the Topeka Human Rights Commission is an educational, rather than enforcement, agency.
"The reality is, if you are a straight person and are discriminated against for any reason, you are protected," Manspeaker told HuffPost. "If you are discriminated against for being homosexual, you don't have any protections."
Manspeaker also said that safe sex should be promoted.
Twitter lit up Tuesday night after Manspeaker rebutted attacks from opponents who claimed that the ordinance goes against the Founding Fathers, who they said wanted a Christian nation. Manspeaker told the group that the "Bible is not our Constitution" and that the Founding Fathers were largely deists.
WBC tweeted its opposition to the measure and accused Manspeaker of bringing the "doom u deserve" to the city.
Manspeaker told HuffPost that in the end he wants to stand up for the separation of church and state and to end discrimination.
"I know they want the Bible to be the Constitution, but it isn't," he said. "It has to be separate."
BEFORE YOU GO
PHOTO GALLERY
Where Westboro Has Feared To Tread