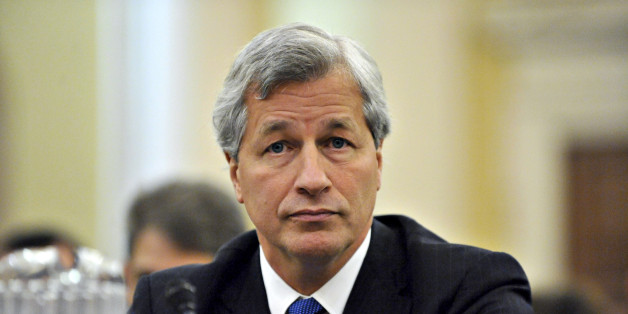 JPMorgan Chase, the nation's largest bank by assets, will pay $920 million in penalties related to its 'London Whale' trading fiasco, which cost the bank $6.2 billion in losses earlier this year. The bank is admitting to violating federal securities law as part of the settlement, according to Bloomberg.
More from Reuters:
(Reuters) - JPMorgan Chase & Co will pay $920 million in penalties in two countries to settle some of its potential liabilities from its "London Whale" derivatives trading losses last year, according to terms made public by regulators on Thursday.

The penalties include $300 million to the U.S. Office of the Comptroller of the Currency, $200 million to the Federal Reserve, $200 million to the U.S. Securities and Exchange Commission and 137.6 million pounds ($219.74 million) to the UK's Financial Conduct Authority.

The regulators' citations focus on failures in risk management and financial reporting systems. The biggest U.S. bank was also cited for failing to tell its board of directors and regulators about deficiencies in its risk management systems that had been identified by management.

The settlements are a major milestone in the drive by JPMorgan Chief Executive Jamie Dimon to resolve legal issues weighing on the bank, but leave unresolved a probe by U.S. prosecutors into the derivatives debacle. The "London Whale" derivatives losses last year totaled $6.2 billion.

Dimon, in a statement issued by the company, said, "We have accepted responsibility and acknowledged our mistakes from the start, and we have learned from them and worked to fix them."

Bruno Iksil, the trader whose large bets earned him the nickname "London Whale," has signed a cooperation agreement with prosecutors and has not been charged with any wrongdoing.

JPMorgan also faces other investigations into areas that include possible bribery in hiring practices in China and potentially fraudulent sales of mortgage securities.

JPMorgan has been under intense scrutiny from the U.S. government since May 2012, when Dimon disclosed that the firm was losing billions of dollars on derivatives deals that had been questioned a month earlier in press reports.

Dimon initially criticized those reports as a "tempest in a teapot." He has repeatedly apologized for that remark and said the bank was "stupid" in handling the trades from a London desk of the bank's Chief Investment Office.

(Reporting by David Henry and Emily Flitter in New York, Sarah Lynch and Aruna Viswanatha in Washington and Huw Jones in London; Editing by Gerald E. McCormick and John Wallace)
This is a developing story, check back for updates.
BEFORE YOU GO
PHOTO GALLERY
The 10 Biggest Banks In The U.S.