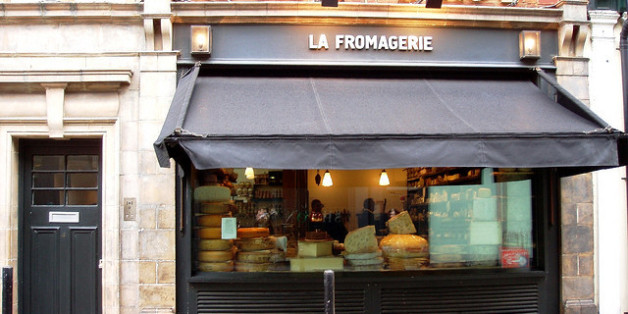 Occasionally, you find yourself in a food place that makes you unreasonably happy. Maybe it presents you with things you've never experienced before. Maybe it feels like home. Our favorite places end up offering a little bit of both, and that's exactly what I got when I visited La Fromagerie on Moxon street in London. I haven't been to La Fromagerie in six or seven years, I know they've done some renovations and that things probably aren't exactly as I left them, but the memories of stumbling into the shop on a cloudy summer day will probably never leave me.
I was in London for a little over a month, doing embarrassing college theatre things. I was there with a few friends, but mostly people I didn't know that well. I also happen to really enjoy wandering around strange cities by myself, which is what I was doing the day I found La Fromagerie. This cheese shop is special in that it encompasses a bit more than your average bear. There is the grand, beautiful, glass-walled cheese room, in which you can taste cheeses you never knew existed. There's a small retail area that sells teas, local vegetables, cured meats and other sundries. In the back is the "café." Really, it's a big farm table tucked into the back of the store where you can drink coffee, assemble a cheese platter and even sometimes get a hot soup or breakfast on a chilly day. If they sell it in the store, you can bet they're probably doing something with it in the kitchen.
Suffice it to say, I spent a lot of time at that farm table.
I learned a few things during the afternoons I read a book at that farm table, and a few have stuck with me to this day. 1) Even when a room full of cheese is so intimidating that you feel like you'd better not even walk in, you'll probably walk out with a new favorite. It's best to ask lots of questions and let the cheesemonger guide you. It's their job to find you a cheese you'll love. Start by describing one kind of cheese that you really like and they'll take it from there. 2) Violet tea. For some reason, the French and the English have embraced the flavor of violets in a way that no other culture has. Violets, which are a sweet and highly perfumed flower mingle with black tea at La Fromagerie. It's my favorite tea on earth, and I haven't been able to find it anywhere else. I've had friends who went to London on business ferry some back for me. There is a dwindling stockpile in my cabinet under lock and key, as we speak.
When we travel, whether domestically or internationally, we're always hoping a friend will pipe up and say, "I know the best place." That's what we'll try to do here with Food Places, Food Spaces, so let us know where you're headed and we'll tell you everything we know. If you happen to be in London, check out La Fromagerie on Moxon street. Don't miss the violet tea.
La Fromagerie
2-6 Moxon Street
Marylebone
London W1U 4EW
T: 020 7935 0341
Want to read more from HuffPost Taste? Follow us on Twitter, Facebook, Pinterest and Tumblr.
PHOTO GALLERY
La Fromagerie, London