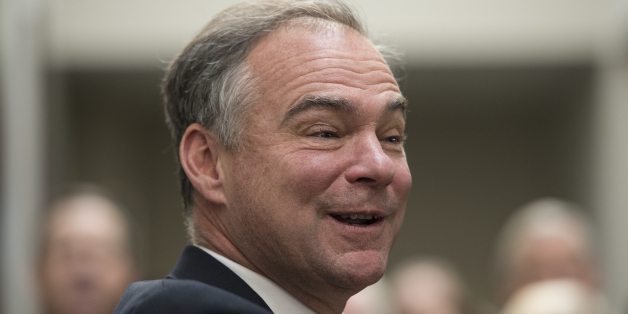 WASHINGTON -- Every year, children around the U.S. gather up their courage to compete on the biggest of stages in the Scripps National Spelling Bee. For the first time in 100 years, politicians and the press faced that same pressure.
The National Press Club held its Centennial Spelling Bee on Wednesday, commemorating the 1913 showdown between lawmakers and reporters. Back then, an Ohio congressman emerged victorious and President Woodrow Wilson was among the attendees.
A full century later, the individual title again went to the politicians, as Sen. Tim Kaine (D-Va.) topped Politico's Rebecca Sinderbrand in the final round. Kaine's championship word was both fitting and sweet, as "nonpareil" sealed his victory.
"It's kind of strange, but I'm glad I don't have to do it again for 100 years," Kaine told HuffPost, cracking a smile.
Sen. @timkaine beaming next to his bee prize: a dictionary. Jokes he'll post "nonpareil" on his door. #npcbee100 pic.twitter.com/on2wUX7DBa

— Judy Kurtz (@JudyKurtz) September 19, 2013
The journalists held their own in the team competition, edging out the lawmakers in words spelled correctly, 38-36. Representing The Huffington Post was Editorial Director Howard Fineman, who like Kaine, joked that Wednesday would "definitely be the first and last time" he ever does anything like this.
"My objective was to avoid total humiliation that would make it difficult for me to show up in the Huffington Post newsroom," Fineman said. "So, having made it through five rounds, I figured that I avoided the worst kind of humiliation."
In addition to Fineman and Sinderbrand, Fox News' Ed Henry, CBS News' Major Garrett, BuzzFeed's Kate Nocera, Roll Call's Meredith Shiner, The New York Times' Ashley Southall, The Washington Post's Karen Tumulty and Reuters' Toby Zakaria rounded out the press side. Sitting alongside Kaine were fellow Sens. Chris Coons (D-Del.), Chris Murphy (D-Conn.) and Jeff Flake (R-Ariz.), as well as Reps. Matt Cartwright (D-Pa.), Gerry Connolly (D-Va.), Peter DeFazio (D-Ore.), Ted Deutch (D-Fla.) and Anna Eshoo (D-Calif.).
Kaine said he was doing more than representing his lawmaker colleagues -- he "wanted to do well for oppressed, poor male spellers everywhere."
"I just feel like men, we just have such a poor track record of success in the general field of spelling and orthography that I thought it would be a wonderful opportunity to kind of break a glass ceiling in a way and show that men can spell," Kaine said.
The champion had nothing but praise for the kids competing annually in the National Spelling Bee.
"I can't even watch that show on TV," Kaine added. "It makes me too nervous."
BEFORE YOU GO
PHOTO GALLERY
New Senators Of The 113th Congress