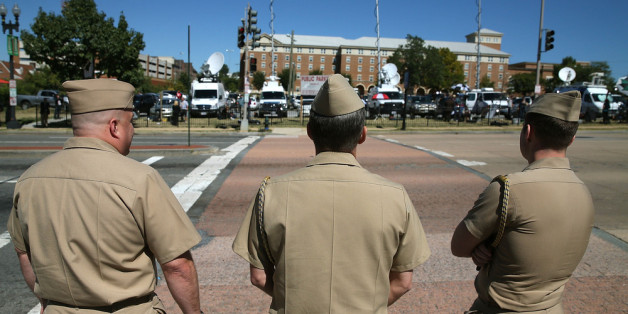 When gunfire erupted at the Washington, D.C. navy yard on Monday, so did the debate over our nation's gun control policies, legislation which allowed the shooter, Aaron Alexis, to obtain a gun in the first place.
The following day, president Obama called on Congress to revisit the issue, saying that lawmakers should take what he considers "basic actions" to toughen the nation's gun laws. Expressing similar views, other prominent democrats weighed in:
"This is one more event to add to the litany of massacres that occur when a deranged person or grievance killer is able to obtain multiple weapons ... and kill many people in a short amount of time," Sen. Dianne Feinstein (D-Calif.) said in a statement. "We are becoming far too familiar with senseless, tragic violence ... and these repeated incidents demand our attention," Sen. Jay Rockefeller (D-W.Va.) said.
But as details about the shooter's background emerged, another debate ensued: Should Congress be focusing their attention on mental health legislation instead?
Under the National Instant Criminal Background Check System, the database that includes the criminal and mental health records of Americans, a person must be "adjudicated mentally defective or involuntarily committed to a mental institution" in order to be barred from buying a gun. There within lies the problem, lawmakers say, calling for a need for the provision to be reevaluated.
For mental health advocates, the expansion of health insurance through Obamacare is one key step in keeping the country safe, offering an opportunity for 2.6 million Americans with mental illness or substance abuse to enroll for health care.
We wanted to know where you think Congress' priorities should lay:
From the responses we got on Twitter and Facebook, some believe that focusing on gun control doesn't get to the root of why tragedies like the one that took place in D.C. on Monday occur.
@blackvoices mental health, bc gun control is a temporary fix to a permanent problem.

— sharnika williams (@sharnika_joy) September 18, 2013
But a majority of HuffPost Black Voices readers agree that Congress should be prioritizing on both issues equally.
@blackvoices #Focus should be on both #equally. You can't cure an ill without treating the #underlyingcause

— Sonja Flye Oliver (@SoAvonFlye) September 18, 2013
Take a look at what Facebook users had to say and tell us what you think in the comments section below.