The Propeller Group, a trio of multimedia artists based in Ho Chi Minh City and Los Angeles, first caught our attention with their tongue-in-cheek video project, "Television Commercial For Communism (TVC)." Members Phunam, Matt Lucero and Tuan Andrew Nguyen crafted a fake ad campaign for a new Vietnamese Communist Party, hiring advertising behemoth TBWA to help rebrand our perception of the ideology in a short commercial meant to be aired during the Superbowl.
Now the kings of propaganda folly are continuing their humor-filled exploration of communism and its historical antonym, capitalism, in an exhibit titled "Lived, Lives, Will Live!" A play on the famous Leninist slogan, the show incorporates appropriated paintings, statues and other paraphernalia featuring the famous face of the manifesto-happy Vladimir Lenin.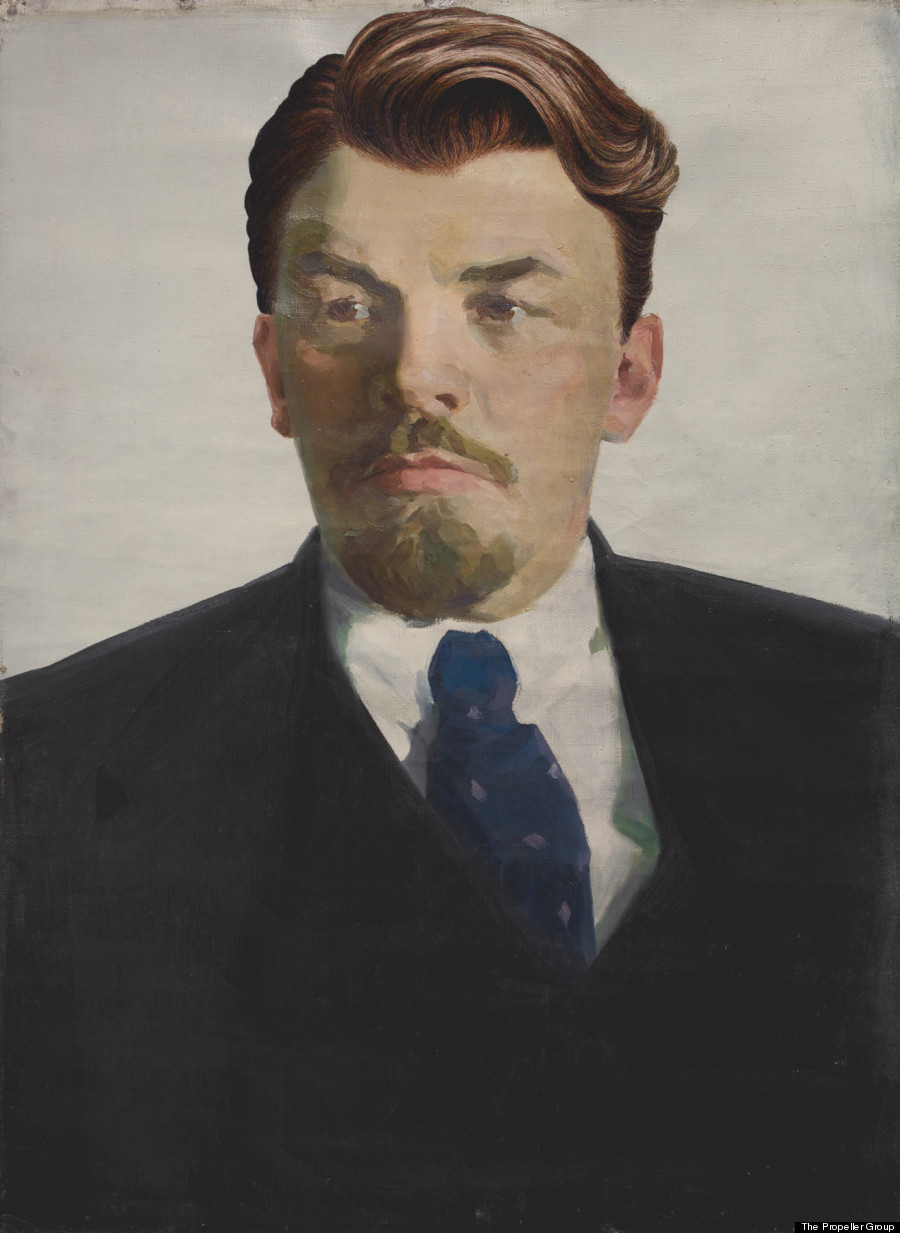 The Propeller Group, Lenin as Jay Gatsby in The Great Gatsby, 2013, oil and embroidery on canvas, 36.61 x 27.76 inches
"He's one the most monumentalized men in history and now, Vladimir Lenin, the first premier of the Soviet Union, will have an exhibition that revives his image with a 21st-century twist," TPG explained in a email exchange with The Huffington Post. "['Lived, Lives, Will Live!'] explores the relationship between historical heritage, politics and contemporary celebrity culture with a series of images that superimpose DiCaprio's hair on original paintings of Lenin that once hung in regional Communist Party headquarters across the Soviet Union."
Besides the paintings -- which have indeed been updated with the familiar hair stylings of DiCaprio characters like Jay Gatsby and "Revolutionary Road" husband Frank Wheeler, a nod to conspiracy theorists who think the actor is a long lost relative of the communist revolutionary -- the exhibition includes a gold-plated bust of Lenin that has been turned into a giant pendant. The bling-worthy jewelry represents an ambitious public disruption TPG hopes to accomplish in Volgograd, Russia. The three artists want to take the head of the first dismantled Lenin monument, dip it in gold, attach it to a Cuban-link chain, and hang the entire artwork on the largest remaining Lenin statute.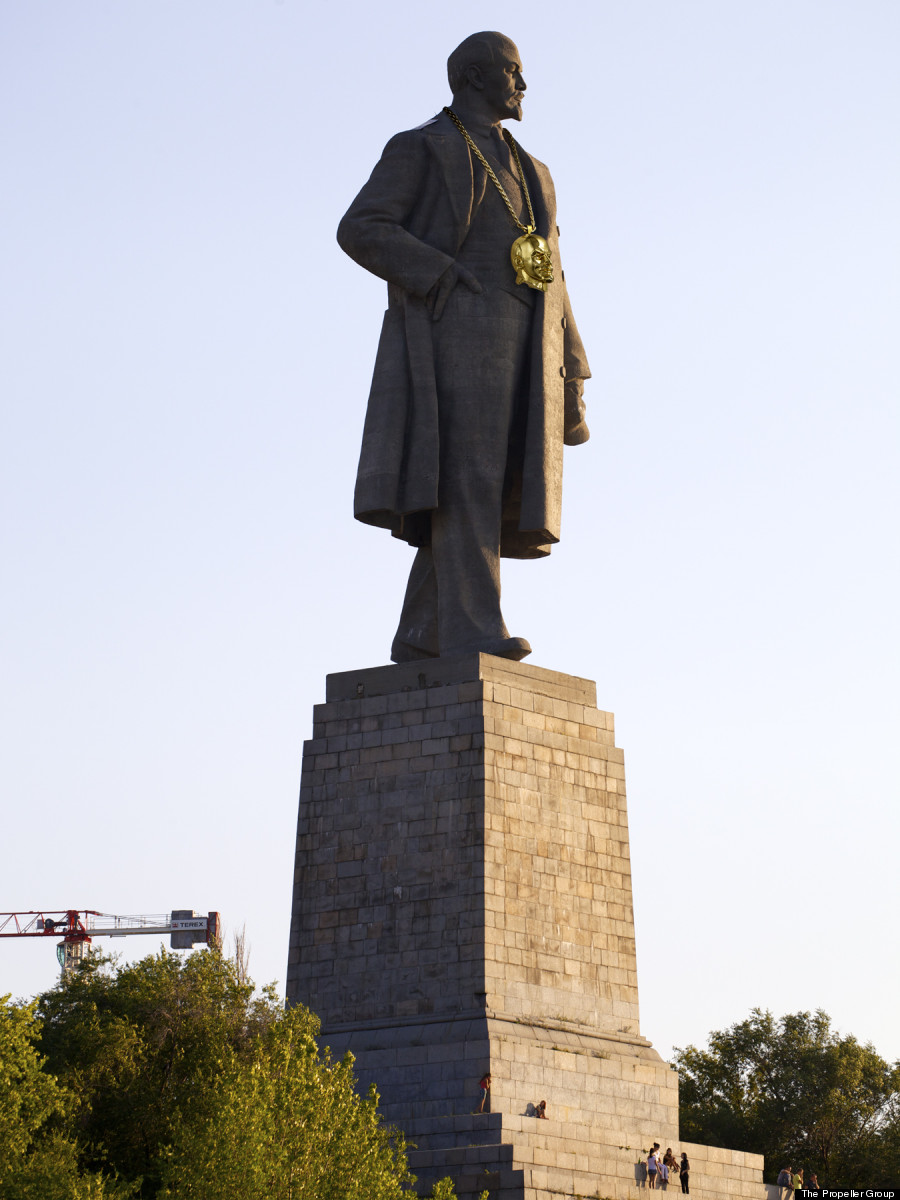 The Propeller Group, Monumental Bling: Lenin East Berlin on Lenin Volgograd 2, 2013, archival pigment print
"The pendant plus the 18-carat gold chain is a nod to the bling associated with hip-hop culture but also royal jewels, war medals and other such regalia. Blurring the line between sculpture and jewelry, the necklace transforms a public monument into an easily reproducible commodity," TPG mused, before turning their attention to Jay Z's "Picasso Baby performance, another inspiration for their work.
"Hip hop and art have had a long history together. We don't see Jay Z's performance as an attempt at rebranding hip hop, hip hop is sort of reinventing itself all the time and is caught in a vicious state of 're-branding confusion.' This confusion led us to an idea, make Jay Z's next music video. We wanted to turn that into an artwork and show it in the gallery as a limited edition The Propeller Group piece."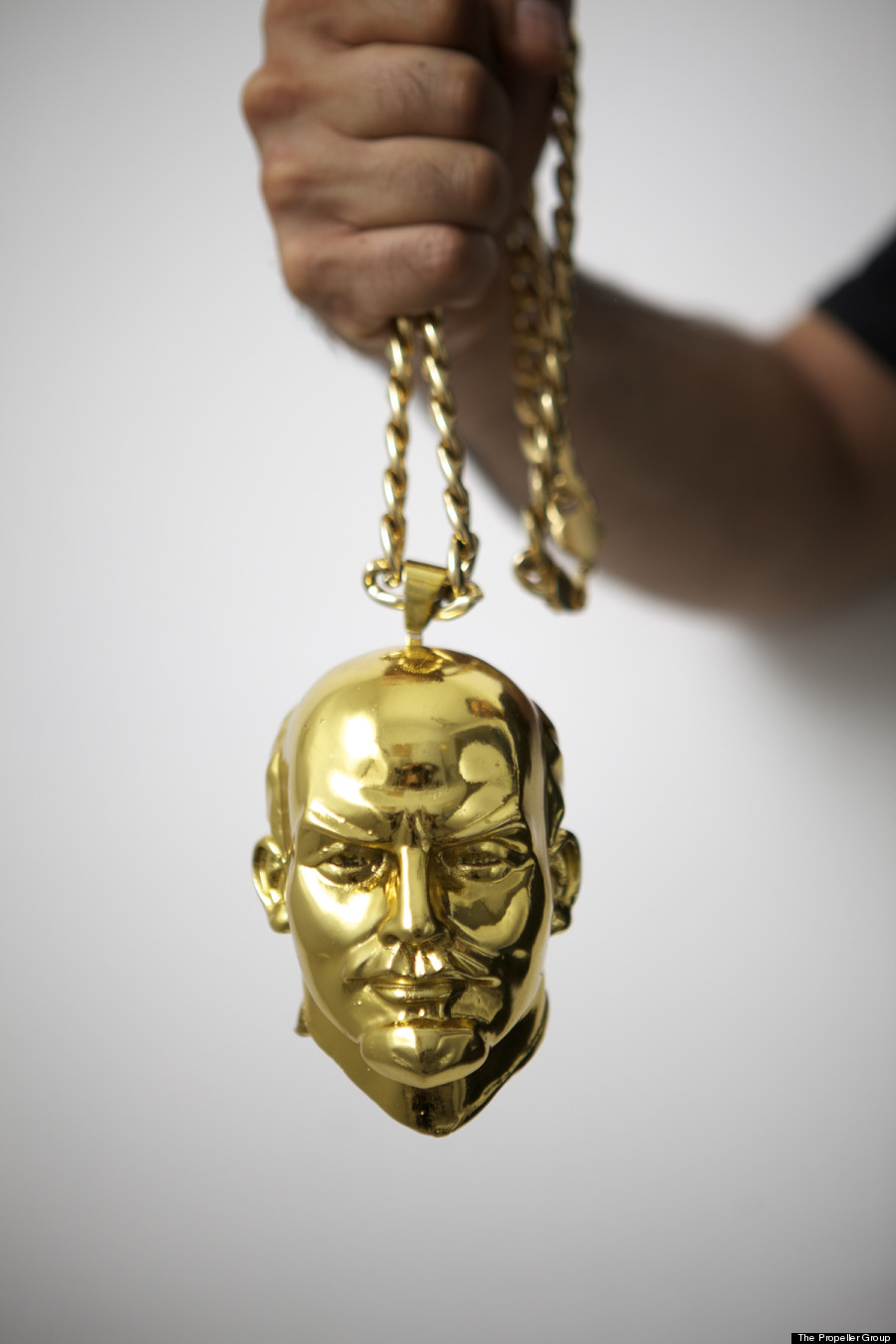 The Propeller Group, Lenin Piece, 2013, 24k gold plated pendant with 18k gold chain, 9.375 x 5.75 x 15.24 inches
From DiCaprio to Jay Z, "Lived, Lives, Will Live!" is an explosion of cultural references, linking contemporary art and celebrity culture in one chaotic package. Not only does the group attempt to rebrand communism once again, it pokes fun at the dichotomies associated with it. Advertising and propaganda, public monuments and private commodities, deified leaders and self-aggrandizing celebrities battle it out in a potpourri collection of seemingly disconnected artworks.
"The relationship between art and celebrity culture functioning today is similar to the relationship that existed in the 1950s and '60s with the advent of television," TP explained. "Celebrity worship today is different because of added accessibility provided by transmedia, where more people across the world have the ability to participate in celebrity culture to the point of becoming one. This resurgence has created a sort of cult of the individual, and it is interesting to see how celebrities navigate this trend, in some cases by idolizing themselves."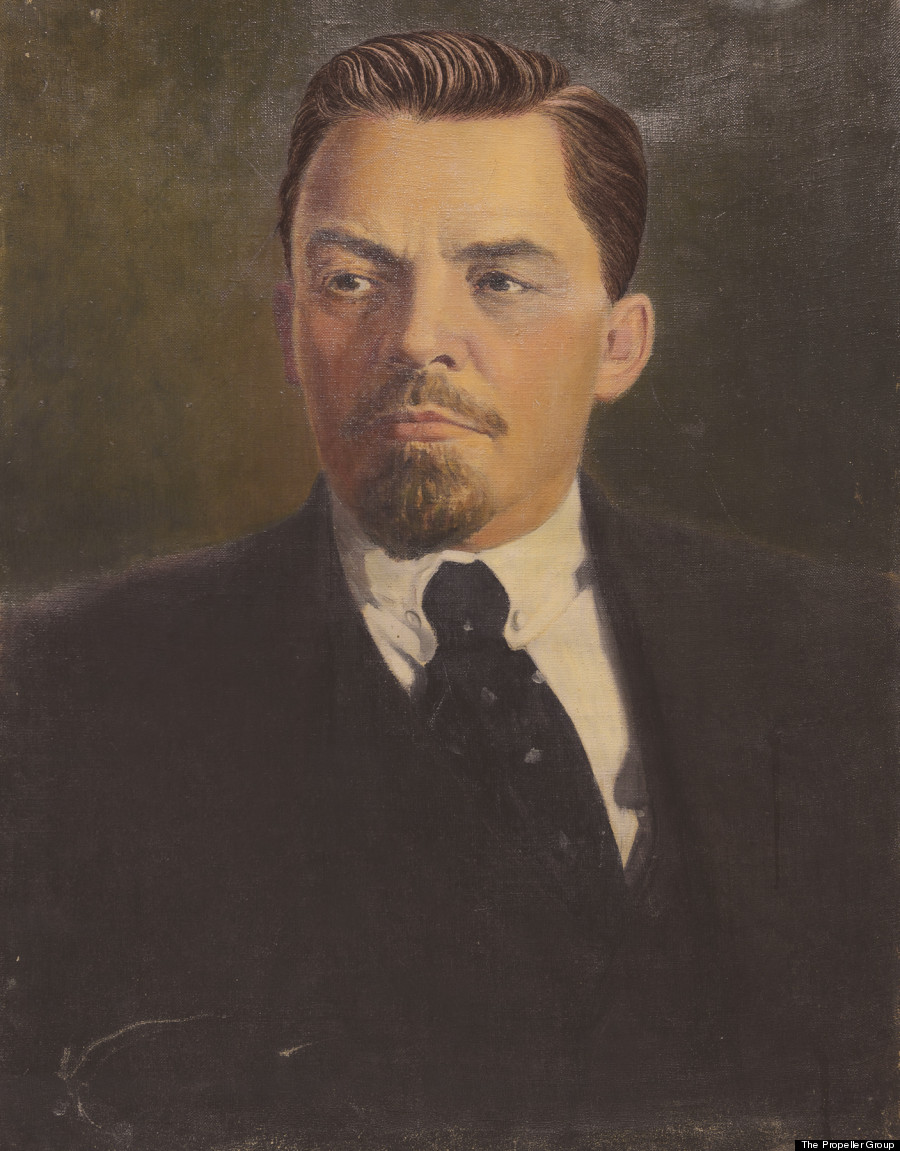 The Propeller Group, Lenin as Frank Wheeler in Revolutionary Road, 2013, oil and embroidery on canvas, 31.5 x 24.41 inches
TPG added these final remarks during our email interview, pointing a figure at yet another seemingly arbitrary, but perfectly appropriate reference:
"Andy Warhol once said, 'In the future everyone will be famous for fifteen minutes.' [Then] 'I'm bored with that line. I never use it anymore. My new line is: In fifteen minutes everybody will be famous.' Today, because of transmedia, Warhol's line is probably more like: 1500 people become famous every second."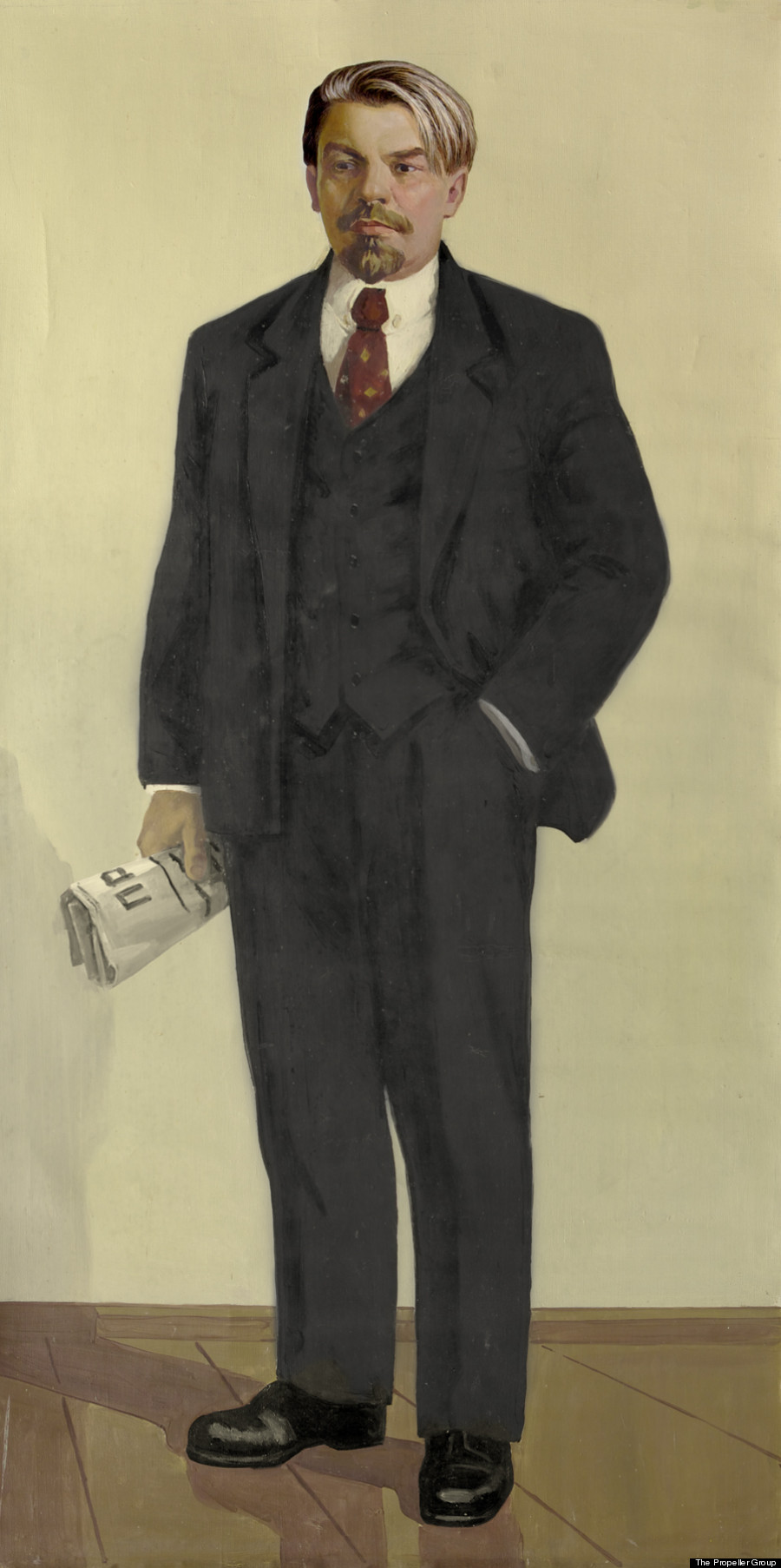 The Propeller Group, Lenin as Jack Dawson in Titanic, 2013, oil and embroidery on canvas, 61.02 x 31.3 inches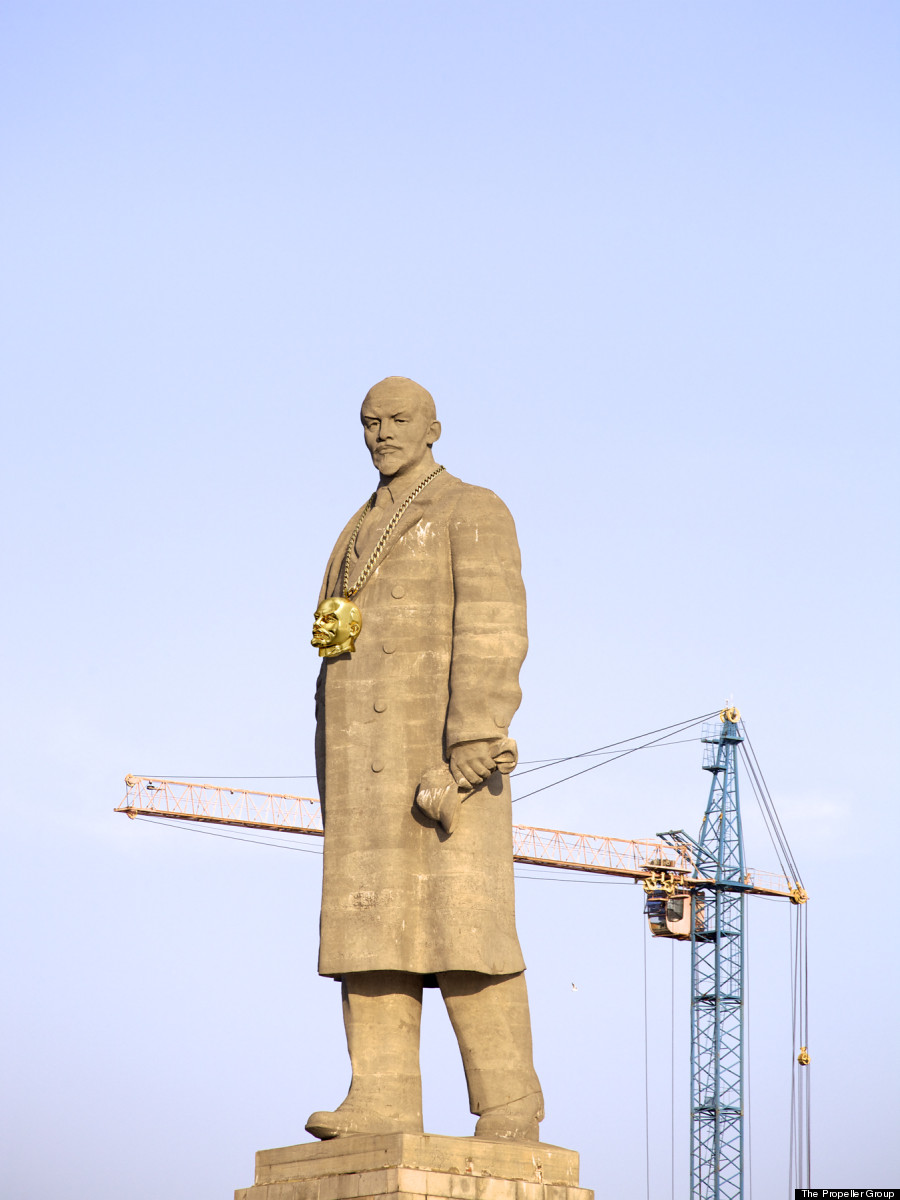 The Propeller Group, Monumental Bling: Lenin East Berlin on Lenin Volgograd 2, 2013, archival pigment print
The Propeller Group's "Lived, Lives, Will Live!" is on view at Lombard Freid Projects in New York City until October 26, 2013.