Welcome to "Moving Image," our roundup of the best photos from around the world this week.
The following images tell the story of the past seven days' most compelling events, capturing happenstance moments and monumental occurrences all over the globe.
Our picks for this week are:
1. This young sports fan in Spain.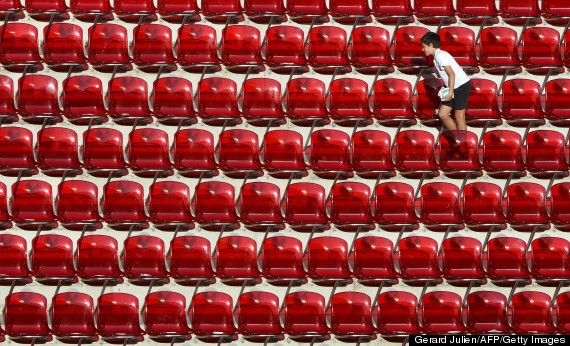 A child walks in the grandstand during the doubles Spain vs Ukraine as part of the World Group Play-offs 2013 at the Caja Magica sports complex in Madrid on September 14, 2013. (Gerard Julien/AFP/Getty Images)
2. This shot of a rocket in Virginia.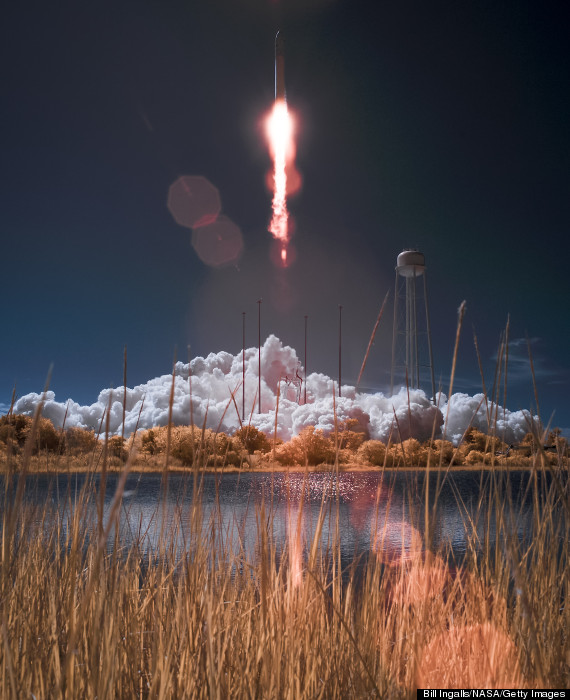 In this infrared image from NASA, the Orbital Sciences Corporation Antares rocket launches from the NASA Wallops Flight Facility September 18, 2013 in Virginia. Cygnus is on its way to rendezvous with the space station where it will deliver about 1,300 pounds of cargo, including food and clothing, to the Expedition 37 crew. (Photo by Bill Ingalls/NASA via Getty Images)
3. This daring climber in China.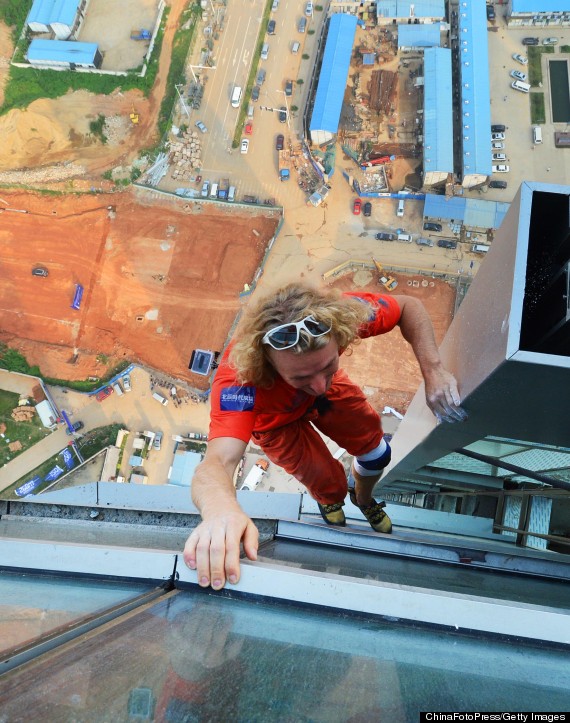 Twenty four year old Austrian climber Michael Kemeter climbs the tallest skyscraper in Changsha on September 15, 2013 in Changsha, Hunan Province of China. It took Kemeter one hour to climb from the ground to the 45th floor, reaching a height of about 200 meters, without any protective measures. (ChinaFotoPress/Getty Images)
4. This devastating snapshot of flooded areas in Colorado.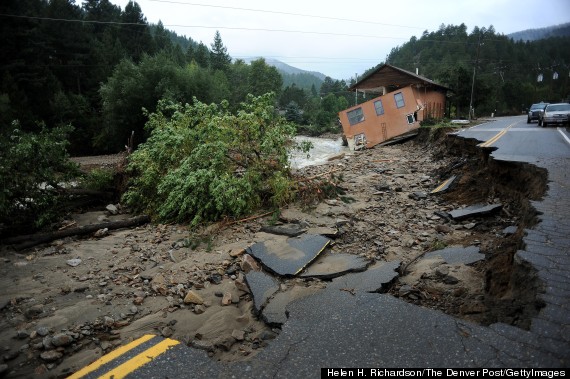 James Canyon drive is washed away from the recent floods that have destroyed the town of Jamestown, CO on September 15, 2013. (Helen H. Richardson/The Denver Post/GettyImages)
5. These horsemen in Spain.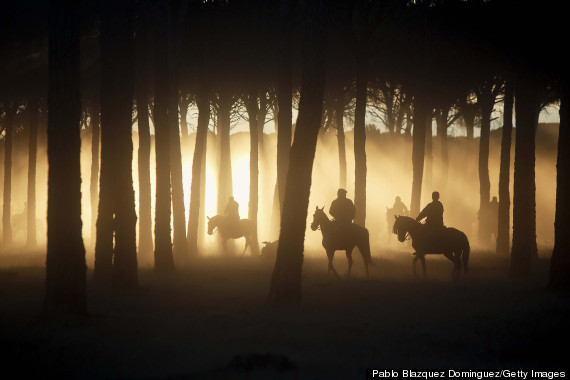 Horsemen guide bulls to the Village of Tordesillas hours before the 'Toro de la Vega' bull of the plain tournament takes place during the 'Virgen de la Pena' Virgin of the Rock festivities on September 17, 2013 in Tordesillas, Spain. (Pablo Blazquez Dominguez/Getty Images)
6. These friendly dolphins in Japan. In this Wednesday, Sept. 18, 2013 photo, two dolphins perform in a tank at Okichan Theater of the Okinawa Churaumi Aquarium in Motobu, on the southern island of Okinawa, Japan. Okinawa is Japan's southernmost prefecture and more than 300,000 foreign tourists visit to Okinawa every year. (Eugene Hoshiko/AP)
7. These students in China.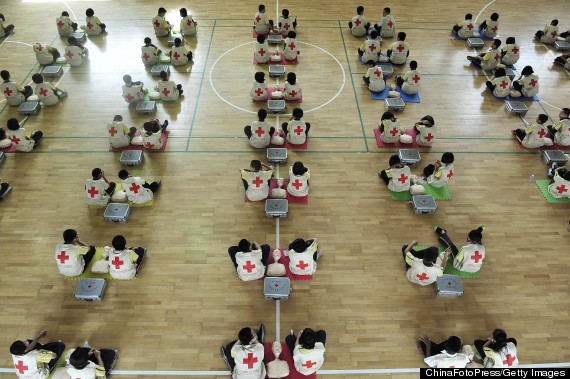 Hundreds of students learns emergency skills at Mabao Youths social practice base on September 14, 2013 in Fuzhou, Fujian Province of China. (ChinaFotoPress/Getty Images)
8. This guitarist in Brazil. Guitar player Marco Tulio of Brazilian band Jota Quest performs during the Rock in Rio music festival in Rio de Janeiro, Brazil, Sunday, Sept. 15, 2013. The week long festival will feature a list of headliners including Muse, Justin Timberlake, Metallica, Bon Jovi, and Bruce Springsteen. (Felipe Dana/AP)
9. This harrowing scene in Egypt. Egyptian security forces help the lifeless body of Giza Police Gen. Nabil Farrag, center, who was killed after unidentified militants opened fire on security forces deployed early morning to the town of Kerdasa to drive off suspected Islamists taking control of the town near Giza Pyramids, Egypt, Thursday, Sept. 19, 2013. (Ahmed Abdel Fattah/AP)
10. This fish eye photo in Texas. In this photo taken with a fish eye lens, Toro, the Houston Texans mascot, lowers himself into Reliant Stadium to help introduce the team's AFC South division banner before an NFL football game against the Tennessee Titans, Sunday, Sept. 15, 2013, in Houston. (David J. Phillip/AP)
11. This sorrowful crime scene in Chicago. The crime scene where a number of people, including a 3-year-old child, were shot in a city park on the south side of Chicago, Thursday, Sept. 19, 2013. (Paul Beaty/AP)
12. This burlesque artist in Germany. Burlesque artist Minouche von Marabou of Switzerland checks her outfit backstage before the Newcomer Night of the first international Berlin Burlesque Festival in Berlin, Germany, Thursday, Sept. 19, 2013. The artists take part in the four-day festival which includes three different evening shows. (Gero Breloer/AP)
13. These circus artists in Ukraine. Circus artists Anastasiya Zorina and Eugeny Abakumov, top, perform during the opening concert in the new program in Ukraine's National Circus in Kiev, Ukraine, Thursday, Sept. 19, 2013. Sparkles are decorative pieces falling from the costume of Anastasiya Zorina. (Efrem Lukatsky/AP)
14. These Occupy Wall Street protesters in New York City.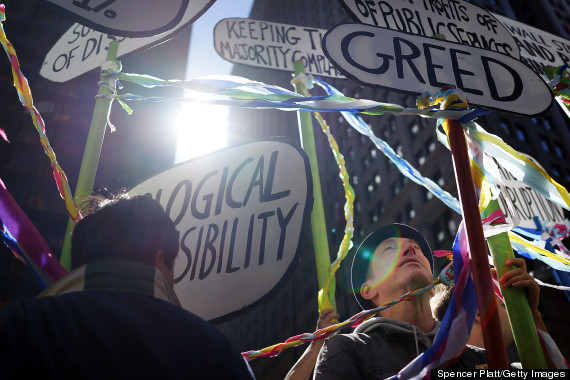 Protesters affiliated with Occupy Wall Street demonstrate for a variety of causes at Zuccotti Park near the New York Stock Exchange on the second anniversary of the movement on September 17, 2013 in New York City. (Spencer Platt/Getty Images)
15. This Formula One snapshot in Singapore.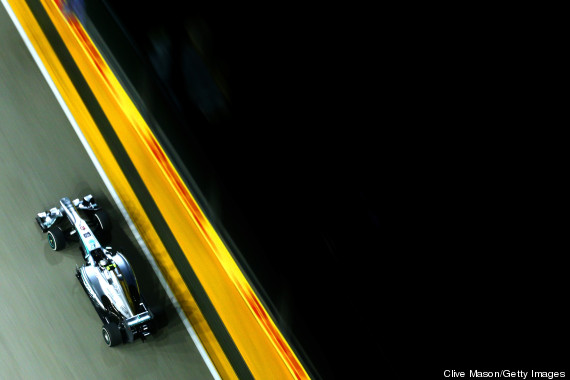 Lewis Hamilton of Great Britain and Mercedes GP drives during practice for the Singapore Formula One Grand Prix at Marina Bay Street Circuit on September 20, 2013 in Singapore, Singapore. (Clive Mason/Getty Images)
Let us know your favorite photos in the comments section and check back next week to see new images.
This story appears in Issue 67 of our weekly iPad magazine, Huffington, in the iTunes App store, available Friday, Sept. 20.
PHOTO GALLERY
Moving Image 2013: The Year's Best Photos