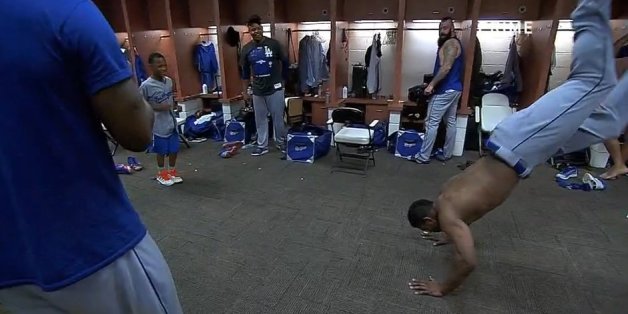 This is what joy looks -- and dances -- like.
While not everyone approved of the the Los Angeles Dodgers' pool party after clinching the NL West title there shouldn't be anyone who can dislike this GIF of Yasiel Puig dancing.
(H/T @Dodgers via @BuzzFeedSports)
The smile-inducing powers of this GIF might even be strong enough to cheer up Willie Bloomquist.
In the privacy of the visitors' locker room at Chase Field, the Dodgers' rookie phenom treated his teammates to a rendition of the worm that he capped with what looked to be some sort of a jig.
For those who would prefer to experience Puig's dance routine in a more traditional format, MLB.com has provided embeddable video for your enjoyment:
BEFORE YOU GO
PHOTO GALLERY
PHOTOS: Dodgers Celebrate NL West Title