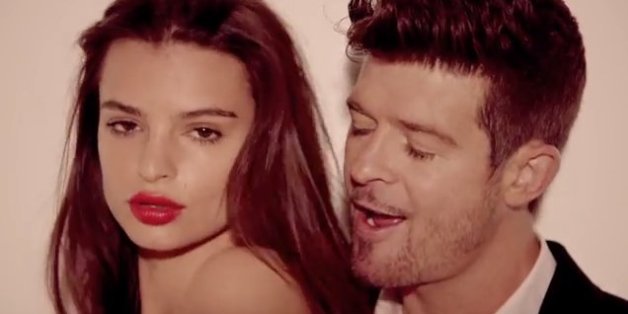 A British university has officially banned Robin Thicke's insanely popular summer hit "Blurred Lines" for being demeaning to women.
The University of Leeds will no longer play the song -- which refers to women as "bitches" and "animals" -- in any of its five bars because it "undermines and degrades women," the school's education officer, Alice Smart, told The Independent.
Smart also
took to Twitter
to announce the news:
Proud that we've decided not to play 'Blurred Lines,' a song which undermines and degrades women, in @LeedsUniUnion's clubs & bars. #luuexec

— Alice Smart (@Alice_Smart) September 18, 2013
Despite Thicke's claims that the song is "actually a feminist movement within itself," many have spoken out against its derogatory lyrics, saying they promote rape culture. In addition, critics have pointed out that the phrase "I know you want it" (repeated 18 times throughout the song) is something rapists have actually said to their victims.
After tweeting the university's decision to ban the song (by the way, it's not
the first school to do so
), Smart was soon asked why other songs with similarly questionable messages weren't also being sanctioned:
@Alice_Smart @LeedsUniUnion Plenty of songs which degrade and perpetuate harmful stereotypes. Do you plan to ban these too?

— Phil Mann (@philmann_) September 18, 2013
But it appears the school is focusing on this one issue for now:
@StephenRainbird We're banning a song that degrades women. We don't have any interest in banning songs because they talk about drug use. x

— Alice Smart (@Alice_Smart) September 19, 2013
WATCH: The video for "Blurred Lines" also caught flak for being misogynist.

(hat tip Think Progress)
BEFORE YOU GO
PHOTO GALLERY
Sexist Vintage Ads