The catastrophic flooding that washed over Colorado last week has damaged more oil and gas fields around the state than previously thought, resulting in spills totaling more than 22,000 gallons from the sites surveyed so far, state regulators confirmed to The Denver Post on Friday.
"We are going to have dozens, if not hundreds, of toxic sites," Wes Wilson, former EPA engineer and current anti-drilling activist said to The Denver Post, "and they've got to be cleaned up."
NewsBreaker tweeted this image of dark crude leaking near the South Platte River:
More oil spills confirmed in #COFlood
-"Going to have dozens, if not hundreds, of toxic sites"
http://t.co/0T1UkYVvDS pic.twitter.com/AkDwaExrDd

— NewsBreaker (@NewsBreaker) September 20, 2013
On Wednesday, Anadarko Petroleum Corp. said that 323 barrels -- about 13,500 gallons -- had spilled from an oil and gas tank farm along the St. Vrain River near Platteville. That's on top of the 125 barrel spill-- or about 5,225 gallons -- from a damaged storage tank into the South Platte River near the town of Milliken that the oil company had also reported.
Approximately 18,725 gallons of condensate -- a mixture of oil and water -- have spilled from the Anadarko sites, according to Matthew Allen, spokesman for the Denver office of the Environmental Protection Agency. Oil workers try to lift a storage tank for condensate that was knocked over by floodwaters from the Platte River at an oil well site near LaSalle, Colo., on Friday, Sept. 20, 2013. Condensate is the mix of oil and water that is pumped out of the ground. The tank was intact and had not leaked. Numerous oil and gas well sites have been damaged by floodwaters throughout Colorado, with several reports of spills. (AP Photo/Chris Schneider)
On Friday, the COGCC reported that another new spill has been announced by Anadarko that remains unmeasured. Five spills along the South Platte River in Weld County have been classified as "notable" and two more spills were confirmed along the South Platte near Evans involving Anadarko and Bayswater Exploration and Production, according to The Denver Post report on the spills.
"In the context of this historic event, these spills are not an unexpected part of many other sources of contamination associated with the flood," the COGCC said in a statement Thursday, when only 10 oil spills had been confirmed by state regulators. "Those include very large volumes (millions of gallons) of raw, municipal sewage and other hazards associated with households, agriculture, business and industry." In this Sept. 17, 2013 photo, a crude oil storage tank lies on its side in flood water along the South Platte River, in Weld County, Colo. Hundreds of natural gas and oil wells along with pipelines are shut down by flooding, as state and federal inspectors gauge the damage and look for potential contamination from inundated oil fields. (AP Photo/John Wark)
About 600 personnel are inspecting and repairing damaged well sites, but inspectors can't get to some oil and gas sites, as some wells are still in deep floodwater and damage to those won't be clear until waters recede, 7News reported.
9News reported Thursday that the oil and gas industry in Colorado estimates that only about 10 percent of the wells in the worst flooded areas have been assessed so far.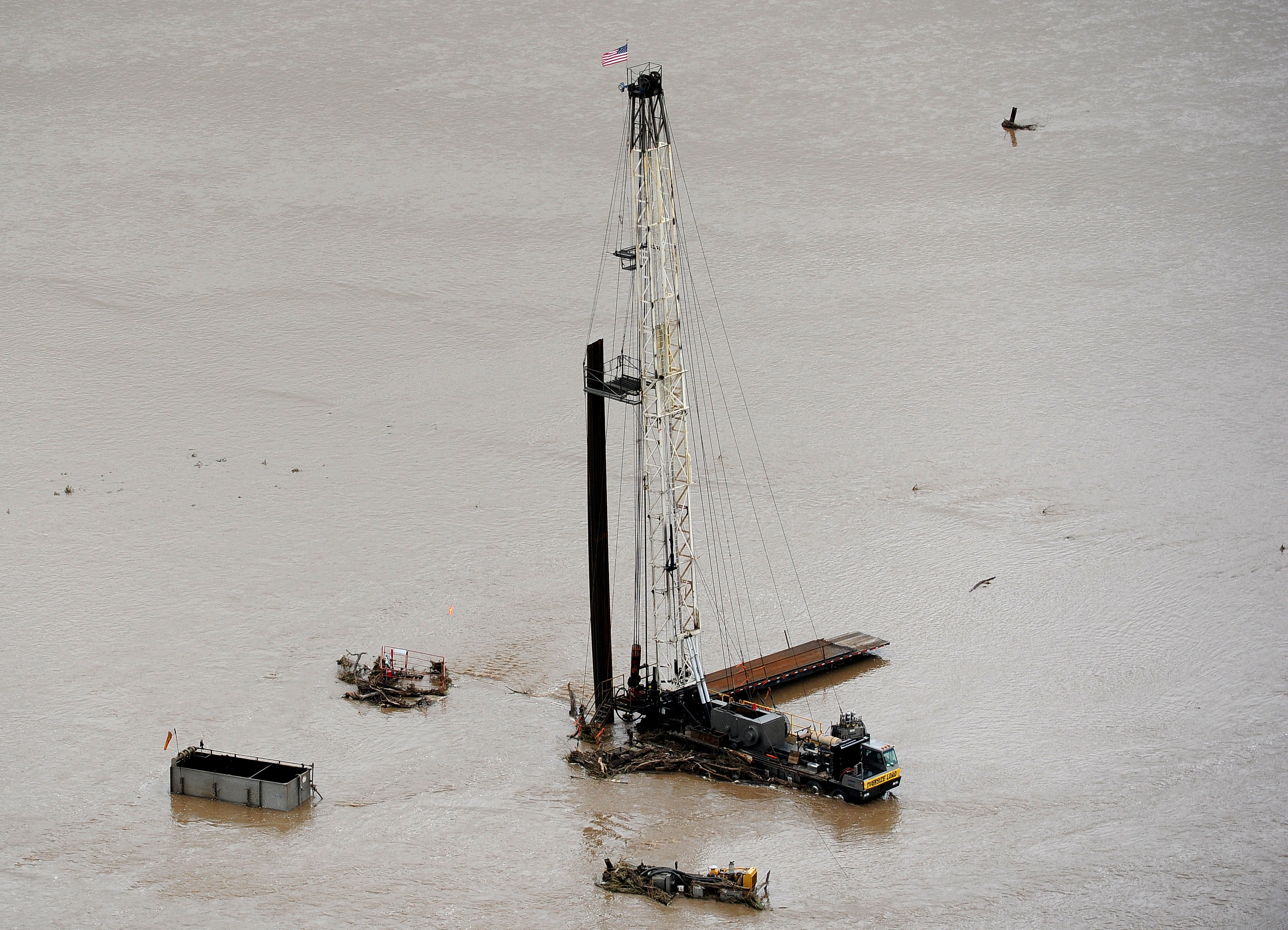 WELD COUNTY, CO. - SEPTEMBER 16: A drilling derrick near Greeley stands in land flooded by the South Platte River. Aerial photographs of the Platte River flooding cities and farms in Weld County, Colorado. (Photo By Tim Rasmussen/The Denver Post via Getty Images)
The size of the affected area is immense and the long-lasting environmental and business impact of the flooding and oil spills in Colorado is difficult to assess as it continues to develop. The Denver Post reported that there are 20,500 operating wells in Weld County, more than 300 in Boulder County, about 250 in Larimer County and just under 100 in Broomfield County. All these counties were deeply affected by the flooding.
Approximately 1,900 wells were initially shut down by the flooding, out of more than 51,000 operating in Colorado.
Colorado produced 135,000 barrels of oil a day in 2012 and 1.6 trillion cubic feet of natural gas in 2011, according to The Associated Press. This Sept. 17, 2013 photo provided by Ecoflight shows the result of flash floods that inundated parts of the booming oil and natural gas patch in northern Colorado?s Weld County. Hundreds of natural gas and oil wells along with pipelines are shut down by flooding in this key energy region in Colorado, as state and federal inspectors are just beginning to gauge the damage and looking for contamination from inundated oil fields. (AP Photo/Ecoflight, Jane Pargiter)

BEFORE YOU GO
PHOTO GALLERY
Colorado's Historic Flooding