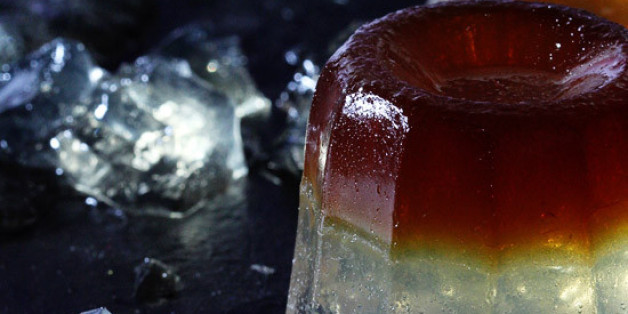 We know most people cringe with not-so-fond memories of bright red, green and yellow Jell-O shots scraped from little plastic cups in college. The kind that we ate way too many of in a single night and instantly regretted the next day. But guys, it's time to reconsider this college classic. Jell-O shots just got serious. They've gotten together with Jagerbombs to make a doozy of a shot.
You might think that a Jagerbomb Jell-O shot is a bad idea. These two types of shots have floored better boozers than us. But here's the thing: they're delicious. And, they're beautiful. So if you're careful to down just a couple (instead of the more common "oops, I lost count") then Jagerbomb Jell-O shots are just what you should be making, serving and eating at your next shindig. We think football season is a great time to introduce these impressive shots.
Get the recipe for Jagerbomb Jell-O shots at Bakers Royale. And be sure to follow her blog during football season for more game-day great drink and snack ideas.
Want to read more from HuffPost Taste? Follow us on Twitter, Facebook, Pinterest and Tumblr.
Get more Jell-O shot recipes.
PHOTO GALLERY
Jell-O Shot Recipes