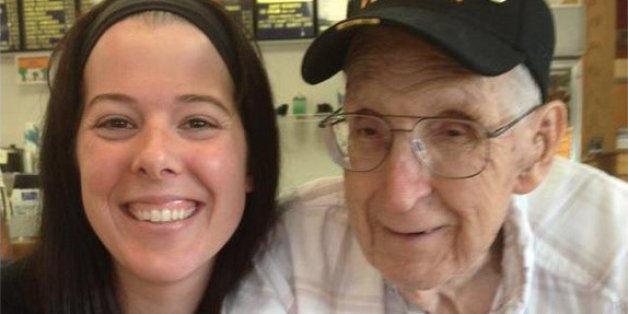 A World War II Ohio veteran who has lived in his current home for 56 years faced eviction from his home. The landlord? His own daughter.
John Potter, the 92-year-old veteran, turned to his granddaughter for help after his daughter, Janice Cottrill, said he had terminated his "existing lease," ABC News reported.
Potter's granddaughter, 35-year-old Jaclyn Fraley, immediately began fundraising efforts to help her grandfather keep his home. When Potter and his attorney offered Cottrill $60,000 to buy it back, she and her husband declined.
"They find the offer unacceptable and decline the same," a June 14 rejection letter from Cottrill's attorney stated.
In 2004, Potter and his now-deceased wife gave the general power of attorney to Cottrill, just in case Potter and his wife declined in health. Cottrill used that power to convey the deed to herself, Fraley said. When Potter learned of the deed transfer, he switched the power of attorney to his granddaughter, but it was too late to legally reverse the deed transfer, NBC 4 reported.
"I would hope my mother would be a caring compassionate person and even though there is family difficulties she would still care and respect her father enough to let him spend his final days in his home," Fraley said at the time of the eviction notice.
When Cottrill declined to sell back the home, ABC reported that Fraley was devastated and unsure what would become of her grandfather.
"For me, the hardest part in all this is what it's going to do to him: taking a 92-year old man and forcing him to leave his home," Fraley told ABC at the time. "I was trying to keep it so he could have a calm, quiet end of life. His health is weaker. Right now I don't think he truly believes this is happening, because he never thought this would happen."
But Potter's granddaughter didn't give up. Instead, she reached out to the internet to help bolster donations.
Using the website GoFundMe.com and posting YouTube videos of her grandfather telling old war stories, Fraley was able to raise nearly $140,000.
It was enough money to get Potter's house back, with a little money left over to care for Potter's health and continued well-being.
"I think I shrieked for 10 seconds and started bawling [when I got the news]," Fraley said.
Now, thanks to Fraley and thousands of people online, John Potter can live out the rest of his days in the home he's known for half a century.
"I want to express my appreciation for all those people who helped me," Potter said. "It wasn't one person, it wasn't a hundred but over five thousand people and I certainly appreciate it more than they will ever know."
BEFORE YOU GO
PHOTO GALLERY
The Weird News Top 10 (April 8-14)