While three-year-old Deonta' Howard recovers in the hospital following Thursday night's harrowing mass shooting at Cornell Square Park on Chicago's South Side, police are on a "fast-moving criminal investigation," questoning at least one person of interest Friday.
Meanwhile, Deonta' went into surgery around 2:30 p.m. Friday. Rev. Corey Brooks told DNAinfo Chicago "He's doing better. He's heavily sedated."
Deonta' was shot in the back of his ear, right below the skull, with the bullet exiting out his jaw. Brooks said, "as a result of that there was a little lower skull damage. Also, a lot of scar, a lot of tissue, a lot of cosmetic surgery that's going to have to take place."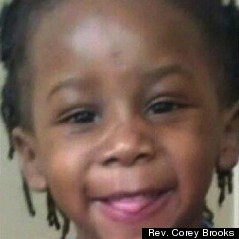 Deonta' Howard, 3, was the youngest victim of Thursday night's mass shooting in Chicago.
A 37-year-old shooting victim described to the Tribune seeing the small boy lying on the ground.
"I just saw his face. Just tore off...they almost shot his whole face off," the man said.
At least 16 shots were fired, each 7.62 millimeter rounds. Police say an assault style rifle with high capacity magazine was used in the shooting; some witnesses at the scene believe was an AK-47. At a press conference Friday, police Supt. Garry McCarthy said his officers were looking for up to three gunmen.
Sources first told ABC Chicago police may have a person of interest on their radar. while the Wall Street Journal reports police are questioning "a number of people" as of Saturday.
"They shot my baby with a gun that's bigger than him," Deonta's mother, Shamarah Leggett told the Tribune. "This gun violence has to stop. It has to. My baby is only 3. How is he shot in the face with an army gun? Where are they getting army guns from?"
Sen. Dick Durbin (D-IL), who favors an assault weapons ban in Illinois, told reporters Friday "I'm open to helping, appealing to the governor or even the president if necessary."
In a statement Friday, the White House said the President was "dismayed to learn of yet another deplorable act of gun violence, this time in his hometown of Chicago."
Capt. Mark Kelly, husband of former Congresswoman Gabby Giffords and co-founder of Americans for Responsible Solutions issued this statement Friday:
"Just four days after the Navy Yard tragedy, it happened again. There may not be many headlines, but 13 people were wounded in a mass shooting in Chicago last night, including a three-year-old and two teenagers. Gabby and I are sending our thoughts and prayers to the victims, and we are firm in our belief that all forms and causes of gun violence deserve action from our elected leaders."
Mayor Rahm Emanuel cut short a trip to DC upon hearing of the shooting and visited the hospital where Deonta' was undergoing surgery to console his mother.
Emanuel later attended a peace and prayer rally at Brooks' New Beginnings Church on the South Side.
BEFORE YOU GO
PHOTO GALLERY
Chicago Park Shooting 2013