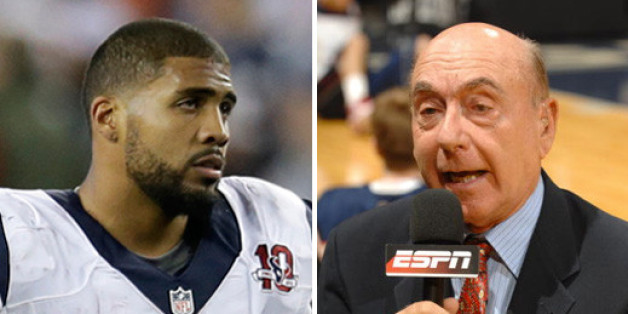 ESPN's Dick Vitale found himself embroiled in a social media controversy on Friday after comparing Houston Texans running back Arian Foster to a prostitute on Twitter. Vitale's comment was prompted by the NFL star's admission in the documentary "Schooled: The Price of College Sports" that he broke NCAA rules by taking money during his senior year at Tennessee. The relentlessly positive college basketball analyst was apparently shocked by the revelation. His response was equally shocking.
@GreggDoyelCBS When they put their hand out like a prostitute & take it they don't say a word - moaning yrs later = SAD!

— Dick Vitale (@DickieV) September 20, 2013
Many found Vitale's rebuke of Foster far more disturbing than the notion that a college football player in the SEC had violated NCAA rules by accepting money. With his tweet garnering more attention than he may have anticipated, Vitale admitted he believed NCAA athletes should be paid while still standing by his comparison.
Let me explain tweet @GreggDoyelCBS I feel players should be pd-
RULES SAY NO -if a player takes cash he is selling his body ! Define that!

— Dick Vitale (@DickieV) September 20, 2013
A day later, Vitale apologized. The 74-year-old Basketball Hall Of Famer also let his more than 500,000 Twitter followers know that his wife agreed that he had gone too far in his takedown of Foster.
I apologize if it offended u that I used prostitute 4 athletes taking cash @marcisenberg made a gr8 point about NCAA rules @ term illegal

— Dick Vitale (@DickieV) September 21, 2013
.@DickieV Prostitution defined: Sex for $. Definitely ILLEGAL Athletes taking $ is not "selling body." Nor illegal. Just against NCAA rules

— Marc Isenberg (@marcisenberg) September 21, 2013
My wife agrees with u that prostitute was a bad term to use -I was upset when reading tweet from @GreggDoyelCBS about Foster getting cash

— Dick Vitale (@DickieV) September 21, 2013
Amid the backlash against Vitale, CBS national columnist Greg Doyel took the time to remind everyone that the college hoops fixture was truly a "good man" who had simply sent off one regrettable tweet.
"We're talking about Dick Vitale. One of the sweetest men on television, or anywhere else. A guy who has given himself and his time to people all over the planet. A guy whose kindness is known," Doyel wrote in a column published on Saturday. "A guy who sure could use just a little bit of empathy, and forgiveness, at this moment."
BEFORE YOU GO
PHOTO GALLERY
Best 2013 Sports Photos