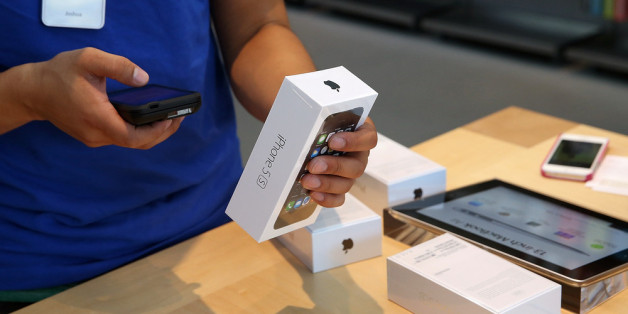 While waiting in line for the release of the new iPhones, a man was beaten unconscious and left in some brush near the Mall at Rockingham Park in New Hampshire Friday, Salem Patch reports.
The assault was one of several incidents that took place outside Salem's Apple Store in the early morning hours as some 1,000 people queued up in anticipation of the release of the iPhone 5c and iPhone 5s.
People getting arrested and taken to hospital outside the Salem mall waiting for iPhone

— Justin Drew (@justindrew) September 20, 2013
According to Salem Patch (which, like The Huffington Post, is owned by Aol), police attempted to control the chaotic scene and made two arrests -- one for trespassing and disorderly conduct and the other for trespassing and possession of marijuana.
Officers found the unconscious man and are currently investigating the incident. No witnesses have come forward.
On Twitter, customers reported long lines outside the mall as early as 5:23 a.m. ET, and it wasn't long before the new phones sold out.
Rockingham Mall in Salem NH was sold out of 5s when I got there at 8:45 am. Sales person said sold out long time ago. #iPhone5S #apple

— Brian Krisler (@poupka) September 20, 2013
Police forces across the country prepared for Friday's iPhone release, with some deploying additional officers to Apple Stores.
In California, officers were also forced to intervene after a fight erupted outside an Apple Store in Pasadena.
BEFORE YOU GO
PHOTO GALLERY
New iPhone Buyers Can't Control Themselves