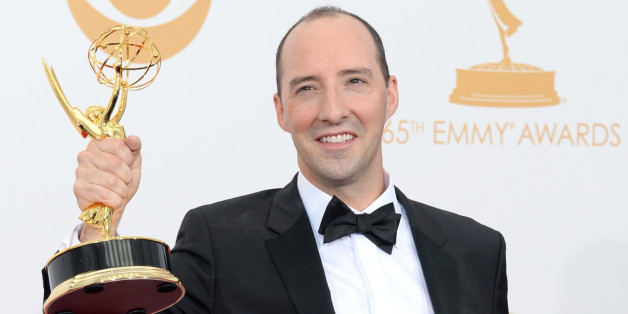 In a category that's been packed with the men of "Modern Family" for the past several years, along with "Saturday Night Live" funnyman Bill Hader, it was news when "Girls" star Adam Driver and "Veep's" Tony Hale infiltrated the nominations.
So it's even bigger news that one of the new guys won.
Hale's most memorable role might still -- and always -- be Buster Bluth on "Arrested Development," which Netflix resurrected this year, but his "Veep" role as Gary, VP Selina Meyer's (Julia Louis-Dreyfus) glorified bag boy, is the role that won him his first Emmy nomination -- and win!
Hale gave a very heartfelt acceptance speech, then returned to the stage in character when costar Louis-Dreyfus won as well, holding her purse, of course, and feeding her names of people to thank. But not his own. Of course.
"Veep" Season 3 will air spring 2014.
09/22/2013 11:12 PM EDT
Deserved?
09/22/2013 11:09 PM EDT
BREAKING BAD!!!!
"Breaking Bad" just won the Emmy for Outstanding Drama Series!!
09/22/2013 11:06 PM EDT
Outstanding Comedy Series ...
"Modern Family."
09/22/2013 10:56 PM EDT
Outstanding Lead Actor in a Miniseries/Movie is ...
Michael Douglas!
09/22/2013 10:48 PM EDT
Oustanding Supporting Actress in a Miniseries/Movie is ...
Ellen Burstyn for "Political Animals."
BEFORE YOU GO
PHOTO GALLERY
2013 Emmy Winners