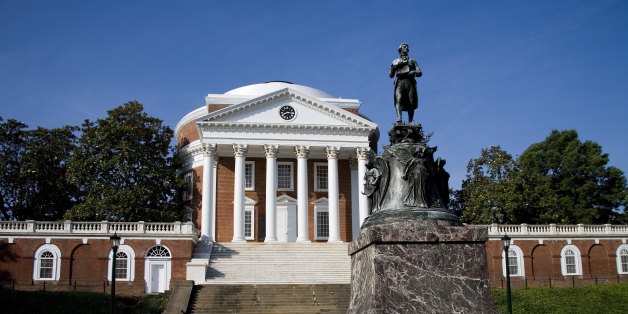 The students who turned out to protest the University of Virginia's move away from its "no loans" program for low-income student in favor of a policy that will require students to take out up to $28,000 over the course of four years won't be personally affected by the changes.
But those who rallied Friday outside a Board of Visitors meeting at the campus in Charlottesville, Va. -- as part of an effort to convince the university to reverse changes the board voted on in August -- talked about what the AccessUVa program meant to them and their families, and what they fear it could mean to students to come.
"For many low income students, U.Va. will simply become unaffordable," event organizer Hajar Ahmed, a fourth year student, told student paper The Daily Cavalier. "Disguising loans as aid to the poorest of the poor is despicable."
#AccessUVa rally pic.twitter.com/F5b3JRSmv4

— Cavalier Daily Photo (@CavDailyPhoto) September 20, 2013
In an August news release, U.Va. attributed the change to "shifting economic conditions, particularly during and after the recession beginning in 2008, [which] increased demand for financial aid and pushed the subsequent cost of AccessUVa beyond projections."
In 2004-2005, the program's first year, the university's "institutional contribution" was $11.5 million, with 24 percent of undergraduates qualifying for need-based aid, according to the news release. In 2012-13, that figure had gone up to $40.2 million, with 33 percent of students qualifying for need-based aid.
The school estimates its changes as eventually curbing growth of the AccessUVa program by $6 million per year -- but detractors, including former University Rector Helen Dragas, say the social cost is too high. Dragas was one of two board members to vote against the change.
"This action raises the cost of a U.Va. degree substantially for students from low-income families, hurting our diversity and coming at a time when we are already seen as elitist and unwelcoming," Dragas told the Richmond Times-Dispatch around the time of the vote.
As of Monday afternoon, more than 8,600 people have signed an online petition asking the board to reinstate its no-loans policy.
When the Board of Visitors met Friday, the other board member opposed to the changes suggested it be studied again as other members said the matter settled, according to the Washington Post. Outside the meeting, the paper spoke to third-year student Hawa Ahmed, described as having "fled from Chad" in the 1990s.
"I often tell people that U-Va. was my real-life fairy tale, my happy ending," Ahmed said, adding that the university "should invest in low-income students because we will put the money back into the places that we came from."
Crowd gathered at today's event! #IamAccessUVA pic.twitter.com/L6gTjucdfd

— Restore AccessUVA (@RestoreAccess) September 20, 2013
BEFORE YOU GO
PHOTO GALLERY
Average Student Debt By State