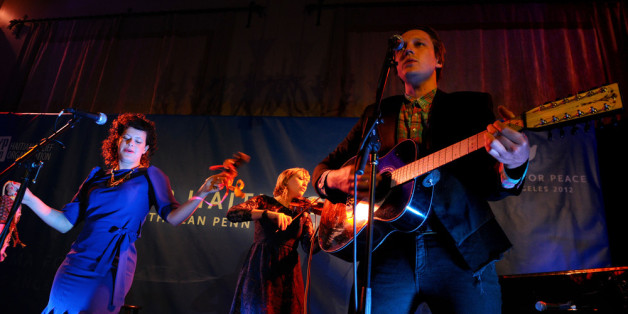 With weeks until the release of Arcade Fire's latest album "Reflektor," a likely tracklist for the album has made its way online.
The indie band's fourth studio album, which will hit stores on Oct. 29, was introduced earlier this month by the title-track "Reflektor" and its accompanying interactive music video. The names of the album's 12 additional songs surfaced this week when a tracklist was publicized on Amazon France. The supposed tracklist includes songs called "Joan of Arc," "Porno," and "Flashbulb Eyes."
Led by singer Win Butler and his wife Régine Chassagne, Arcade Fire released its last album, "The Suburbs," in 2010. "It's longer than [2010 album] 'The Suburbs' – it's a double record – mostly down to the fact that the songs are a lot longer," Butler recently said of the upcoming project. "I mean, 'Reflektor' is seven-and-a-half, there's another couple of seven-minute songs on the record and so it made more sense to stretch it out to two records with two distinct sides. It's more of a classic double LP vibe where you have to flip the side and it takes you to a different place."
Check out the hyped "Reflektor" tracklist below:
1. Reflektor
2. We Exist
3. Flashbulb Eyes
4. Here Comes the Night Time
5. Normal Person
6. You Already Know
7. Joan of Arc
8. Here Comes the Night Time II
9. Awful Sound (Oh Erydice)
10. It's Never Over (Oh Orpheous)
11. Porno
12. Afterlife
13. Supersymmetry
PHOTO GALLERY
FALL MUSIC PREVIEW 2013
BEFORE YOU GO