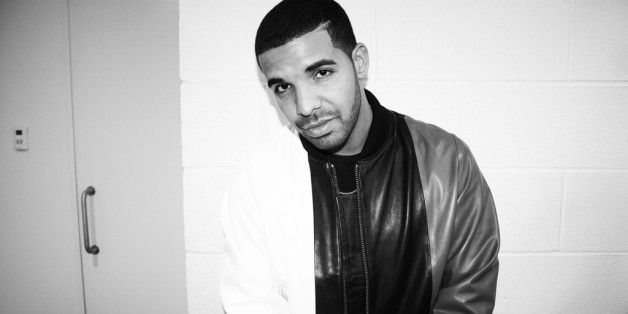 Voice of a generation Drake stopped by NYU's Skirball Center on Sunday to chat with Elliott Wilson of RapRadar as part of the latter's #CRWN series of conversations with rappers. As you might have guessed, there were some feelings, as well as plenty of tidbits and revelations that had the crowd of rabid Drake admirers in stitches.
First things first: Drake is a charming 26-year-old man. There are plenty of fair criticisms of his relationships with women (as catalogued in his songs, more on that later) and habit of plopping personal details from the lives of others (like his mom, more on that later, too), but on stage, Drake comes across as a hybrid of a comic and an open diary. ("I feel like I'm doing stand-up," he said at one point.)
The first portion of the chat airs on Myspace on Wednesday, with parts two and three of the long conversation premiering Thursday and Friday.
Here are some of the night's most interesting revelations (all of which took place after Drake mocked Wilson for pouring Moet, then cracked open a bottle of the same beverage and poured a glass for an attendee he quickly decided was a mom). The rapper's highly anticipated and well-received album "Nothing Was the Same" hits stores on Tuesday.
Drake hates "Off That," the song he and Jay Z recorded for the latter's "Blueprint III" album. "There were some things I would have said differently," the rapper admitted, noting that his vocals were supposed to be references for another performer. "I didn't really feel like I was in a position to say no," he said.
Drake's mom was really angry about "Too Much," a "Nothing Was the Same" track that includes the line, "Hate the fact my mom cooped up in her apartment, tellin' herself / That she's too sick to get dressed up and go do shit, like that's true shit." According to Drake, he gave his mom the album on an iPod and asked that she listen to the song. When she expressed her outrage, Drake reminded her that they had discussed it before, but her feelings on the matter prompted the disclaimer which began his Fallon performance of the song ("Before I do this song, I just want to say to my friends and family, I want the best for everybody, and I love you all."). The rapper was visibly emotional while retelling this story.
Drake does -- and doesn't -- care about your blogs and tweets. One of the more exciting inside-baseball moments of the night was Drake telling Wilson -- who runs RapRadar, a prominent rap news site, and calls himself the "King of Twitter," that the online rap world "doesn't matter." "That's not real," Drake said, noting that if he can tour and perform for fans, he doesn't care what keyboard jockeys have to say. That said, he's "on there more than you might think."

Drake subtweets, a revelation that was born from the rapper's skillful sidestep of a probing question asked by an audience member. The question was actually about why he feels justified shading or referencing real-life women in songs, and whether or not he thinks that inspires other men to subtweet. "I don't out people," Drake said, noting that "all of [the women mentioned in songs] love it." (The first part of that claim is demonstrably false, and the other's probably debatable.)
"My next album is always going to be my best album."
He wants to make an all-singing album, when he's older: "I'm looking forward to bringing you that."
He's not too worried about Kendrick Lamar, the rapper who included him on a verse on Big Sean's "Control" track, wherein Lamar put his competitors on notice. Drake appreciated that "Kendrick is giving people moments -- that was a moment. But what's the first line of that verse?" Wilson couldn't answer, and Drake's shrug set the crowd into overdrive.
Drake and Jay Z's "Pound Cake" song was meant for "Magna Carta Holy Grail, sort of. Drake, who really appreciates Jay Z's support, said the elder rapper actually sent him the verses acapella. Together with producer Noah "40" Shebib, they created the track and added Drake's bit. Hov then wanted the tracks for "MCHG," but Drake convinced him to let go of the track, and now it's on "Nothing Was the Same."
Drake knows about your memes and doesn't really mind.
The rapper's upcoming feature on Justin Timberlake's album appears on "Cabaret," and is a full 24 bars. "I might have even sung a Lil Boosie song in the middle.
Drake told a funny story about when he stopped caring about Twitter: On his mom's birthday, Drake was scrolling through tweets wishing his mom well. And then: "Some guy was like, 'I hope your mom dies in an accident tonight. So obviously I looked at his account, and he was on there in a Tyler, the Creator sweatshirt, probably jacking off to Grand Theft Auto."
"Hold On, We're Going Home" came out of Drake's desire to have a "timeless, wedding song."
Drake and Wu-Tang connect: The rapper has a "Wu-Tang Forever" remix coming that features the Clan, and says Ghostface called him to praise the track and deny ownership of the Twitter account that dissed it.
Paraphrasing here, but: "There's only one person staying up at night to make things new and better and that is Kanye West."
Drake's fans really love him. Press and VIPs were given the first two rows and waited for admittance into the auditorium with members of Drake's "die-hard" fan club. Overheard stories included fans who turned away from suicide and cutting thanks for a connection felt with Drake, a middle-aged fan who feels a special bond with the rapper and more. The die-hards were of all genders, races and ages, and their existence alone is gives voice to the argument that what Drake loses when he's criticized as not "hard" or "aggressive" enough of a rapper, he more than makes up for by helping people work out their own feelings alongside him.
BEFORE YOU GO
PHOTO GALLERY
FALL MUSIC PREVIEW 2013