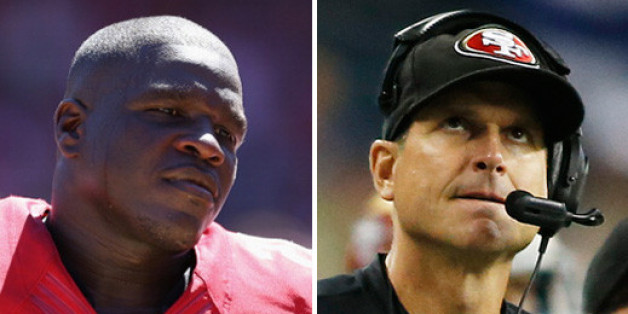 Add an angry running back to San Francisco's list of problems. After the 49ers dropped to 1-2 on the season with a loss to the Colts at home on Sunday, Kevin Lynch of the San Francisco Chronicle reported that starting running back Frank Gore had been upset with head coach Jim Harbaugh during the game.
RB Frank Gore was angry at Jim Harbaugh at the end of the game. For good reason. He had only 4 touches in the second half.

— Kevin Lynch (@klynch49) September 23, 2013
Just for clarity, RB Frank Gore had choice words for Jim Harbaugh near the end of the game, as Gore was heading out to the field.

— Kevin Lynch (@klynch49) September 23, 2013
Gore finished with 11 rushes for 82 yards, eight of which came in the first half. Harbaugh was asked about Gore's lack of carries in the second half when he addressed the media on Monday.
"Those were the plays that were called" Harbaugh said of Gore's limited opportunities in the second half, via Can Inman of the San Jose Mercury News.
The loss dropped the 49ers into a tie with the Rams and Cardinals for second place in the NFC West. The Seattle Seahawks, who blew out San Francisco, are 3-0 after defeating the Jacksonville Jaguars. According to Matt Maiocco of CSNBayarea.com, All-Pro middle linebacker Patrick Willis will miss San Francisco's game against St. Louis on Thursday. Linebacker Aldon Smith will also not be available, as he is taking an indefinite leave of absence following his arrest last week for suspicion of driving under the influence and possession of marijuana.
BEFORE YOU GO
PHOTO GALLERY
PHOTOS: NFL Week 3