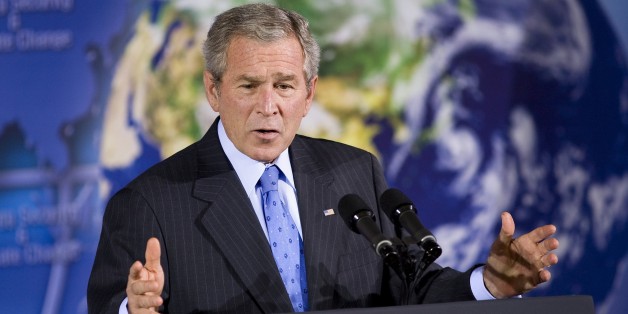 WASHINGTON -- Sen. Barbara Boxer (D-Calif.) has given George W. Bush's presidential library a "Climate Hero Award" for its efforts on energy conservation, an unexpected accolade for a former president whose administration was known more for its inaction on global warming.
"The George W. Bush Presidential Center has demonstrated true leadership in making energy conservation a top priority," said Boxer, a strong advocate of action to address climate change, in a statement on Monday. "It was a pleasure to see first-hand the library's innovative and energy efficient designs and to honor these important achievements with the Climate Hero Award."
Both the Bush library and the William J. Clinton Presidential Center received Climate Hero Awards for achieving LEED Platinum certification, which requires green building design, construction, maintenance and operation.
"It is really terrific to receive the inaugural Climate Hero Award from Senator Boxer," said former first lady Laura Bush in a statement. "It recognizes how hard we worked to achieve LEED Platinum certification."
But during his administration, President Bush did not work that hard on energy conservation or global warming.
In 2001, shortly after he took office, Bush rejected the 1997 Kyoto Protocol, an international pact to address climate change.
Also in 2001, Vice President Dick Cheney secretly met with oil industry executives to help put together a national energy policy. Environmentalists said they were left out of those discussions.
James Hansen, who was then NASA's top climate scientist, said in 2005 that the Bush administration had tried to silence him when he spoke out on the need to reduce greenhouse gas emissions to combat man-made climate change.
And as the San Francisco Chronicle reported in 2007, Bush Transportation Secretary Mary Peters directed a lobbying campaign to persuade governors and legislators to block California's groundbreaking law limiting greenhouse gases from cars and trucks -- all with White House approval.
Picture of Sen. Boxer (center) presenting the Climate Hero Award to Laura Bush (left) and former Education Secretary Margaret Spellings, who is now president of the George W. Bush Foundation (via Flickr):
BEFORE YOU GO
PHOTO GALLERY
George W. Bush Presidential Library Ceremony