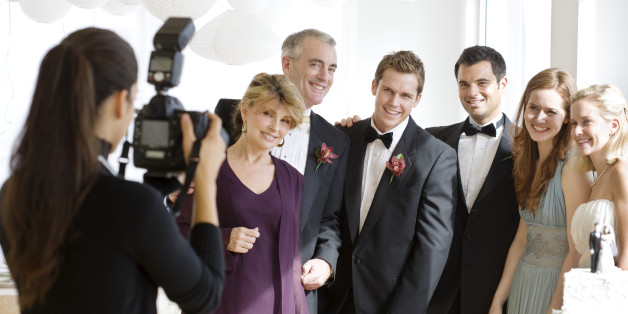 The rules of wedding etiquette are constantly changing, making it difficult for modern brides, grooms and guests to find up-to-date and correct information. But here at HuffPost Weddings, we're all about making your life easier. That's why we've launched #MannersMondays, a weekly series in which we ask our followers on Twitter and Facebook to submit their most burning etiquette-related questions. Then, with the help of our team of etiquette experts, we get you the right answers to your biggest Big Day dilemmas. You can send yours via Facebook or tweet it to us @HuffPostWedding with the hashtag #MannersMondays. Check out this week's question below!
Xochitl Gonzalez -- etiquette expert, wedding planner and HuffPost Weddings blogger -- is here to weigh on this vendor etiquette matter. Find out what she had to say below:
So, La Diva, I hate to break it to you, but paying for the photographer's meal at your wedding has more to do with ethical working conditions (see: Upton Sinclair) than it does with some type of "bonus" they qualify for or something they should be docked for. Most photographers work between six to 10 hours on a wedding day, without a break, and some even more. Typically, most people need a meal (or two) during that duration of time. Because they are following you around capturing your bridal beauty and timeless moments, they don't have time to say, run to Subway and grab a sandwich… nor is there time to even shove a banana or an apple in their mouths. Had they not been working for you that day, they would have been free to eat whatever they wanted whenever they wanted so it makes logical sense that you would be responsible for providing a meal and that the meal should be served at the reception. Not to mention that since this person is creating images that you will have forever, it's also just nice to be sure that they are fed. As someone who has worked at many a reception, trust me, the "vendor meal" is not a leisurely supper -- it's usually served at a time when the guests are dancing and often eaten too fast because they can't afford to miss a shot. Further, just in case you didn't want to take my professional opinion into account, if the photographer or DJ or anyone else has it written in their contract that they are to be served a meal, then the cost of that meal is in addition to their fee by contractual obligation -- not just to be nice.
Below, Peggy Post -- great-granddaughter-in-law of Emily Post -- and other wedding-etiquette gurus share 10 guidelines that couples and their guests don't necessarily have to follow anymore.
PHOTO GALLERY
Wedding Etiquette Rules You Can Break
Keep in touch! Check out HuffPost Weddings on Facebook, Twitter and Pinterest.