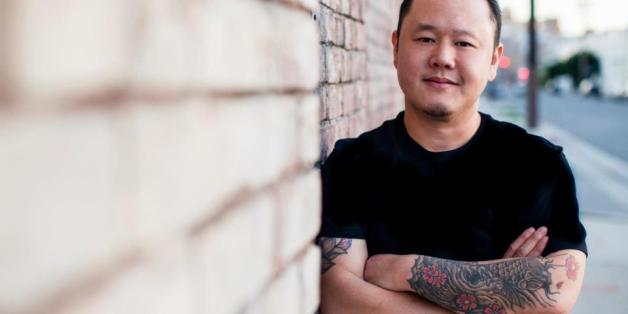 By now, Thai cuisine is mainstream in the U.S. -- enough that Thai dishes like pad thai or tom yum can seem almost staid to adventurous eaters. But Los Angeles chef Jet Tila says there's so much more to Thai food than pineapple fried rice, and LA's Thai Town is the perfect place to sample it all.
"I think that pad thai, peanut sauce and satay have become the equivalent of Chinese American food -- General Tso's, orange chicken, etcetera," said Tila in an interview with HuffPost. "What I'm trying to do is actually push the enlightened diner in LA to go beyond pad thai, go beyond curry, to find specific dishes from specific regions."
Tila chatted with the Huffington Post about the features of regional cuisine in Thailand and listed his favorite restaurants and dishes in LA's Thai Town to try it all.
All photo captions by Jet Tila.
Northern Thailand
The quintessential Northern Thai dish is called khao soi. It's a Northern Thai coconut curry dish with either braised chicken or braised beef and egg noodles. It's a blend of Chinese, Burmese and Thai [cuisine], similar to ramen-style noodles but flat, in a braised yellow curry.
Recommended restaurant: Spicy BBQ (Yelp), 5101 Santa Monica Blvd., Los Angeles, CA 90029
Recommended dish: Khao Soi.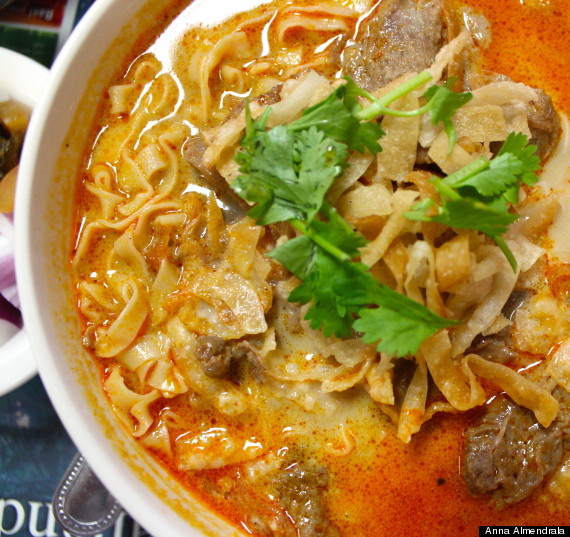 Photo of khao saoi at Spicy BBQ by The Huffington Post.
Northeastern Thailand
Northeastern food, or Isan cooking, is a blend of Thai and Laotian cuisine. Northeastern food is known for its spicy salads.
Recommended restaurant: Ruen Pair, 5257 Hollywood Blvd., Los Angeles, CA 90027
Recommended dishes: You have to have papaya salad, pork jerky and sticky rice, all combined.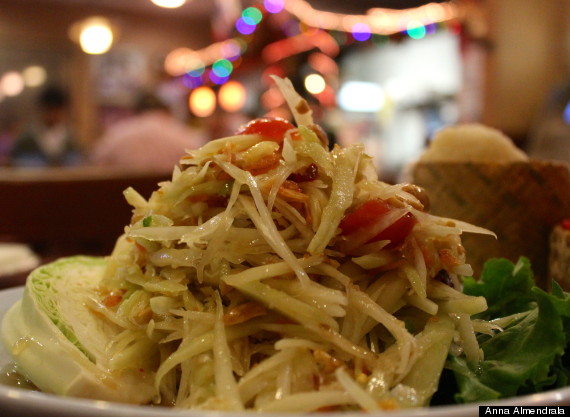 Photo of papaya salad (and sticky rice in the background) at Ruen Pair by Huffington Post.
Southern Thailand
South of Thailand you get to the Andaman Sea, and you're in the ocean. The hallmark of South Thai cuisine is extremely spicy food. They don't use a lot of coconut milk. Instead, there's an extreme amount of spice and shrimp paste.
Recommended restaurant: Jitlada, 5233 1/2 West Sunset Blvd. Los Angeles, CA 90027
Recommended dishes: Steamed mussels in Thai herbs, the Crying Tiger Beef and fresh prawns in curry sauce. Those are the three just absolutely crushing dishes in that restaurant.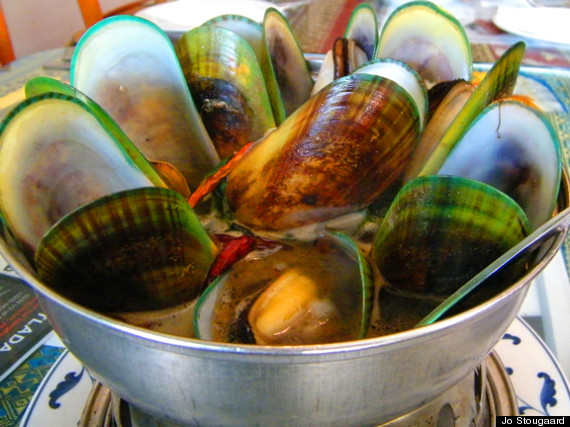 Photo of steamed mussels in Thai herbs at Jitlada by Jo Stougaard.
Bangkok
In most people's opinion, Bangkok is the fourth region of Thai food. It's where all the regions marry perfectly.
Recommended restaurant: Yai (Yelp), 5757 Hollywood Blvd., Los Angeles, CA 90028
Recommended dishes: Pad thai and any curry.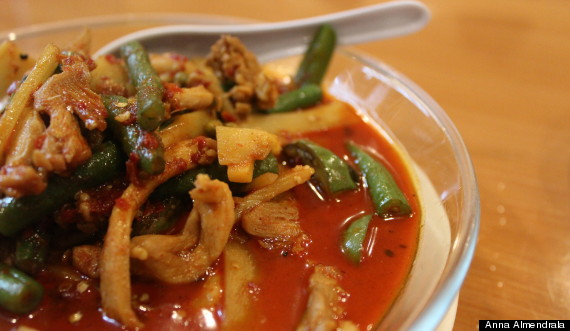 Photo of jungle curry at Yai by The Huffington Post.
Tila hosts tours of Thai Town when he's not busy with his TV show appearances. He's also been named Thai Culinary Ambassador to the U.S. and is hosting LA's inaugural Thai Food Fest on Sunday, Sept. 29.
BEFORE YOU GO
PHOTO GALLERY
Look: Thailand