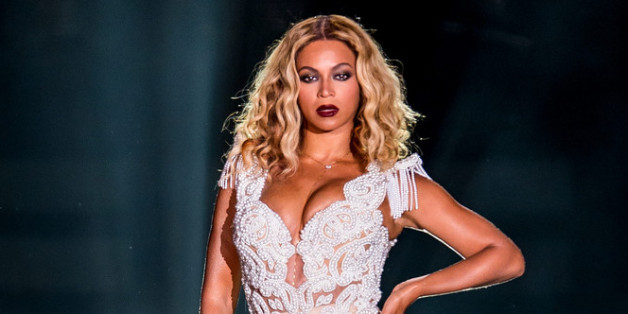 Beyonce is the consummate performer, radiating grace and Sasha Fierce-ness every time she walks onstage. But even the best of the best have hiccups. It seems like everything happens to Beyonce while she's performing: unruly fan behavior (both from the crowd and the electric fan in which her hair got caught), unfair blame for power outages and even a plunge or two. Somehow, Queen Bey manages to keep her poise through most everything. Here's a look at a few of Beyonce's biggest mishaps onstage.
Taking a tumble (July 2007)

Beyonce fans like to claim the singer is incapable of blunders, but a July 2007 concert in Orlando proved otherwise when she tumbled down the stairs while performing "Ring the Alarm." She joked with the audience about the misstep, asking them not to upload video of the incident to YouTube. Someone did not comply.
Letting her hair down (July 2013)

Grace did not betray Beyonce when she got her hair stuck in a fan while performing "Halo" in Montreal. A crew member had to use scissors to cut her free, but Beyonce kept belting it out, never missing a beat.
Reaching out to fans (September 2013)

While rocking out to "Irreplaceable," an overzealous fan pulled Beyonce into the crowd as she crouched down on the side of the stage. After security guards lifted her back onto the stage, she seemed unfazed by the incident. She told the culprit that it was nice to meet him.
A Super Bowl-sized blackout (February 2013) This one wasn't really Beyonce's fault, despite the Twitter jokes that indicated otherwise. Immediately following the singer's Super Bowl halftime performance, the Superdome in New Orleans lost power, promoting a bevy of cracks about Beyonce and Destiny's Child blowing out the arena's electricity. Alas, the truth of the matter wasn't nearly as interesting -- the Louisiana power company responsible for the Superdome's energy chalked it up to a newly installed electrical relay device gone wrong.
Can't touch this (May 2013)

Beyonce fans, there is no need to slap your queen's derriere. That should have been a given, but one fan tested the limits at a Copenhagen show. Beyonce threatened to have the man escorted out of the building.
No pictures, please (July 2013)

The flashes of cell-phone cameras are nothing new at concerts, and Beyonce doesn't like it when fans watch her show from behind a screen. "See, you can't even sing because you're too busy taping. I'm right in your face, baby, you gotta seize this moment," the performer told one fan who was too distracted to sing "Irreplaceable" with the rest of the crowd. "You better put that damn camera down!"
BEFORE YOU GO