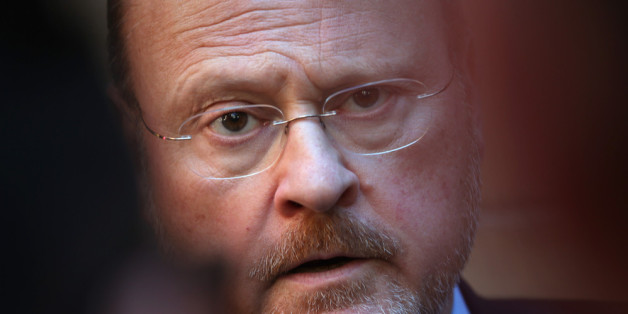 A day after The New York Times published a report detailing Bill de Blasio's past support for Nicaragua's Sandinista party, mayoral rivals are painting the Democrat candidate's leftist ties as "radical."
Republican mayoral candidate Joe Lhota railed against de Blasio in a statement on Tuesday, blasting his campaign for taking a cue "directly out of the Marxist playbook" and demanded de Blasio "explain himself" immediately.
Mr. de Blasio's involvement with the Sandinistas didn't happen in 1917; it happened 70 years later when the cruelty and intrinsic failure of communism had become crystal clear to anyone with a modicum of reason. Mr. de Blasio's class warfare strategy in New York City is directly out of the Marxist playbook. Now we know why.
Independent candidate Adolfo Carrion also chimed in with a statement on Monday, suggesting de Blasio's past work in Nicaragua was indicative of "failed policies that over-burden government" and could be detrimental to New York City.
De Blasio, who leads Lhota by a huge margin in mayoral polls, defended his time in Nicaragua and said he was proud of his progressive standpoints.
"I think U.S. policies at that time were wrong," he said in an interview with PIX11 on Tuesday. "And by the way, you know, this is something I've been very open about for years. I was very proud to be involved in that work because I think the United States, for example, funding the Contra forces in Central America, intervening in other countries, I think that was bad policy. That was a Reagan-Bush policy that I think was failed, and in fact the people of this country turned against it."
According to The Times article, de Blasio in 1990 said he believed in "democratic socialism." On Friday morning, he told PIX 11 that he's now a "progressive" and a Democrat in the tradition of President Franklin Delanor Roosevelt.
From the very beginnings of his mayoral bid, de Blasio has championed a "tale of two cities" theme to illustrate the problems of income inequality in the city, a theme Lhota directly denounced as "divisive."
Mayor Michael Bloomberg recently echoed Lhota's sentiments, even saying de Blasio's was engaging in "class-warfare" and was "racist."
Despite the criticism, de Blasio has used the "tale of two cities" narrative to push for increased taxes on the wealthy and a universal pre-Kindergarten school program, among other various key policies to his platform.
BEFORE YOU GO
PHOTO GALLERY
NYC Primary Day 2013