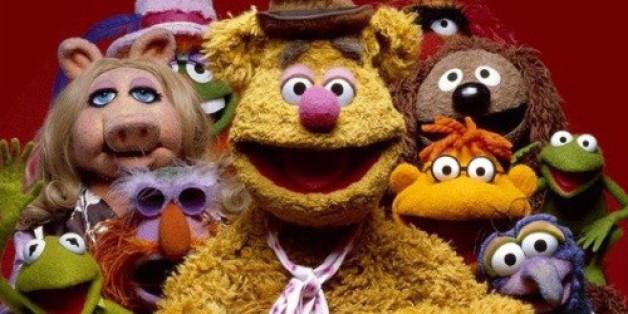 Today marks Jim Henson's 77th birthday. The legendary producer, arguably best known for creating The Muppets, gave us a bevy of beloved memories: he played Ernie and Kermit The Frog on "Sesame Street," sang "The Rainbow Connection" and is even honored twice on the Hollywood Walk of Fame (as himself and as his green companion).
Henson died in 1990 but his whimsical legacy lives on. In an homage to Henson, we matched our favorite stars with their Muppet character counterparts. Can you dig it?
1. Kermit The Frog: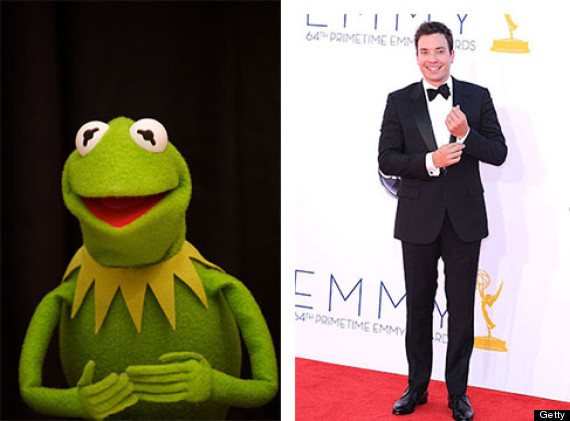 It's not easy being green -- or being the leader. But someone's got to do it. Kermit is the loyal, brave yet modest glue that holds "The Muppets" together. The same can be said for Jimmy Fallon and his late night comedic crew. Fallon has an everyman quality that makes him relatable and timeless, just like Kermit. Plus the two are incredible showmen, singers and always put a smile on our faces.
2. Fozzie Bear: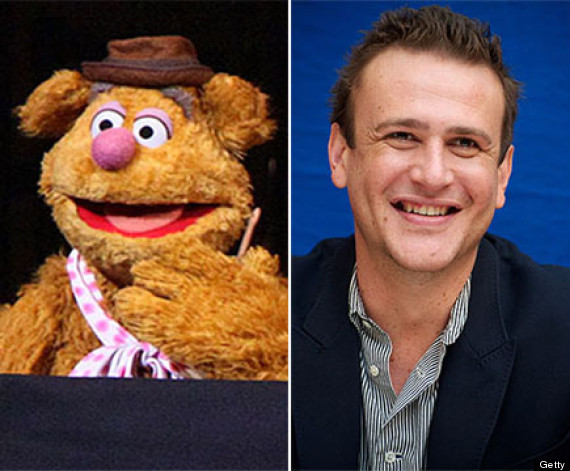 A persevering, passionate comedian who never gives up on his dreams. This perfectly describes Jason Segel and Fozzie Bear too. Segel obviously has a soft spot for puppets and a keen sense of humor. His motivating optimism practically echoes Fozzie's. Wocka, wocka!
3. Swedish Chef: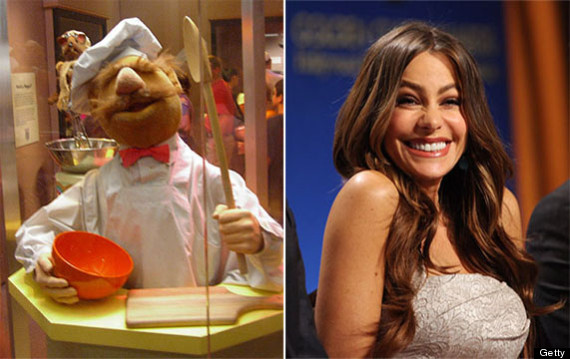 Even though her fiance does most of the cooking, Sofia Vergara shares a similar personality with the Swedish Chef. Think about it -- both are admittedly difficult to understand but portray some of the funniest roles on TV!
4. Beaker: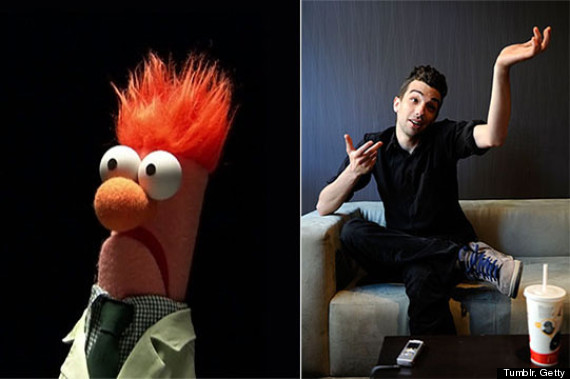 Beaker is a little awkward, soft spoken and resilient even if he's down on his luck. The same goes for actor Jay Baruchel. He is a nerdy, down-to-earth, geeky guy who perfectly embodies Beaker (Dr. Bunsen Honeydew's unwilling sidekick). Meep!
5. Animal: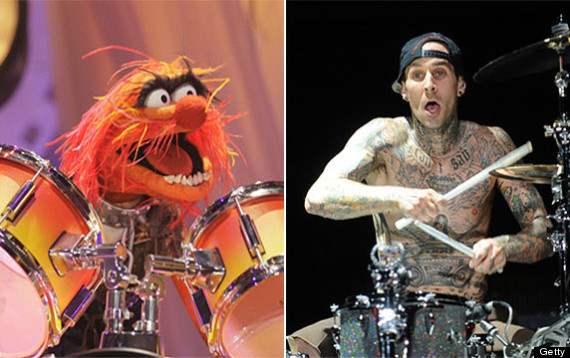 Animal is the rebellious Muppet. He's a no-holds-barred drummer who lives for the music. Sound familiar? We thought of Travis Barker too.
6. The Great Gonzo: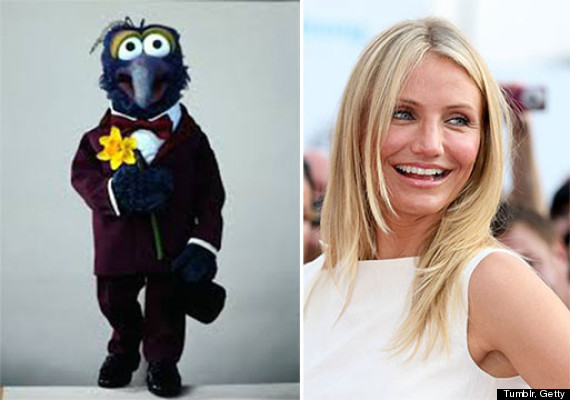 Cameron Diaz and The Great Gonzo are kindred spirits. They are both hilarious, natural performers and outspoken daredevils. Plus, the two will go the distance for a laugh: Gonzo will self-inflict pain for a joke and Diaz is known to do her own stunts in action comedies. They are entertainers extraordinaire.
7. Dr. Bunsen Honeydew: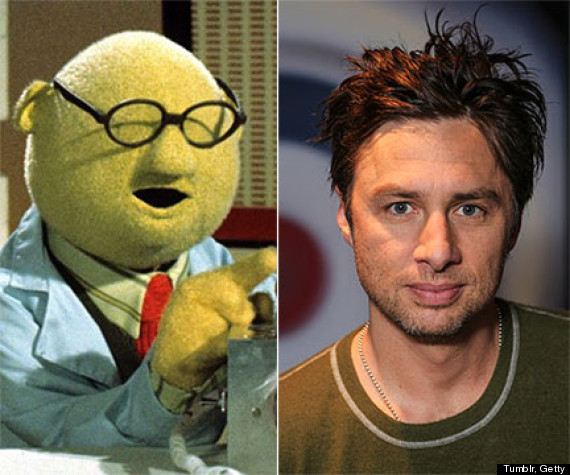 No doubt Dr. Bunsen Honeydew is intelligent. As the resident wacky scientist, he is the only Muppet with a Ph.D. Zach Braff has a comparable witty, wacky personality to Dr. Bunsen Honeydew. Plus, Braff knows a thing or two about the scientific, medical world from "Scrubs."
8. Miss Piggy: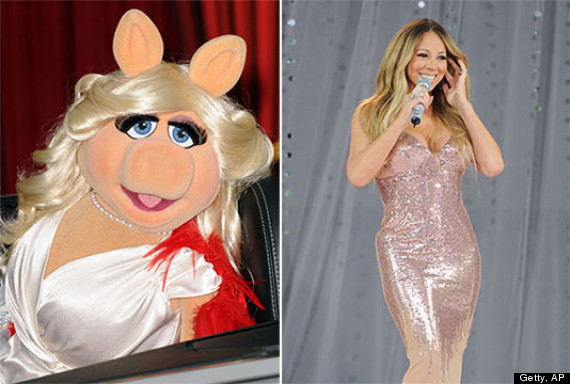 Girly. Diva. Unapologetically narcissistic. Miss Piggy is Mariah Carey and Mariah Carey is Miss Piggy. Bow down.
9. Pepe the King Prawn: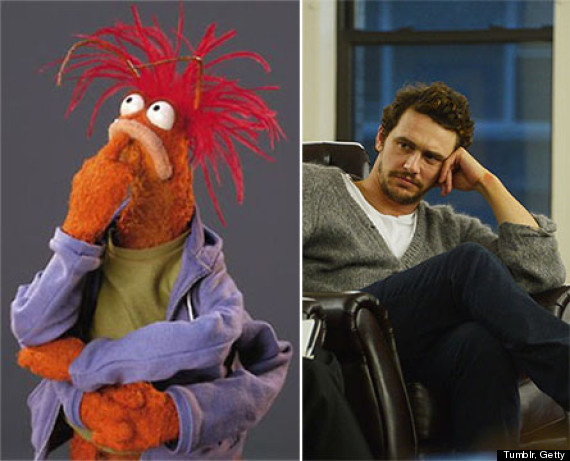 Pepe wears several hats as a funny shrimp, creative cook and author. We can't think of a better, more creatively unique jack of all trades than James Franco (he of writer, gender-bending model, actor and artist fame).
10. Sweetums: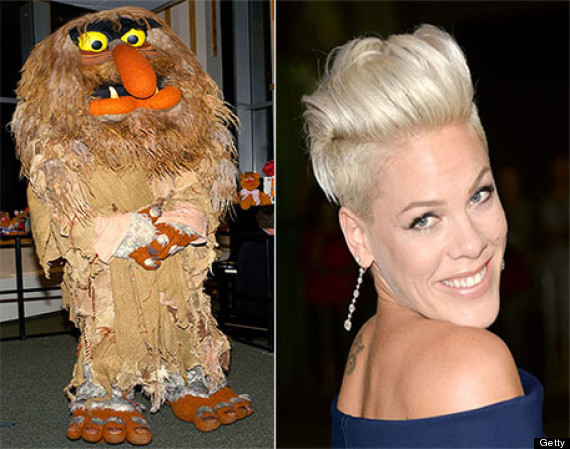 P!nk aka Alecia Moore may look intimidating on the outside, but she is a sensitive, sweet and all-around kick-ass star underneath that tough exterior. Though he's a male muppet, Sweetums falls victim to being "Missundaztood" as well. He's got a heart of gold just like our girl.
11. Rowlf the Dog: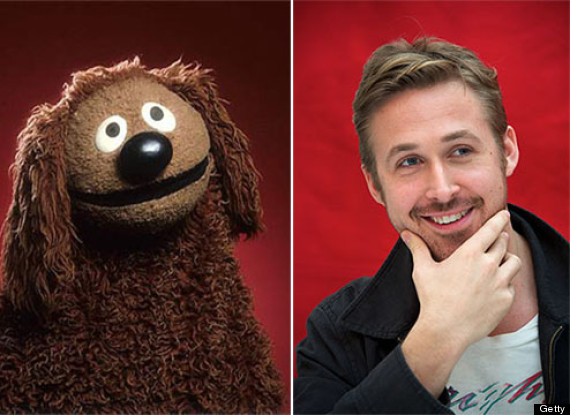 Rowlf is dripping with swag, duh. The piano-playing canine is always chilling, perpetually laid-back and relaxed. Muppets aspire to be Rowlf, just as men aspire to be ultimate cool guy Ryan Gosling. The cherry on top? Gosling is a dog person. Woof.
12. Statler and Waldorf: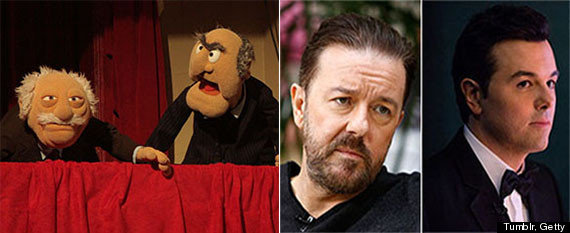 Finally, we have Statler and Waldorf -- the hysterically cruel Muppet hecklers. Fellow funnymen Ricky Gervais and Seth MacFarlane make their living on insulting or generally offending the public. They'd be a perfect jeering duo on par with Statler and Waldorf.
BEFORE YOU GO
PHOTO GALLERY
Muppets Around The World