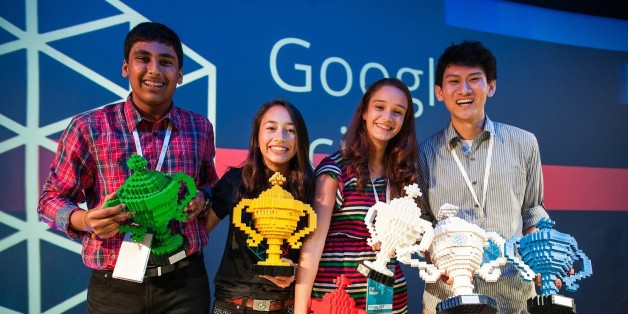 The old vinegar and baking soda volcano trick might have cut it at your high school science fair, but at the Google Science Fair one teenager took on a lethal virus.
This year's grand prize winner and winner in his age group was 17-year-old Eric Chen from San Diego, Calif., whose project introduced a new approach to fighting ever-expanding strains of the flu.
"The emergence of new highly lethal influenza viruses such as H5N1 and H7N9 poses a grave threat to the world," Chen wrote on his project's page. His research uncovered compounds that tackle a viral protein, endonuclease.
"By combining computer modeling and biological studies, I identified a number of novel, potent endonuclease inhibitors," Chen wrote. "I also performed comprehensive structural analysis, laying ground work for further design and optimization of the anti-flu drug candidates."
On Monday, Chen was awarded a $50,000 scholarship and a trip to the Galapagos Islands with National Geographic.
Winners in other age groups include 16-year-old Elif Bilgin from Turkey, who created bioplastics from banana peels; 15-year-old Ann Makosinski from Canada, who engineered a flashlight powered solely by body heat; and 14-year-old Viney Kumar from Australia, who created an application that lets drivers know when an ambulance is headed their way so that roads may be cleared faster.
All of the winners received a $25,000 scholarship and, along with Chen, a Chromebook, a tablet, a Lego Mindstorms kit and subscriptions to National Geographic and Scientific American, according to Business Insider.
The Google Science Fair is a global online competition inviting all students ages 13-18. Teens can enter the 2014 competition starting in January.

BEFORE YOU GO
PHOTO GALLERY
Which Teen Genius Is The Next Mark Zuckerberg?