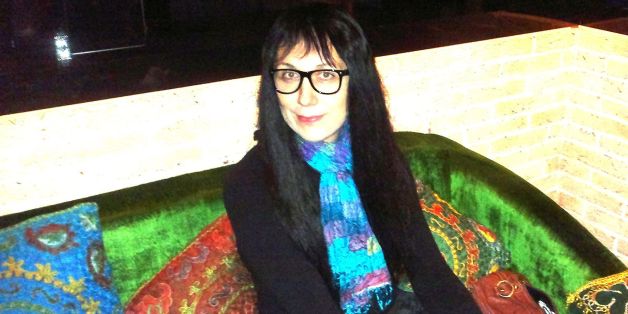 Masha Best, the Russian lawyer who came out last week as both transgender and bisexual in protest of Russia's anti-gay legislation, announced her campaign for presidency in Russia's 2018 elections on Monday.
An attorney with the Association of Russian Lawyers for Human Rights, Best stated in a post on her Facebook page: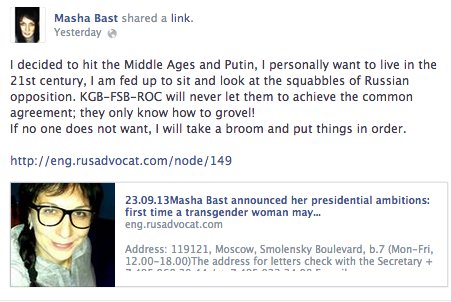 According to the press release announcing her campaign, Best intends to reduce the term of presidency from six to four years and the permitted number of terms possible for a president to serve to two total (currently a president can serve for only two successive terms but otherwise there are no restrictions on the total number of terms). She also seeks to develop Russia into a European Socialist State, reportedly planning to:
...transition [Russia] from a consumer society to society of creation... only people may choose the way of development... [will Russia go] the way of collapse... the path of inter-ethnic, inter-religious wars and conflicts, civil war, or it will be the way of unity around reason, goodness, beauty, progress, science, creating a state of unlimited possibilities for human[s] free... not in need of shelter and food, and creating [Russia's] free future.
Russia has come under fire from the international community over the past several months for not only passing anti-gay discrimination into law, but enabling a culture of fear and violence for LGBT citizens and foreigners. Earlier this summer, Russia's anti-gay "propaganda" law caught the attention of international media outlets when officials claimed that the legislation would affect attendees and athletes at the 2014 Sochi Winter Olympics. The ramifications of this anti-gay "propaganda" law on the Olympic Games still remain unclear. Russian politicians are also now pushing to pass a law that would remove children from the care of their LGBT parents.
Additionally, Russia's institutionalized homophobia has perpetrated a climate of anti-gay sentiment that has inspired vigilantes to engage in public acts of violence, private torture and even inspired one extremist to claim that she is on safari "hunting gays" while wielding an assault rifle.
Western LGBT figures and allies have, as a result, been forced to take a stand on whether or not to perform or travel within Russia's borders. Some American performers are not even able to receive visas to enter the country, forcing them to cancel scheduled appearances. Others have received explicit threats from top Russian politicians in response to previous performances within the former Soviet Union.
If elected, Best would reportedly become not only the first openly LGBT individual to hold the Russian office of presidency, but also the first woman.
The full press release announcing Best's campaign can be viewed here.
BEFORE YOU GO
PHOTO GALLERY
Stars Sound Off On Russia's Anti-Gay Law