A dog that never lost her spirit, despite years of neglect, is serving as a reminder to us this week of just how much goodness awaits those who, with hope in their hearts, persevere.
The pup, named Carly, was rescued in May. Since then, her life has changed 180 degrees for the better, thanks to the love and efforts of several good Samaritans. This video, uploaded to YouTube last week by animal rescue group Bill Foundation, shows Carly undergoing a jaw-dropping transformation from tormented animal to happy-go-lucky pup.
Annie Hart, the founder of the Los Angeles-based Bill Foundation, told The Huffington Post Monday that Carly's journey to a new life began when Hart received a Facebook message on May 21 from a big-hearted woman who said that the pup had wandered into her backyard.
(Story continues below.)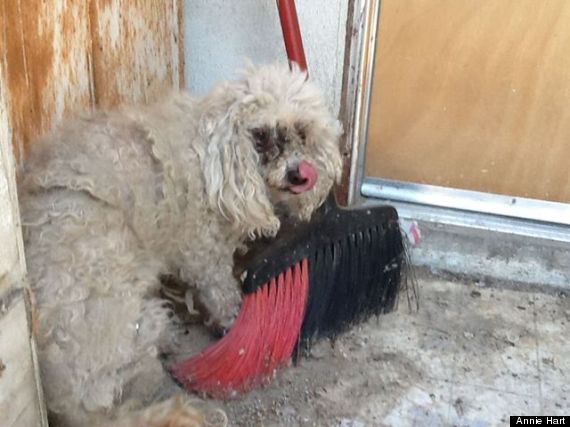 Photo of Carly, taken in the good Samaritan's yard.
"[Carly was] severely matted," Hart said, referring to the state of the animal's fur. "I could see by the photo that she had lived a life of neglect and was in desperate need of medical care."
Hart soon learned that the woman had taken Carly to a nearby shelter, but she had not been able to get an impound number for the dog.
"The Los Angeles County shelter system is so severely overcrowded and under-funded that the [woman] who brought Carly in wasn't able to get an impound number for Carly without waiting in line for several hours," said Hart. "Trying to locate Carly at the massive shelter was going to be a needle in a haystack job for me, but I decided to try anyway."
Hart says she reached out to her friends in the animal rescue world in the hopes of finding Carly. Finally, after four days of searching, a shelter volunteer recognized the dog. Before long, Hart was rushing to the shelter to finally meet her.
Carly, says Hart, immediately astounded her.
"Despite being in a massive amount of pain, Carly was incredibly sweet and happy as soon as we took her out of the cage. All she wanted to do was run around, play and snuggle up with us. Without a doubt Carly was ready to be rescued and have a fresh start on life," she said.
Carly was quickly rushed to the veterinary hospital, where Dr. Lisa Youn began the difficult task of shaving off the pup's years of matting. The process was "painful," says Hart, but Carly remained "quite the trooper."
The animal was found to have been suffering from severe skin, eye and ear infections -- all of which required extensive medical care. Her eyes were also found to have "horrible wounds on them," possibly caused by burns, said Hart.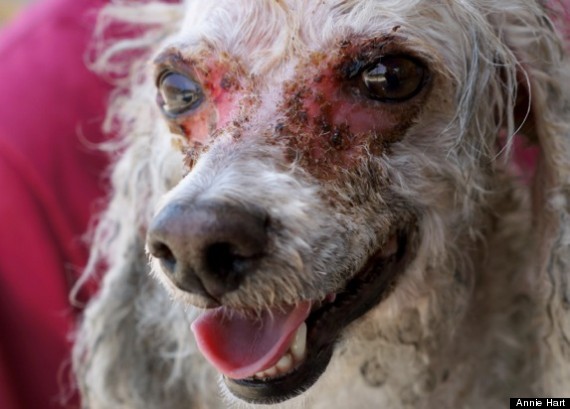 Carly ended up staying in the hospital for about a week as she received medication for her infections.
A few days into her stay, Hart says she got a call from Carly's vet.
"Dr. Youn called me one afternoon and shared with me how much she adored Carly, so much so that she wanted to become her foster mother -- something she had never done before," Hart says.
Over the next four months, Dr. Youn took care of Carly, helping her heal both physically and emotionally.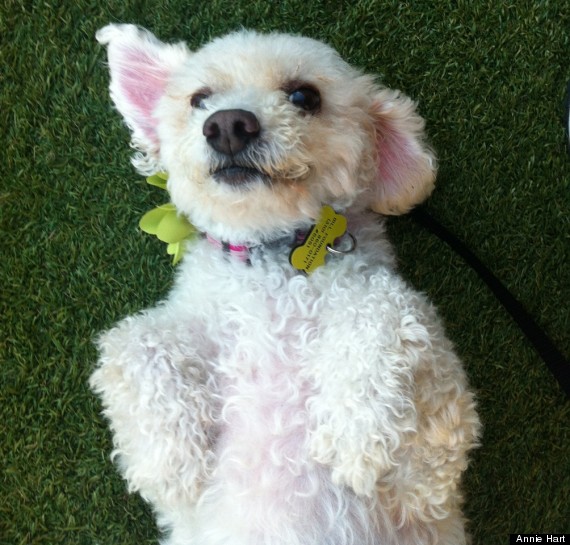 Now healthy and as happy as ever, Carly recently found a forever home. Hart says she's already settling in nicely with her new family.
"Watching her blossom into the beautiful pup she was always meant to be was a joy for all of us at Bill Foundation and a reminder just what is possible with a little love and hope," Hart says. "[D]espite her previous neglect [Carly] doesn't have any long-term health issues. Her eyes still have a bit of scarring on them, but she wears her scars proudly, reminding us all that we, too, can heal."
BEFORE YOU GO
PHOTO GALLERY
Animals Who Need Hugs